K12 Online School: The Present And Future Of Learning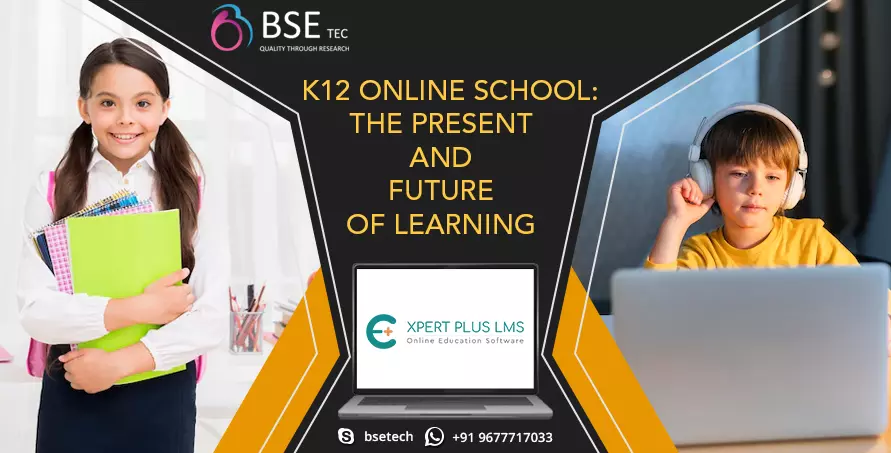 The pandemic was a catalyst for the online education boon. The COVID-19 cases are increasing exponentially with the 4th variant of covid as i write this blog post. Next to health sector, the education sector was the most affected due to pandemic. But schools have opted for K12 Online schools to provide non-stop classes during the lockdown periods. However, the learning and development teams are adding numerous features to the Learning Management System (LMS), including gamification, virtual reality, and augmented reality. The five main advantages of online schools, in addition to these aspects, ensure their prosperity in the coming years.
Flexibility:

If there one thing a man can never create is time, time and tide waits for none, but you can manage time to be more productive and adopt many things in your routine to add up to your highest good. If the year 2020 has taught the world of higher education anything, it is that flexible learning alternatives are more important than ever. 
Reduced Costs:

For a variety of reasons, online education can be more affordable. For instance, there is no charge for travelling. The online student is unaffected by a variety of transportation-related expenses like gas, parking, automobile upkeep, and expenditures associated with using public transportation.
More Leisure Time:

Traditional schools have more rigid schedules where we have to be present for almost a whole day, (traditional school time based on indian education system is morning 9.am to 4.pm). But with Online schols we can opt for courses at our flexible timings. Due to the lack of a strict schedule, students are free to balance their employment and education. This gives opportunities and the time we need to pursue our other co-curricular and non – curricular activities. 
Immediate Feedback:

Unlike the days where we wait for assessment results and feedback from our instructors, online schools have online assessments where can get our assessment results instantly as they are pre-loaded with answers. Giving feedback soon after a work is finished helps a student or individual use it more effectively. This not only enables the learner to assess their level of performance but also to take better actions for the outcome optimization. The student can design their course load strategically and concentrate more on one subject.
Repeated Access to Course Materials:

Traditional schools have a teaching style where we cant listen once again if we are not getting the subject or and we are not given the opportunity to make up courses when we are physically absent from school. However, online

learning management systems

have lecture videos that have been recorded as well as other materials that you may access and study until you understand the material.
Why elearning Platforms Are The Future Of The Education Sector?
Online classes have more engagement and retention as compared to traditional teaching styles. Due to their high level of engagement in both learning and assessment, multimedia components like movies or recordings that are included in the online courses and exam are enticing to students. In contrast to the traditional methods, the content that is delivered in plain backboard teaching styles, visual and auditory learners place a greater emphasis on content that supports multimedia. eLearning platforms support every type of learning styles. Read the different types of learning styles in the link below!
Online learning can provide experiences comparable to those found in traditional classrooms as technology advances. Gamification, virtual reality, and augmented reality can do this. Each of these will produce a more comprehensive learning environment that will give students a similar learning experience to that in the classroom. Checkout Expertplus LMS, the best udemy clone to launch eLearning platform effortlessly. Contact BSEtec for more details and a free live demo.