Key Features Of NFT Marketplace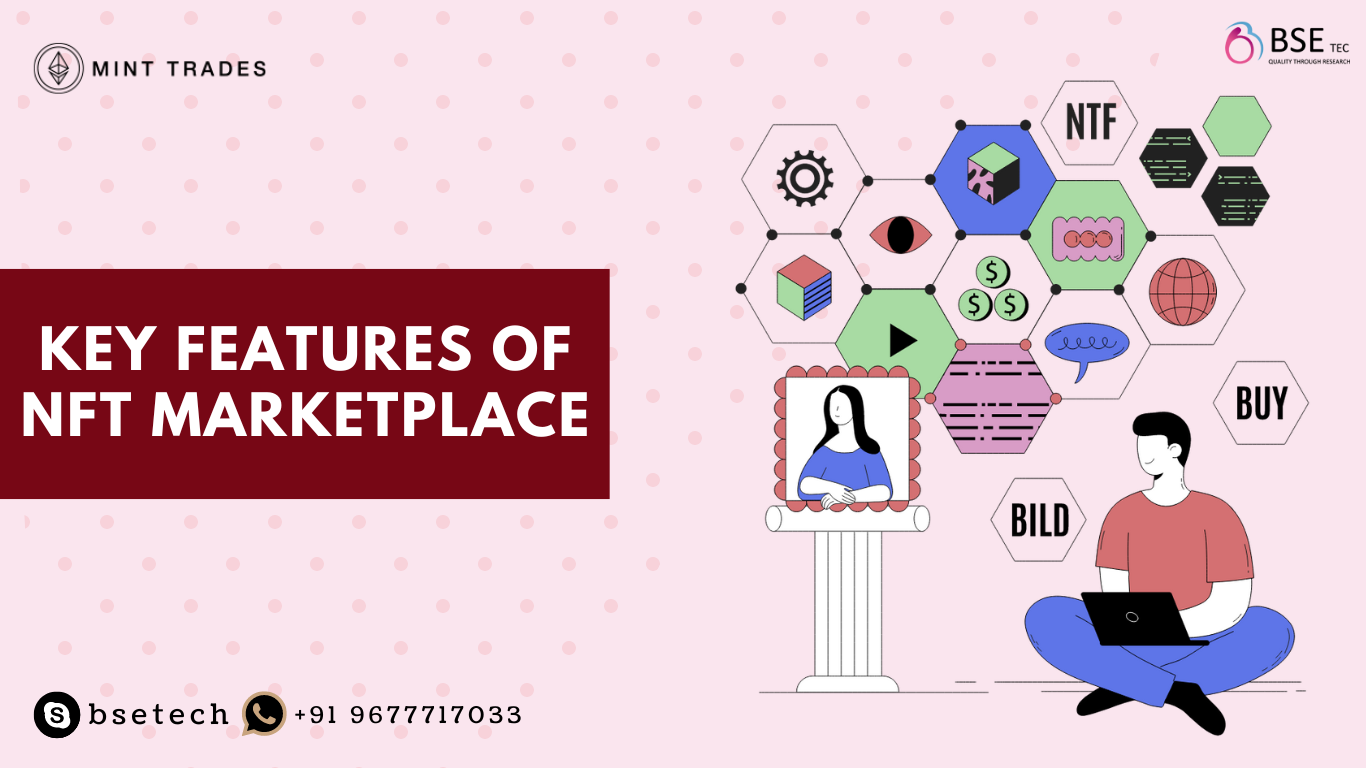 NFT marketplaces have become mainstream with the breakthroughs in NFTs like Nyan cat NFT and Crypto Punks NFTs! Many startups and business people are showing interest in launching their own NFT marketplace with the increasing demand for NFTs. But before rushing towards launching an NFT platform, you must decide on a set of features and NFT standards that will be used in your marketplace. Here is a list of must-have NFT marketplace features.
Storefront
A thriving NFT marketplace will typically have a storefront that functions similarly to a dashboard. It gives users all the information they need about an asset:
Owners 

Bids 

Previews 

Price History
Advanced Token Search
Consumers should be able to obtain complete information on products they require quickly and easily. Your NFT marketplace app should include every product organized by features (for example, art, images, music, videos, and memes).
Filtering
The use of filters is really advantageous. Furthermore, it becomes simpler to navigate a website, users can easily search for what they are looking for. Add this functionality if you wish to build an NFT marketplace platform for collectibles. It allows users to freely select assets based on category, payment method, due date, and listing status.
Bid and Purchase
Customers must be able to buy, bid, and sell NFTs listed on the platform while using an NFT marketplace. Their bids should include a bid validity date and allow them to view information on the current status of those bids.
Make Listings
Give your customers the facility to create and send digital collectibles. Make sure they require the least effort to do the task. Build a page where they can upload files and provide product descriptions, tags, and titles.
Wallet
Users should be able to store, send, and receive NFTs and cryptocurrencies through your NFT marketplace's wallet. You can build your own cryptocurrency wallet or incorporate existing wallets into your site, like Formatic, Coinbase, or MyEtherWallet.
Listing Status
Listing status is advantageous for people who provide products and successfully complete the product authentication process. It allows you to monitor the status of the confirmation process. It aids in the execution of collectible verification.
Ratings
It's a feature for newbies who need help figuring out where to start, how to rapidly select things, or how the system works. Users may determine whether a merchant is trustworthy by looking at their rating. Participants in an NFT marketplace can rank and provide comments based on their experience. It enables others to assess a user's credibility.
How Can Mint Trade Help You?
OpenSea, the largest and most established NFT marketplace in the world is the best place to buy, sell, and browse NFTs. The OpenSea script is a similar replica of the OpenSea NFT Marketplace that can be customized and launched in a few days. You may quickly launch your peer-to-peer NFT Marketplace similar to OpenSea with our enterprise-grade OpenSea script- Mint trade. Contact BSEtec for more details and a free live demo.