Learn the benefits of building your own custom-built streaming platform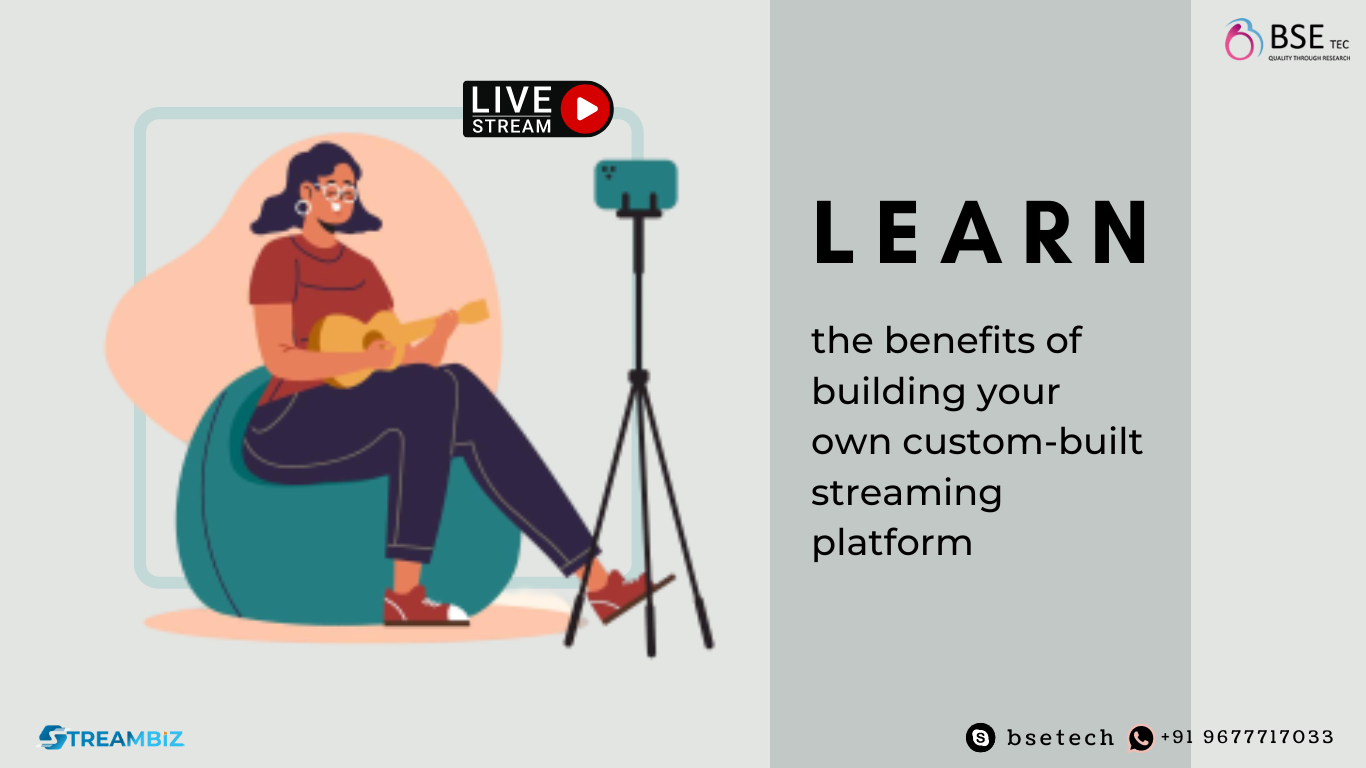 The one thing with the streaming platform is, the market is rapidly expanding. With various trends in consuming digital data, there is a significant shift in digital and live streaming platforms. As a result, they have undergone a vast transformation. For example, Online streaming services are currently playing an important part in the digitalization of consumption. Looking only at music streaming, we've seen a quick transition from CDs to iPods and now, digital streaming services like Spotify.
You Collect And Manage Your Users' Data:

When you create your own live streaming platform, you have complete control over user metrics and behavioral insights, which is generally unavailable with third-party streaming services as said earlier. 

Independence & Better Scalability:

One of the major disadvantages of using an external digital or

live streaming platform

in your business is technical constraints. But you can implement the following when you lunch your own live-streaming platform,

Implement any new feature you feel is valuable (it could be a user-requested feature or one arising from an internal decision).

Instead of relying on the commercial decisions of another corporation, innovate at your own pace.

Integrate with any third-party tool of your choosing, rather than being limited to a list.

Redesign or reconstruct your app in the direction you desire.

No Hidden Fees:

Many Business has been caught off guard by large hidden fees while receiving the monthly billing cycle. Certain companies like zoom, one of the greatest live-streaming platforms, charge businesses per viewer or audience. This can be hard to predict and budget for, particularly when launching your service. Assume you're a yoga instructor with a small but devoted Instagram following known as a "micro-influencer." Assume you decide to play it safe and select a platform with a reasonable price for a small number of users. However, your firm grows much beyond your expectations, and you find yourself locked with a massive price increase to gain access to additional viewers.

Increasing Awareness Through Unique Branding:

You can ensure your app is connected with your brand and stands out from your competitors by having full control over the aesthetics of your streaming service app. Branding is such an important element in customer purchasing decisions, having customized unique branding

Improved Accessibility And User Experience:

It's no wonder millennials are always on the go. As a result, people prefer to watch exclusive content at any time without wifi connection. Creating your own streaming platform makes your content more accessible to your target audience and more simple and easy for them – two characteristics that influence many of our daily decisions. All they have to do is open the app, select the video they want to stream, connect their headphones, and they're ready to go! Creating your streaming platform helps you to provide a quick, time-saving, stress-free user experience.

Increased Brand Value:

When you create your own

live streaming platform

, you have complete control over user metrics and behavioral insights, which is generally unavailable with third-party streaming services as said earlier. This means that when the time comes to sell your company, the value of your brand skyrockets. You have a treasure of data that opens up unlimited opportunities for restructuring your business if your buyer chooses to do so. Overall, your brand becomes more appealing to investors and buyers, allowing you to sell for a higher price.
Wrapping Up:
Creating your own live streaming platform is a great alternative to using any great platform provided by third parties, for the above-said reasons. So, you should consider developing your own live streaming app if you value bespoke branding, want the freedom to offer your own features, get valuable data and insights, and want to scale your firm. Developing and deploying a live streaming app is easy with white-label solutions. Checkout, out Streambiz, the best periscope clone live streaming app script to launch your live streaming platform in no time. Contact BSEtec for more details and a free live demo.