Let's create your own Job portal website using the best Jobberman clone script – Job Plus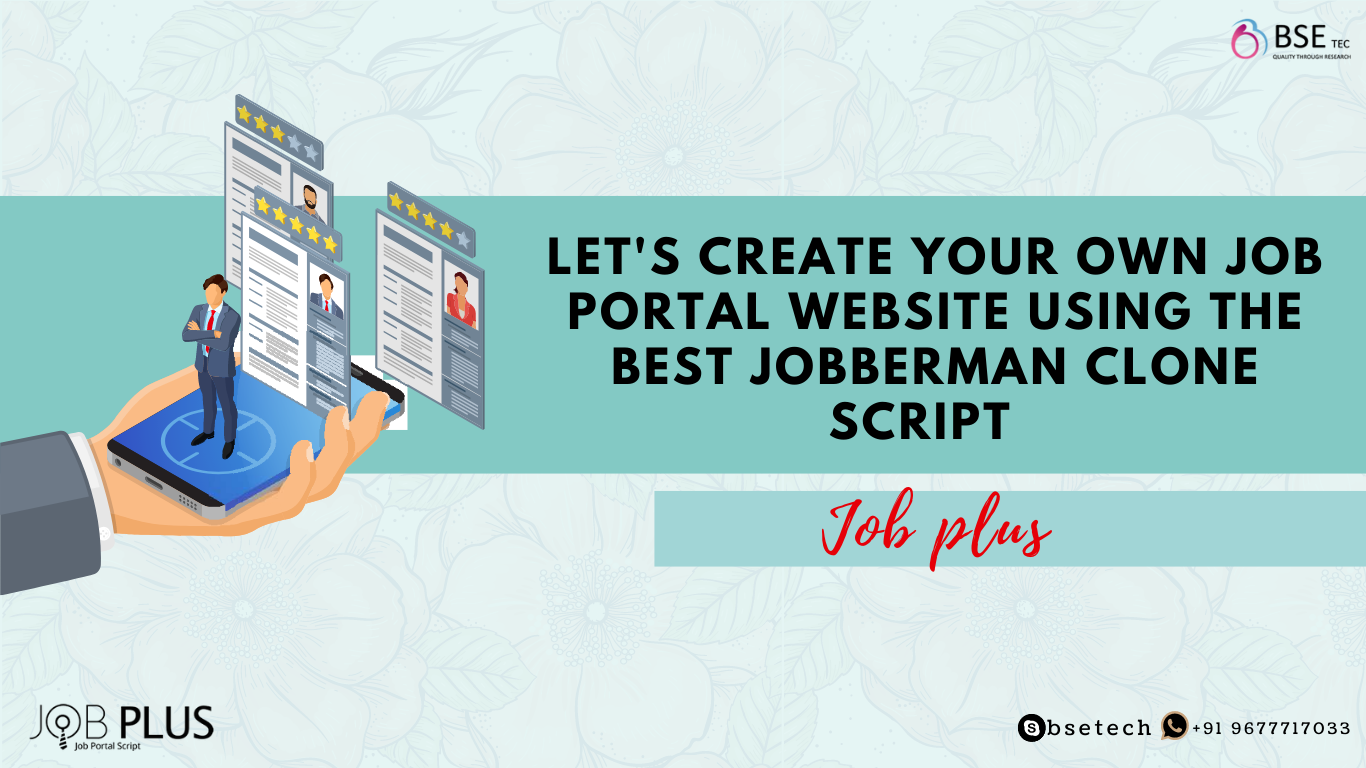 More than 22.7 million job losses were reported in April and May 2021 due to the Covid-19 pandemic, according to the Center for Monitoring Indian Economy (CMIE). India has 53 million unemployed people looking for jobs according to statistics. But many employment seekers couldn't find the right job for them, which is a serious ominous harbinger and is a major crunch in economies like India which boasts about youth entering the labor market.
Read How To Start A Business Like Naukri Portal Using Job plus – Naukri Clone Script
As the Businesses are coming back to normal, the number of recruitments are in an Upswing. Many job opportunities have been created in recent times and Nearly 80% of the job vacancies are filled by Job portals. So if you are an entrepreneur thinking about creating your own job portal, then you are at the right place. But before that let us take a look at the required key features for a job portal site.
 Key Features of a Job portal website:
Job Search:

The job search feature allows

job applicants

to search for jobs by job title, salary, location, and company.

Advanced Filters:

Filter by Location, Salary Range, Tags & Keywords Filter, Filters based on Roles, departments, Education, and Industry help to narrow down the job search and find the right ones for us. 

Job Alerts:

A job alert is a system that notifies you when there are new job openings related to your interests.

Job Save:

This feature quickly helps you to bookmark the jobs you like and the ones you want to apply to shortly.
Resume Search:

This smart tool should help the employer to find the right candidate for the posted job. Employers should be able to filter the pile of applications with the agile filters of the right keywords, Location, Experience, Skillset, and Expected Salaries or custom parameters related to the job.

Job Posting:

The most successful

job portal

should provide employers with easy to use job posting feature so that they can add job postings, related keywords, and other pre-ordained Questionnaire mechanisms so that the system can bring the perfect match and more qualified applicants.

Application Tracking System:

Applicant Tracking System (ATS) makes your recruitment and job management, and talent acquiring process a hassle-free one, right from evaluating candidates to the final selection. 78% of employers using an ATS said that recruitment technology makes finding great talent easier.

Instant Messaging:

The Instant Message tool enables Employers and Jobseeker to easily communicate internally via offline messages.
If you are looking to create a job portal website similar to Monster, Jobberman, and Naukri, then building them from scratch won't do justice as it is heavy on your pockets, takes months to develop, and costs around $ 20,000 to             $ 35,000. Plus the market research to know what core features should be included in the portal is also time-consuming and expensive. As a start-up, it is better to look out for cost-effective and efficient ways. Jobbermanclone scripts are white-labeled solutions to launch your job portals in a matter of hours with advanced features similar to the existing job portal.
Job Plus: Job plus, inspired by the original Jobberman, Monster, and Naukri, we, BSEtec have developed the new JOBPLUS. Its bootstrap technique helps to access the job portal from any device without glitches. The more advanced Laravel framework was used to develop this script. The admin panel in JOBPLUS is built with simple, effective, and functional tools, which can be easily operated by the admin, without any technical knowledge. You can customize this white-labeled product to brand your job portal website and launch it in a few hours. All the core features that make the Jobberman, Naukri, and Monster powerful and successful have been carefully researched and incorporated into our Job plus.
Summing up:
If you are looking to quickly launch an efficient and sleekly designed job portal at a low cost, contact BSEtec. You can also check out the free demo for Job plus.