Make Learning Simple With Custom E-Learning App Development [A Comprehensive Guide]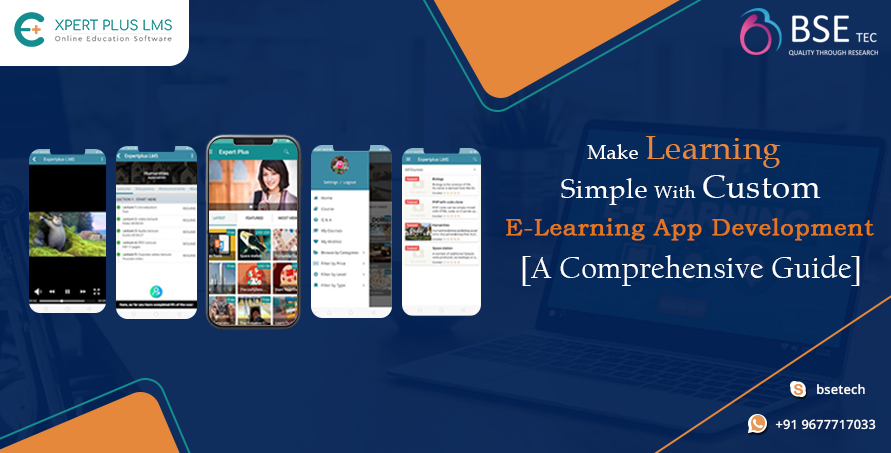 Learning has no age limit. Many e-learning platforms and apps, such as Udemy, Coursera, Lynda, and MasterClass, have come up with digital solutions to assist those curious learners. What has made these e-learning platforms so successful is the wide variety of courses and high-quality services they provide online at a low cost.
How Udemy is changing the way we learn and tutor:
Udemy provides a plethora of free and paid courses ranging from development to design and music, as well as certifications and lifetime access to courses. It uses a marketplace business model, similar to an eCommerce platform. The revenue is generated based on the percentage fee charged for each course purchased. Depending on the source of traffic, it ranges from 3% to 75%. It works in four steps: the user searches for the course, pays for it, learns the skill at their own pace, and receives a completion certificate.
Udemy market demand: Check out the market demand for the Udemy app, (Reasons why you need to launch your custom elearning app) 
Udemy has 50 million users.

Has a market value of $2 billion and offers over 150,000 courses.

The statistics are sufficient to demonstrate why you should custom develop an e-learning app.
Here's a quick rundown of the primary advantages of Custom Udemy App Development.
Interactive and intuitive user experience:

The user experience of an application is extremely important in retaining customers and assisting them in navigating your application. You must create an interface that is interactive, intuitive, and simple to use for your users. These elements will assist you in defining your brand and how customers will interact with your application.

Increase Brand Awareness:

E-learning app development gives you the freedom to create an application that resonates with your brand. Your application's logo, design, write-up, features, and so on all reflect your company. 

Have Complete Control Over Application Monetization:

You have complete control over the monetization model of your application. You can define the fixed percentage for instructors, course fees for students, and so on. It assists you in determining your company's budget, app development costs, marketing campaigns, and so on.

Curated Content for Users:

Providing rich and well-organized content to your users will set your app apart from the competition. The majority of e-learning platforms have a large amount of content from various instructors and universities. Important goal is to provide high-quality content at a lower cost than competing platforms.
Wrapping Up: 
Begin your online education business with our udemy clone, Expertplus LMS, the best Udemy clone script for quickly creating an Udemy clone app or website. For more information and a free live demo, please contact BSEtec.