Moved our next launch, Buddies community dolphin template !
We are in amazing feel for this deliverance of the user friendly Buddies community dolphin template for social sites! Its a friends community template with more responsive layout and its impressive admin panel makes a user friendly customisation.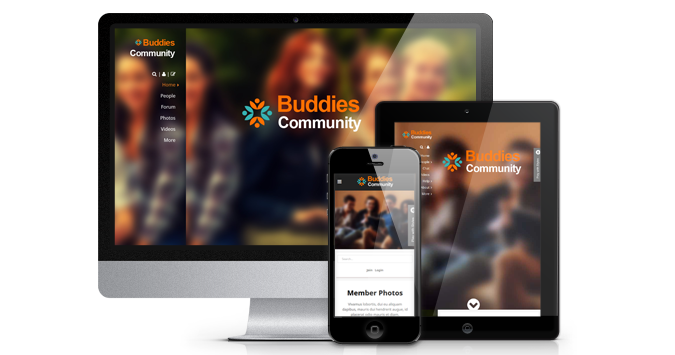 Flexible menus allows the user to navigate the sub menus when they selecting menus in this buddies community theme.It adapts to various responsive displays.Even a Non techie people also can access the friends social networking admin panel easily and themes can be amended sooner in a seconds.Colour change module provides a themes in colourful manner without any hassle. This friends community template encloses entrancing responsive slider feature that allows you to generate startling slides to boast with your content.
We are implementing Bootstrap technique in our friendship community template that allows to update the charts and navigation easier.Throughout this friends community dolphin theme, can be easily customise more impressive and various fonts. HTML5 and CSS3 supports all browsers effortlessly without a delay and video, audio can be uploaded to the website in more flexible . Buddies community theme comes with a layered PSD file, which helps to instantly build a mock-up for a new page and to create preview images, where visitors feel hard less.
We provide our support to the core for our clients .
Our buddies community template website is
https://www.boonex.com/m/buddies-community
Tags:
buddies community dolphin template
,
buddies community dolphin theme
,
buddies community theme
,
buddies community website template
,
buddies theme
,
friend theme
,
friends community dolphin template
,
friends community dolphin theme
,
friends community template friends community website template
,
friends social networking template
,
friends social networking theme
,
friends template
,
friendship community website template
,
social friends template
,
social theme for buddies