Robots: The Future digital workforce of On-Demand Deliveries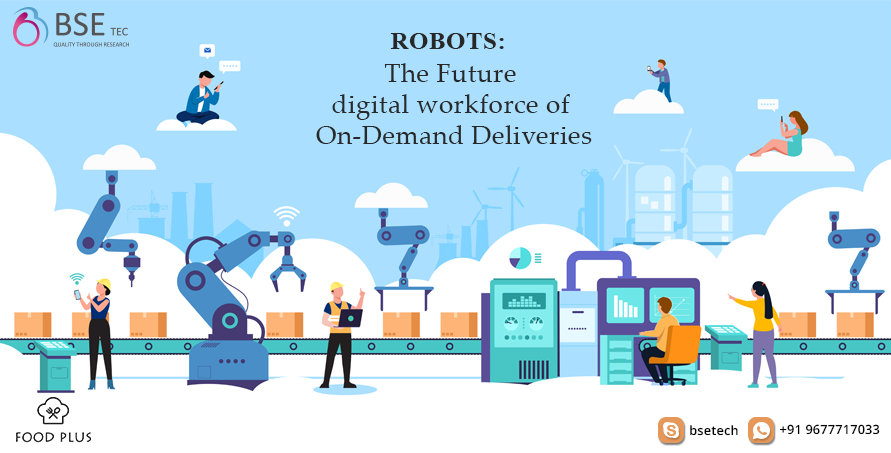 The public's perception of robots and their place in society has long fluctuated between fascination and terror. What does this suggest for the future of global employment given the seeming imminence of the robot revolution? Should we be anticipating a robot-enabled utopia or are our fears justified? That we do not know! But here is a peekaboo of Robots as the next digital Workforce for On-Demand online Deliveries especially online food delivery services. 
Massive Growth of Robot Delivery
Many businesses may have experienced a decline in sales due to the coronavirus outbreak, but if you happen to be able to provide robot delivery services, like Starship Technologies could, business is flourishing. Robotic delivery services can guarantee frictionless delivery, which is a highly desired service under social distancing guidelines. Before the pandemic, autonomous delivery robots were already in use in urban areas, airports, universities, hotels, and substantial corporate campuses. 
Bot Delivery Coming to a Street Near You
Delivery bots will eventually become the new standard in most of our cities; the coronavirus has merely accelerated that timeline. In 2019, Amazon launched in Southern California after a successful trial run in Washington, where it used autonomous robots to complete the "last mile" of the delivery process (from the company's regional storage hub to the recipient's address). Scout, a company's battery-operated bot that can deliver small and medium-sized products, is about the size of a large cooler. With the aid of its strong sensors, it can avoid hazards including humans, animals, trash cans, and even automobiles pulling out of driveways. Amazon is employing virtual maps of American communities and having the bots perform delivery simulations to hasten the nationwide introduction of these bots.
Not just Amazon is entering the market for autonomous robot deliveries. Numerous businesses already produce robots in enclosed spaces like corporate campuses, hospitals, and universities; these machines may soon be spotted on the streets. These robots bring documents, lunch and snack supplies, lab results, and other items. These businesses, some of which have the financial support of big corporations like Toyota and ThyssenKrupp, as well as some of which are divisions of well-known corporations like Segway, are all attempting to carve out a specific market niche for autonomous delivery robots.
Food and Medical Deliveries During Coronavirus
Six-wheeled delivery robots of Starship Technologies, which two Skype co-founders founded in 2014. These robots delivered food while we were all under lockdown due to the coronavirus. Without a human driver, these robots can maneuver through crowded areas and through public spaces. Initially enticing due to its novelty, ordering takeout or small groceries from restaurants became commonplace throughout the pandemic. These robots have driven more than 500,000 kilometers and made 100,000 autonomous deliveries. Despite the fact that Starship's bots have been in use for many years, the company is currently seeing an increase in interest from a wide range of businesses, including restaurants, supermarkets, pharmacies, and other delivery service providers. 
The transfer of items from a distribution hub to the final destination, such as a house or company, is referred to as last-mile delivery. The last mile of the supply chain is usually the most expensive, accounting for more than half of the entire cost. To automate this procedure, many companies have developed autonomous mobile robots, drones, and vehicle technologies in recent years. Technically, a fleet of 200k units may be projected till 2035.  If you are in food delivery app services, then you should consider this digital workforce in the near future. With Food Plus, the greatest Doordash Clone Script, you can easily launch your own online food delivery app or website. For further information and a free live demo, please contact BSEtec.