Set of Features in Udemy clone laravel framework 2020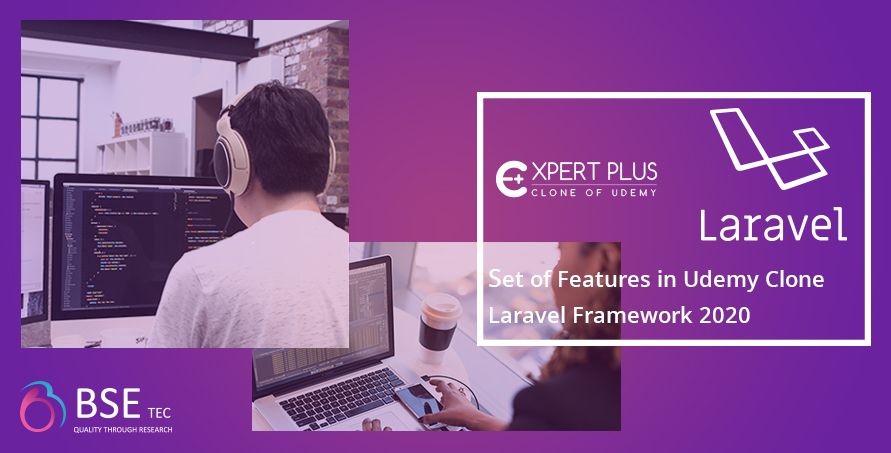 The year 2020 is about to bring a lot of revolution in the education field to which online education would make a major contribution. Learning is always fun online, certification and authenticity make it even more reliable source to acquire knowledge on various niche subjects. Learning management software is used as a hub for learning, understanding, getting evaluated and certified based on the performance.
E-learning software fulfils the needs that the students have by personifying the systems including computers or smartphones into a valuable academic resource. These LMS are created using clone scripts that contain PHP coding created using the laravel framework. Udemy clone is one of the clone scripts used frequently for e-learning app development.
To be an ideal learning management software, certain features are required including social login, instant messaging, youtube video streaming and so on. The following are the features rendered by Expert Plus, a Udemy clone PHP script created by BSEtec:
Bootstrap responsive design:
Navigation becomes easier with a bootstrap responsive design which helps the app to adapt to the screen despite the variation in the resolution. This makes it possible for any mobile user to download and use the app as preferred.
Social Login:
Through the social login option, the students can easily log in using their existing social account rather than creating an all-new profile. Besides saving time, this option also lets the students share their profile.
Multiple payment gateways:
Subscription can be done using any payment gateway including PayPal. This makes it easier for international students to make the transaction easily. There are various paid courses which can be availed once the student makes a payment.
Laravel 5.5:
Laravel is one of the widely used frameworks which renders in a better way and reduces maintenance issues. It keeps the app organised and free from any blatant errors. Laravel works firmly with just a few system requirements, which is why most app developers use it in PHP app development.
E-mail settings:
E-mail settings including SMTP protocol are mainly used for sending personalised or bulk messages to the users. Also, the app contains an in-built instant messaging feature that lets the users interact with their fellow students or the tutors and get better insights on various topics.
There are lots of other features such as big blue button, gamification option through which the app seems fun to learn and interactive for the users and a couple of other features just similar to Udemy and Coursera. If you want to create one of those LMS, opt Expert Plus Udemy clone script and get it done in no time. Your app can be availed from android as well as iOS and as we help in launching the app, it saves a lot of your time. For a real-time online learning app development in 2020, consult BSEtec at bsetec.com/contact.