Some Essential Reviews for ICO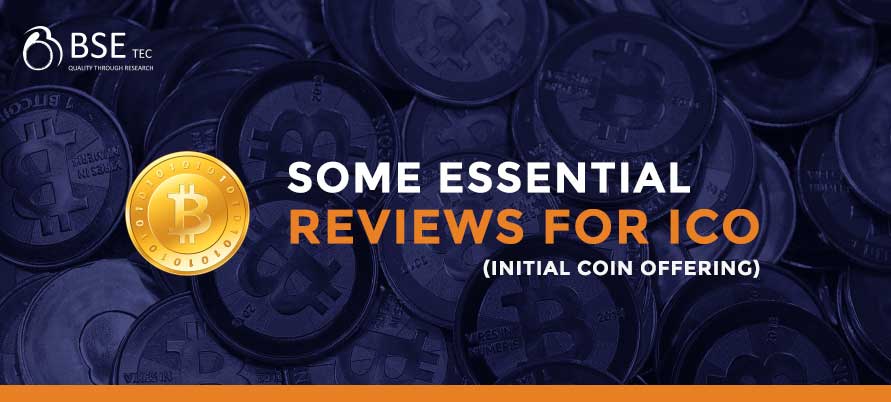 Introduction:
(ICO) Initial Coin Offering is a new technique to fund new business and new projects. ICO works with the concepts of Initial Public Offering but takes place completely online. Using principally Cryptocurrency or fiat currency, we can purchase the virtual tokens, which we call "The Coins???. Moreover, these tokens will be offered to the investors and it can be used later on for the elements required for the projects (goods, services, equity) or marketing for real currencies. This process of depositing is very fast as it can be accessed without an intermediate and is maintained with smart contracts that improved the security, which rule the terms of the ICO. However, these independent projects eliminate the potential for corruption and ensure tokens or discounts are appropriately offered towards the end of the ICO.
History of ICOs:
In the earlier stage, only 3 companies Mastercoin, Ethereum and Karmacoin were used ICO process. Ethereum has been considered as one of the biggest ICO processes in 2014 by augmenting a total turnover of $18 million in their budding stage. In their first 12hrs, they have raised 3700 bitcoins that break the record. However, Kik directed the primary mainstream ICO in September 2017, however, the venture was interrupted by a phishing trick by means of a false URL in the web-based social networking. Ripple sold $1 billion worth of XRP tokens to users in return for bitcoins and fiats in 2013.
In today's digital world, the trend of ICO process sales has become popular as every month with around 50 token sales being conducted. ICO has been increasingly in a fast growing phase with at least $2 billion worth of token sales successfully conducted. Therefore, this becomes the valid proof of ICO not going to be the temporary process used by some new cryptocurrency company to raise funds. But it will be the permanent process which is going to remain for a long term.
Workflow of ICO?
If a cryptocurrency company wants to raise funds through ICO process, they must provide some details like description of their project, purpose of their project, the amount needs to be raised, the percentage of tokens the company will keep, types of digital currencies accepted, and the duration of the ICO campaign. Furthermore, interested backers can send email to the seller asking for more information of the project before making the transaction. If the amount has been raised successfully, then they will carry out the scheme for the project completion. If not, backers will get back their money from the company.
How Scammers Use ICO to Carry Out Fraud?
ICO can be conducted in order to raise funds for the various types of commercial requirements. It can also be used as a fraud tool. Moreover, scammers would use this process to augment the value of ICO temporarily and license their project to make a rapid profit. These types of risks happen as there is a lack of regulation by the government. Like any investment, there will be the risk factor while investing the cryptocurrencies in the ICO.
Usually, the investors can check some basic points like who will receive the collected money and the social media profile. However, to make a successful transaction, we need to do some research about the company on which we are going to invest our money.
Conclusion:
ICO has helped several entrepreneurs to start their projects. With this process, the start-ups become truly simple and easy and can raise a large amount in a short duration. If you are looking for a start-up, then reach BSEtec, a web development company that offers secured ICO services that can never be affected by spammers. We offer you a chance to relax from the complex of creating a new cryptocurrency and building a new business as it can be easily touched by the scammers. Considering the ICO scammer protection, BSEtec stepped into website protection and DDoS mitigation that can be protected from attacks, account hacks and issue of accessibility.
BSEtec provides profitable commercial solutions that enhance your business turnover. Moreover, they become your partner to help you pass through the process. Our service involves Product Validation Analysis; Roadmap & Marketing Strategy; Premium Placement in News Outlets; Reputation Management; Digital Marketing; Community Management; Public Relations. In addition, the service includes coding; compiling; and even testing that leads to bug-free blockchain platforms. It reduces your efforts on analysing entire code for your platform. Our ICO features are ICO financial planning and strategy; Book Building and Book running services; Wallet management; Financial reporting; and Financial specialist Outreach and Coordination. Visit the official website BSETEC to get more information about Initial Coin Offering.