The Freelance Marketplace: What are the challenges businesses face & how can they be overcome?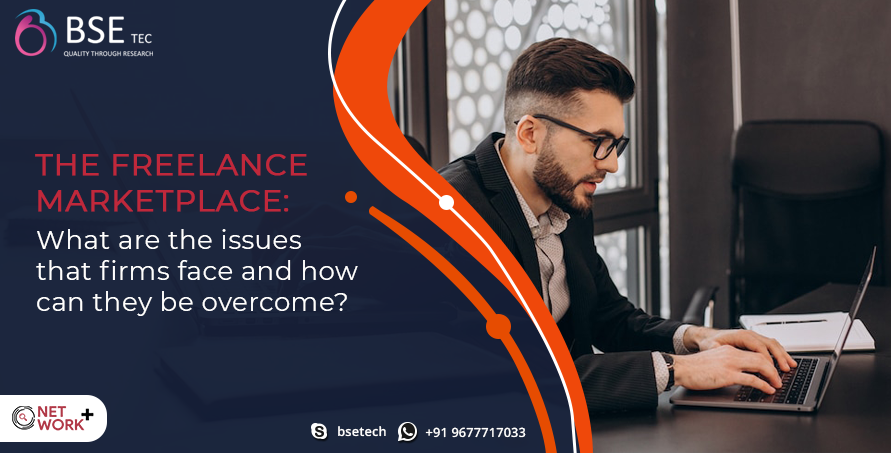 While freelance markets have become popular sites for gig workers to locate side hustles, they are not without their issues. Employers frequently encounter issues with current freelance marketplaces because they have less governance and control over the labor. Let's see how it goes.
Choosing an inappropriate professional:

Freelancing is contingent-based work. As a result, businesses must locate a professional that can produce high-quality solutions on time. A corporation must hire a skilled freelancer with a strong work ethic in order for the end result to meet output standards. Current marketplaces provide a plethora of possibilities to choose from, which may cause the hiring process to go wrong.

High charges and additional costs:

Because of the low cost,

freelance marketplaces

are an appealing way to find talent. However, freelancing platforms charge commission fees. Finding professional freelancers in a talent marketplace can be difficult. Hiring gig workers may require a fee. Furthermore, the seller's offered price may not reflect the quality of work needed to accomplish the project. A

personalized talent marketplace

can assist organizations in avoiding additional costs and hiring freelancers through a more standardized method. 

The prevalence of fraudulent sellers:

Some market gig platforms exercise less control over their listings and service provider profiles. This, in turn, opens the door to potentially fraudulent activities. Not every seller on freelance markets provides real services, frequently leading to companies being duped. A service supplier, for example, may demand payment through unorthodox means or perpetrate identity theft. When using a freelance marketplace, it can be difficult to avoid these prevalent hostile behaviors.

Fake reviews about the sellers:

Because of the vast number of professionals selling their skills on the platform, many freelancing marketplaces are intensely competitive. Most platforms reward professionals with greater ratings and reviews by increasing their visibility and, as a result, their work. This may encourage a considerable percentage of these specialists to fabricate evaluations and exaggerate their scores in order to appear appealing to potential consumers. Companies that hire such freelancers are frequently dissatisfied with the quality of work performed, despite the fact that ratings and reviews appear good.

There are too many options to pick from:

Most freelancing marketplaces are flooded with people looking for work these days, but this is a poor indicator of the quality of work produced. People may bid on projects even if they do not have a background in them or the necessary abilities to complete the work. Customers may become confused as there are far too many deals to choose from, and most of these offers aren't worth the price. An internal talent marketplace gives your firm control over vetting professionals to ensure they have the correct skill set for the services you need.

Communication gap:

Freelancers that provide their services on generic marketplaces frequently experience a communication breakdown with the client. The freelance professional will be unable to perform to their full potential if the platform does not allow them to readily communicate with the customer. This communication barrier can make it harder to complete your assignment as you expected. 
Solution
Creating a customized talent marketplace for your company is an excellent approach to getting more work done faster and better. This can help your firm save time, money, and human resources while also producing more efficient results. Companies all over the world are moving their focus to develop an internal talent marketplace to assist them to achieve more outstanding results in jobs where they excel while depending on remote freelance platforms to complete on-demand tasks. 
Wrapping UP:
A talent marketplace builder script, such as Network Plus, may help your company reach new heights in just a few simple steps. Contact BSEtec to learn how to create a personalized Upwork clone script freelance marketplace for your company.