The Prime Reason For Udemy Clone Success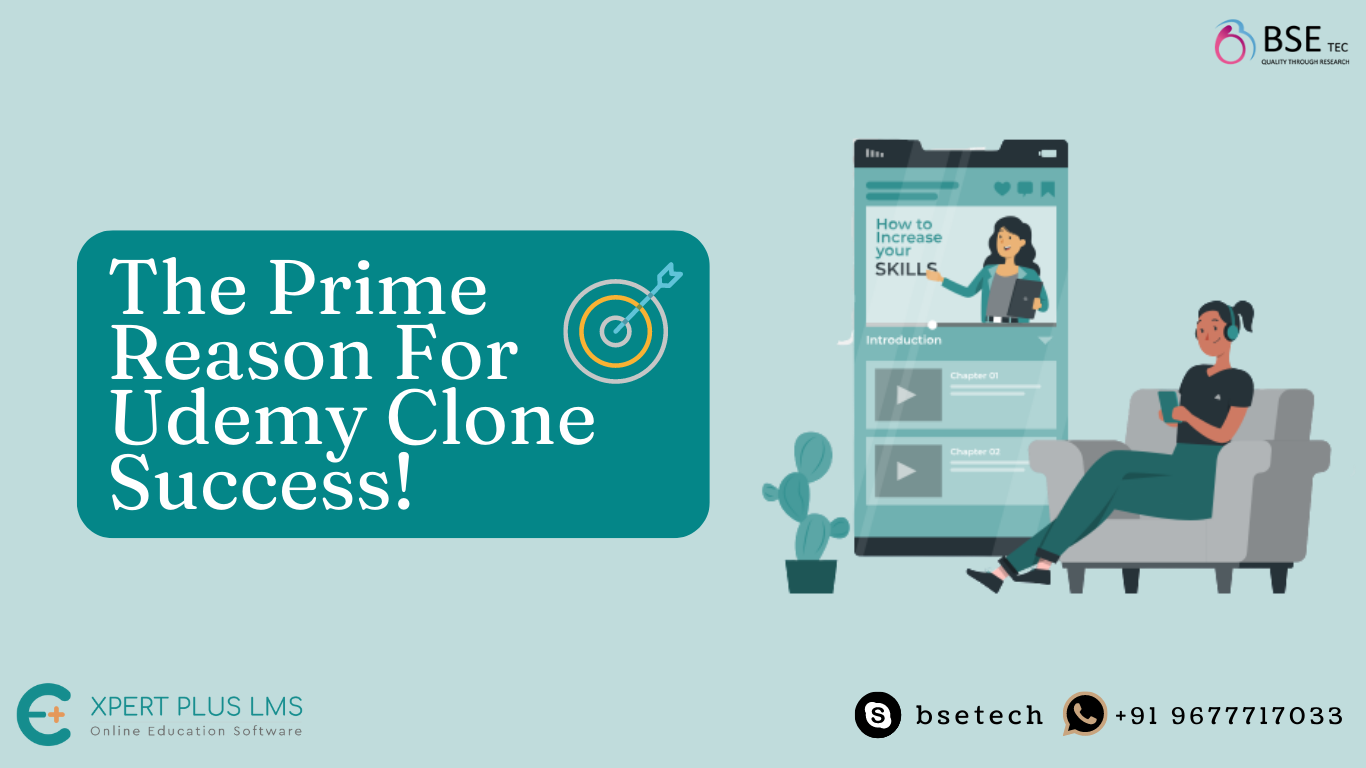 Udemy is a platform for online learning and it offers its users a wide range of courses on subjects like design, marketing, lifestyle, photography, health and fitness, music, teaching, and academics as well as development, business, finance and accounting, IT and software, office productivity, and personal development. The popularity of Udemy clones is primarily due to the success of Udemy. Yes! Udemy has the following outstanding features that contribute to its success.
Convenience:

Udemy allows its students to choose what and when they need to study. If a course is made available on the

e-learning platform

, students can enroll in it at any time because Udemy provides lifetime access to it. Furthermore, there is no predetermined time limit, so students can learn at their own pace.

Variety:

Udemy has educators from all around the world who teach a wide range of courses, from business to the arts. It gives pupils the freedom to learn whatever they desire. Udemy has the world's largest catalog of online courses: they host over 157,000 courses

Affordability:

Some Udemy courses are free, while others cost as little as $9. There is also a range of udemy coupons and seasonal sales and discounts that allow students to enroll in courses at rock-bottom prices. They also have the option of selecting their chosen payment method.

Certification:

Udemy certification courses boost your professional credibility. Udemy offers a variety of certification courses to help you learn new abilities, improve current talents, and broaden your knowledge. It gives students a certificate of achievement as proof of completion of a certain course. Certificates can be saved as.pdf or.jpg files, allowing you to simply share your achievement. Certificates can also be shared straight from Udemy on Facebook, Twitter, and LinkedIn. 
Likewise, these distinct features listed below are the main factor making our Udemy Clone Script a big success.
Social Sharing:

We have included this option in our product to reach more people because it is common knowledge that graphic ads can reach more viewers. It allows you to manage, add, and share promotional videos.

Quizzes:

The greatest technique to understand the depth of information acquired is to evaluate after learning a topic. Every lecture is followed by a quiz to help students gauge their understanding of the material.

Download Offline:

Recalling these lectures is crucial because it is impossible to become familiar with a subject after listening to the lecture just once. Lessons can be downloaded offline using this function so that future video retrieval is possible without an internet connection.

Course Completion Certificates:

Every course concludes with the provision of a certificate because anything without evidence cannot be considered valid.

Multiple Languages:

ExpertPlus LMS offers multi-language settings, with which you can reach a global audience. 
Udemy Like Website:
Get the tools you need to reinvent your online tutoring platform. You must first choose the components that will be used in order to launch a profitable tutoring industry. A resounding success would be selecting software with all the required features. In addition, ExpertPlus LMS, our top-tier white-label Udemy clone script, is incredibly scalable and can be modified to match your brand tone if you're wondering how to stand out in the competitive e-learning market. Invent user-friendly apps for students and teachers. Additionally, it will develop a fully immersive learning environment for everyone. Discover why the all-inclusive online tutoring solution is ExpertPlus LMS. Contact BSEtec for more details and a free live demo.