Tips and Tricks 2020. How anyone can develop a profitable freelance marketplace in a lesser time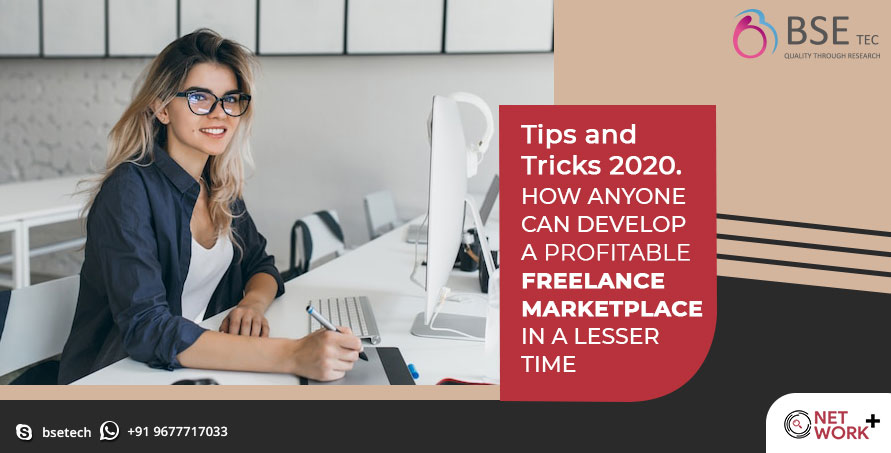 Freelance Marketplace is the best marketplace to develop a successful and profitable online venture. We say that because freelancing is all in demand globally. Many new freelancers are coming in, and the user base of professional skills holders is rapidly growing around the world in freelancing. The freelance industry is experiencing the biggest boom in the century amid global lockdown and unemployment rise in the world due to the global pandemic.
What's in for brands?
Now brands and corporates are also taking work from freelancers as it costs them less to take out projects from the best professionals around the world at the lowest price. Also, brands get the liberty to choose the right person for a job for every project. So in simple words, You can hire a different person for different projects in the company. For instance, if a project requires high experience and high quality with consistency then you can go with the more experienced and more professional one but if the project is a regular one and can be completed by an intermediate who can come at half the price of more experienced then you can choose them easily.
What's in for freelancers?
It is the complete ocean of freelancing opportunities but maybe it has all you need for the industry but becoming a freelancer completely is something that scares every freelancer in the start. To become a freelancer full time, They require to have complete patience and passion at the same time. They need to have a connection with the trust in themselves to prove the fact that their work or skill is needed to earn and be appreciated more. Best freelancing software always encourages good freelancers, and sometimes they develop the freelancer out of an employee by giving them an opportunity to make their work as a developed brand.
How freelancing is evolving in the year 2020
Freelancing is now not only the marketplace where freelancers get the gigs and earn extra dollars but now freelancing is the whole new form for them. Now freelancers mostly are becoming full-time freelancers by quitting jobs and they are developing their skills as the face of their profile as a brand. They are treating their skills as the online business where they provide their skills and experience on their price to businesses and brands around the world. How cool is that? It's like now they are getting the value that they always dream for, and now finally the experience and skills are getting the worth they deserve. 
For entrepreneurs, it is an opportunity to grab whatever development skills they got to develop a more convenient and more authentic freelance marketplace that can actually solve many issues in this industry. The year 2020, Is the best year to start that online freelance marketplace as a complete venture to make it profitable because now we have demand that is rising rapidly in this industry for that and we are lacking more authentic platforms to cater to the businesses and demands of freelancers that are coming with less freelancing experience but with excellent skills. 
Here are some tips and tricks that you can use to develop a better and profitable freelance marketplace to make a difference
Reach the freshers :

 Every freelance marketplace existing player is focusing on experienced freelancers and there is a whole left out market of freshers in the year 2020 that are coming to this industry are not even getting a chance to present their skills to the freelance industry because of a highly competent market. You can focus on that part of this industry to get a market share and to earn a user base that you want to have some skin in the game. 

Authentic Screening process :

 You can start developing your freelancing platform by designing a new and advanced screening process for verification and application approval. You need to make sure that every user that registers with your platform is fully committed to your platform and freelancing thing. The freelancing marketplace is all about getting quality work from the best talents around the world. 

Educating the Freshers :

 There is the biggest mistake that existing players in this industry are doing. They just decline the non-experienced talents and freshers that know very little about the working and the process of the industry. You can give the green light to experienced freelancers, But you can give a chance to new freelancers by educating them as it is best to give them a chance to enter this industry. This way they would get all the value that they deserve to start a new journey with your brand. 

Protect the freelancers and brands :

 You should protect the interests and finances of all the freelancers and brands that you cater to make sure that there should be no dispute over payments and other things. You should develop an escrow system as well as the proper dispute management system to make your brand more authentic.
What is the easiest way to develop a freelance marketplace with lesser technical knowledge
You can develop your freelance marketplace with even no technical knowledge by just getting the Open source Upwork Clone Script. Upwork clone is the most easiest and advanced way of getting the high-end freelance marketplace with all the customizations you require in your desired freelance marketplace. With the Upwork clone script, You also get many readymade features that develop your freelance marketplace with high-end technologies available in the market right now. You can develop your freelance marketplace using NetworkPlus. NetworkPlus is the best Upwork clone script for the development of the best platform just like Upwork and Fiverr. 
Why NetworkPlus
NetworkPlus is suitable for freelance marketplace development because it comes with many features with app and website and also it backs up with latest technologies available like Django framework, Angular 6, Restful and singular design, with bootstrap responsive design. Also, This Upwork clone comes with readymade features like 
Responsive Design

Skills Management
Category Management
Extensive Job search
Job Management
Rating and Reviews system
Seo friendly
Profile Verification
Freelancers Management
Client's Management and many more.
Why BSETec for development?
BSETec is the brand that helped many brands in the development of their advanced and most customized platforms. You can develop your freelance marketplace with the perfect and advanced clone script ever- NetworkPlus. NetworkPlus is something that is completely customizable, and it backs up your platform with every high-end technology that can make your platform more functional and advanced. You can develop your platform with more integrations and every trick we said without any technical knowledge because BSETec has got all you covered. With the NetworkPlus, You also have the liberty to use the additional benefits that you get like Free Installations, Free technical updates, and free premium technical support to make sure the platform is fully functional all the time.
You can check out the free of cost live demo to see how exactly the Upwork clone script works in real-time after development with NetworkPlus. You can get in touch with BSETec to get the price quote for development with all the customizations you require only at NetworkPlus. 
Contact Details
Email : support@bsetec.com
skype : bsetech