Top 5 Features That Will Set Your Online Tutoring Marketplace Unique!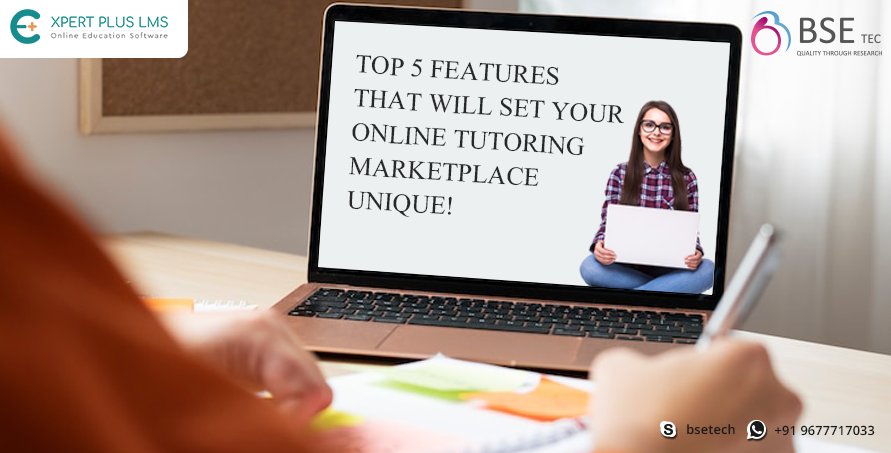 In the US, the online tutoring market has surpassed the billion-dollar milestone and is expected to reach $1.5 billion by 2022. The online tutoring marketplace is more convenient for students and it is easy to customize for tutors. Tutors can utilize a variety of interactive tools to make learning more enjoyable. If you own a learning management system (LMS) or want to create an online tutoring marketplace, you must ensure that you have all of the necessary resources to provide consistent services.
Hassle-Free Sign-Ups And Social Logins:

Always keep the Login/Sign-up process simple and hassle-free. Visitors who are visiting your website for the first time expect to complete the registration process quickly. Setting up a signup page with basic information such as name, email, and phone number is simple and does not complicate the process. To summarize, remove any superfluous steps required to access an account on your website or Simply opt for Signup with social logins like Google or Facebook account.
Simple Search And Selection:

Loading your app or page with more elements isn't wise. Keep it simple and minimal. It is not a good idea to load up the interface with elements. It may make it difficult for users to find tutors. Students would like to locate tutors who match their preferences. Filters such as geography, expertise, ratings, and others can be added. So that students can utilize these filters to narrow down their search results amid a plethora of possibilities.
Profound Feedback System:

A learning space created with a deep feedback system from the community can be quite beneficial to your online tutoring course. Feedback, Reviews, and Ratings contribute to creating a reliable

eLearning platform

. A systematic feedback system would also assist students in finding the best tutors to work with. Credibility is built through reviews. These reviews and ratings provide freshly enrolled students or students considering enrolling in your course with an idea of whether it is worthwhile to enroll.
Real-Time Notifications Ensure That You Never Miss Anything:

When necessary your

course marketplace or learning management system

should be able to send push notifications to both tutors and students. Is it time for a class? Are you running late for class? Is your deadline approaching? Push notifications would ensure that neither the student nor the teacher overlooked anything on their calendar.
An Analytical Admin Dashboard That Is Snappy And Insightful:

Data provides deeper and more powerful insights than you can manually comprehend. You need to have an easy-to-use admin dashboard that provides data-rich insights resulting from student activities on your platform. Certain analytical reports will give you insights into what efforts are paying off and what isn't. As a result, in the future, these insights help make informed decisions.
Get the right tools to Redefine your online tutoring Platform:
To start a successful tutoring marketplace, you must first determine the components that will be used. Choosing software with all of the necessary features would be a resounding accomplishment. Furthermore, if you're wondering how to stand out in the crowded e-learning marketplace, ExpertPlus LMS, our top-tier white-label Udemy clone script is extremely scalable and can be adjusted to match your brand tone. Create user-friendly student and tutor apps. And it will create an immersive learning environment for all. Learn why ExpertPlus LMS is the all-in-one online tutoring solution. Contact BSEtec for more details and a free live demo.