Top 5 Time-Saving LMS Features to Automate eLearning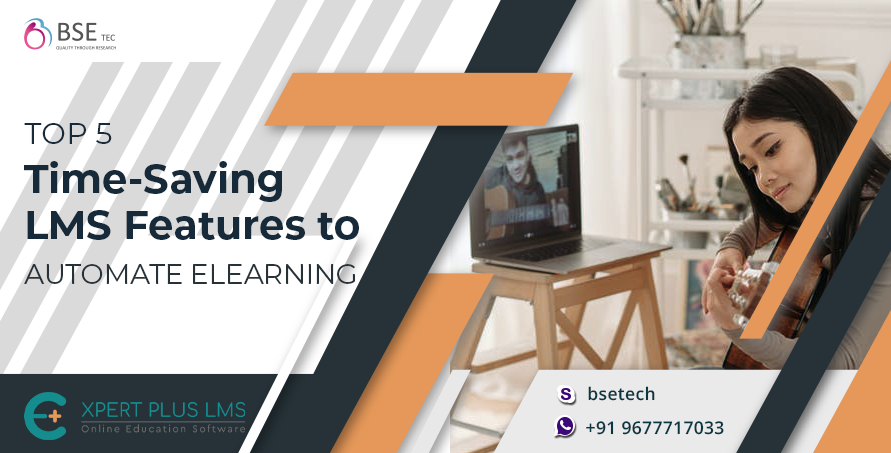 With the advent of the coronavirus pandemic, eLearning has become one of the most important things to help sustain the educational sector. People are not being able to step out of their homes and all schools, colleges and other educational institutions have been shut down with no specific timeline. This would have crumbled down the entire educational ecosystem, but thanks to technological advancements that even education has been made available online. Through a good Learning Management System various structured courses and modules, students are able to have a better understanding at their subjects. Choosing an LMS eLearning requires a number of features that would not only help the student to be involved in the learning process, as well as it would help him save a lot of time. Delivering eLearning has become easier than ever these days. Getting hands on the right LMS with amazing features and great functionality enables you to stop micromanaging and start training faster and more efficiently. 
Therefore, for delivering more education and training but less amount of effort, the top 5 time-saving LMS features to automate your e-Learning process are– 
Triggering push notifications–

It is very important to keep your learners hooks to the LMS platform. They for letting me know from time to time to start learning their courses and how far they have come through the automated notifications and emails– which may consist of bottle invites enrolments or enrolment reminders, etc.
Easy and single sign-on process–

The learners don't like to go through the hassle of logging in by giving their username and typing their password every time they are signing in. However, the single tap sign on is a handy feature that will enable your learner to seamlessly access through your LMS. 
Easily accessible at all times–

One of the best features that help an LMS to set a benchmark from the traditional way of learning is its easy accessibility at even odd hours of the day. A person can study as late as 3 a.m. or as early as 5 o' clock. It doesn't matter where you are globally, you can just login and start learning at any point of time. 
Certificates on Course Completion–

Except for having gamification elements suggest badges for boosting encouragement, course certifications authenticate the training undertaken by the instructors. However you don't have to work hard manually to update and send a certificate, your LMS can help you to automate the entire process of the commencement of the course certification after its completion. 
Groups and Discussion Forums–

The students like to have a group or a discussion forum where they can ask questions or clear their doubts if they have any, and also sometimes take part in a debate. Having a group gives a sense of commonality which helps them to study better and makes the learning process fun and engaging. 
Conclusion
In large organisations, Automation in eLearning will become an increasingly important tool for educators. If you want to make your own LMS with all these integrated features, then we have the best elements for eLearning– ExpertPlus. It is the best Udemy Clone in the industry and can help you to build your online education platform seamlessly and affordably in a short span of time. To know more, contact us today!