Trulia Clone App | Property Listing Website – How To Develop A Blockchain Powered Web3 NFT Real Estate Market Place?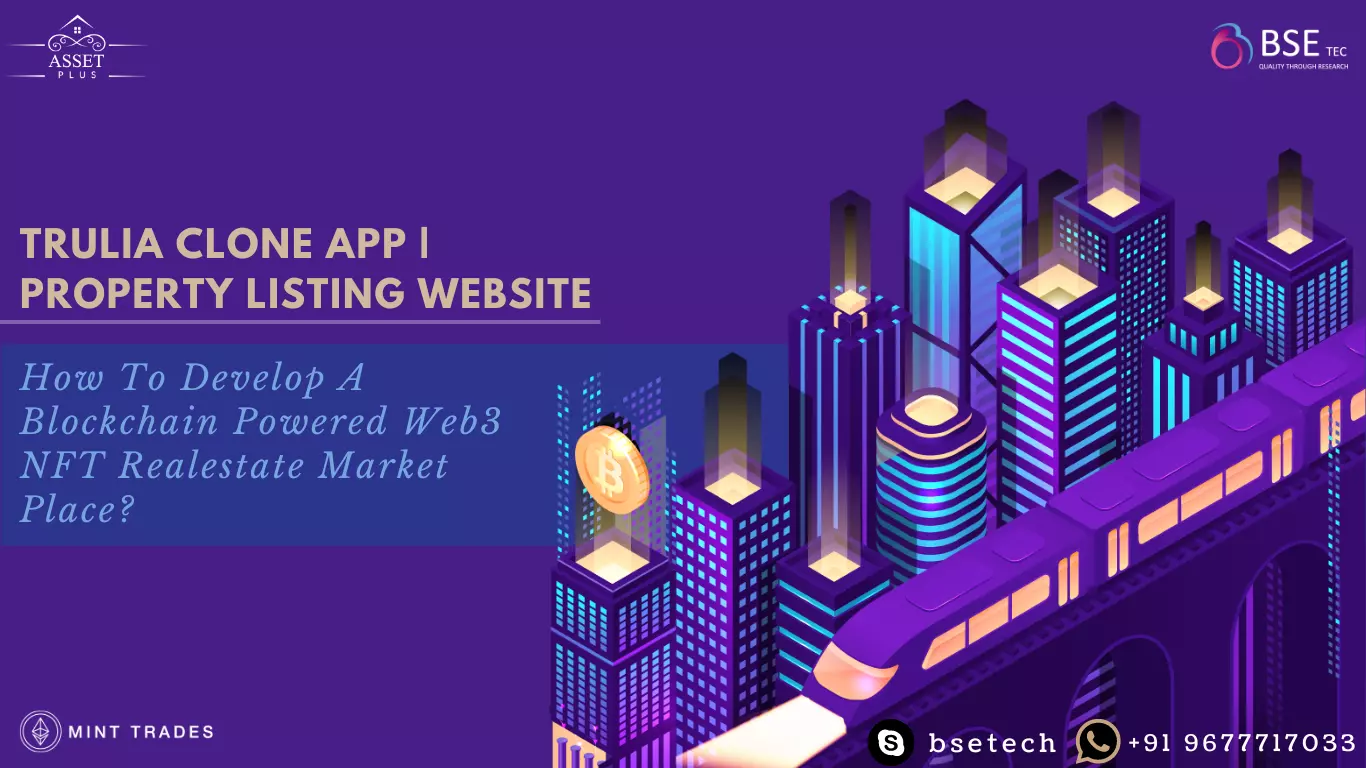 Finding your dream home is only a few clicks away in this digital age. Everything is at our fingertips, from online education websites like Udemy to property listing websites like Trulia. 
Apps like Trulia: 
Trulia and other property listing apps provide an easy online platform for house hunters to find suitable homes for them, all from the comfort of their own homes or workplace. These property listing websites provide users with a more straightforward approach to buying or renting homes and apartments, apps like Trulia lists houses for rent and sale in one easy-to-use and clean platform, as well as providing potential home buyers and renters with the information they need for moving to a new area and understanding the neighborhood better.
Advantages Of Trulia Clone App Script
Intuitive Website Design:

This user-friendly design provides users with data they didn't know they needed, such as crime statistics in the neighborhood, demographics for this specific place, and the location of the nearest Bakery, Hospitals, Gyms, Educational Institutions, and other amenities. The 'Local Scoop' section provides readers with unique and personalized insights into the area where they are considering relocating.

Google Maps:

The map along with the Property images and description on the search results page gives users the location of the home they are interested in and what is nearby. You may also quickly narrow down the results with map-based searching and navigation to locate the place precisely.

Filters:

The filters simplify our house hunting by limiting the search results by category. The filters include a wide range of parameters to assist you in narrowing down your search. Filters provide search results based on preferences such as price range, studio or number of baths and bedrooms, home types, and listing type.

Pet-Friendly options:

You may filter results not only by how accessible a home is to public transportation but also by whether or not it is pet-friendly.
Advantages For Sellers
Larger market reach.

Improved Sales.

Instructions for selling and signing the documents.

Clean and easy listings of the property.
Advantages For Realtors 
Additional Revenue Stream.

Improved brand recognition.

Increased marketability.

Get detailed property information.
Give your app a touch of Blockchain technology to stand out in the real estate field:
Blockchain is disrupting every industry, including real estate. Blockchain technology's trustless and transparent feature of blockchain technology has also found its way into the real estate business. Innovative blockchain solution with tokenized real estate assets to ensure complete transparency at all times, and other added advantages like no third parties.
How to develop and launch App Like Trulia or Zillow:
If you want to start an online property listing website, you've come to the perfect place. But first, you must decide which version of the real estate marketplace you want to use. There are two types of real estate website scripts,
Trulia clone app:

Trulia clone app scripts are ready-made scripts to launch real estate websites

Trulia clone website – web3 version:

Decentralization is the core of the blockchain ecosystem, and it includes NFT marketplaces as well. A

decentralized NFT real estate marketplace

would enable real estate trade amongst peers (P2P) without the intervention of third parties. As it uses smart contracts, lengthy and slow paperwork would be removed. An NFT real estate marketplace saves time and money for both buyers and sellers, making real estate a more appealing investment option.
How to opt for blockchain powered NFT realestate market place?
Mint Trades is a readymade Ethereum-based NFT marketplace script where users can discover, buy, bid on, sell, and trade their premium digital collectibles and exclusive non fungible tokens. Since it is a white label solution, you can tailor it for the NFT realestate marketplace.
How Can Asset Plus Help You Realize Your Online Real Estate Marketplace Dream?
Asset Plus is the best real estate PHP script and is the perfect choice for launching your own property listing real estate websites such as Trulia clone or Zillow clone. With its advanced features such as responsive design, advanced search options, map-based searching, and other outstanding features, you may compete better in the existing real estate market game. Contact BSEtec for more information if you want to know more about developing blockchain based NFT real estate marketplace and a free live demo of the Asset plus app.