Video Live Streaming trends in 2020 that will help you to reach Successful Business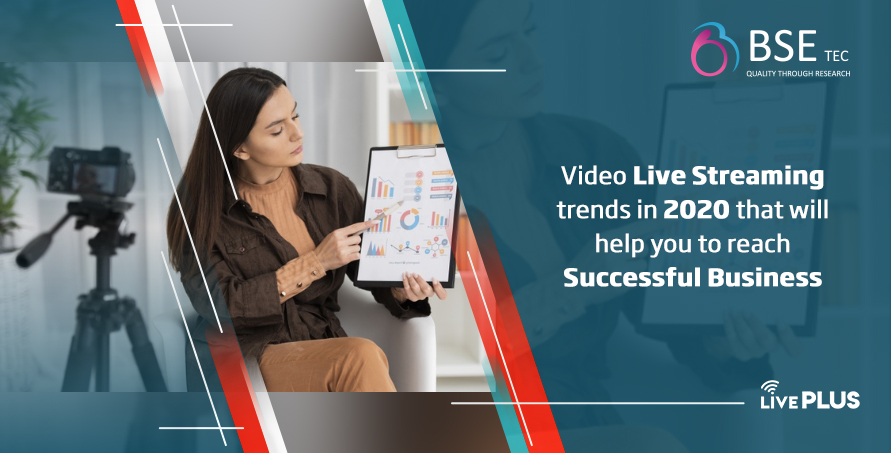 Live video streaming has become more popular than ever before in terms of usage. The fact that it is accessible by anyone for free makes it a domain for anybody to engage in certain activities that are open to all, such as streaming political propaganda or an advertisement and so on. Additionally, live video streaming news can be highly engaging and encourage a two-way flow of communication as the viewers can respond to the new immediately through comments. This makes the platform dynamic compared to the TV news streaming which only facilitates monologues.
Apart from these reasons, any live video streaming app gets popular if it holds the account of celebrities in cinema, politics, sports and other fields. Fandom can be extended to interaction with the celebrities and not just posting trivia on them.
Let's look at some of the video live streaming trends that can be used to boost your business:
Increased use of live streaming for business : For a multinational corporation or any institution that holds humongous employee base and numerous branches, live streaming is a great platform to broadcast any event. It is hard to conduct meetings through video conference when the users exceed five hundred but in live streaming, the number of viewers is endless. A report by Kaltura states that 80 per cent of the bigger companies use live streaming platforms to broadcast their events live. Especially in the times like now when Covid-19 has made it impossible to book a hall and host an event, live streaming is an excellent alternative that also saves huge money for the companies.
People are cancelling cable TV subscriptions : With the arrival of copious OTT platforms, people are switching to mobile TV and live video streaming and "cutting the cord". Most TV channels are also turning online and live video streaming generates huge revenue for them based on the number of viewers. With a massive population becoming users of smartphone and digital technologies, the scope of telecasting is gradually decreasing.
Brand building : Live video streaming, as stated previously, helps greatly in business development and marketing. E-commerce is one of the industries that have gained a huge benefit through live streaming. A 2018 study by Brandlive and IBM stated that nearly 95 per cent of companies consider live video as an important part of their marketing mix which is evident
Live video streaming in Social media : We are already witnessing the adoption of live video streaming features in the social media app such as Instagram, Facebook and even the video streaming platform like YouTube has video streaming feature. The reason why these platforms hail to be popular is especially because of the live video streaming, that enables the users to spend quality time with their favourite social media personalities. And they do not have to open a separate account and remember the password to login each time. the users can simply log in using their existing social media credentials and go about in using the app.
There is more to this list and the scope for live video streaming keeps expanding over time. To create a live video streaming app, one can use the bigo live app clone or periscope clone script. Once the app is created using live streaming PHP script, users can download it from play store and app store through their smartphones. Live Plus is one such clone script that comes with exciting features such as easy go live option, best-class video streaming quality and top-notch support tools. Why wait, start your live streaming app today using Live Plus.