Ways To Monetize A Job Board Website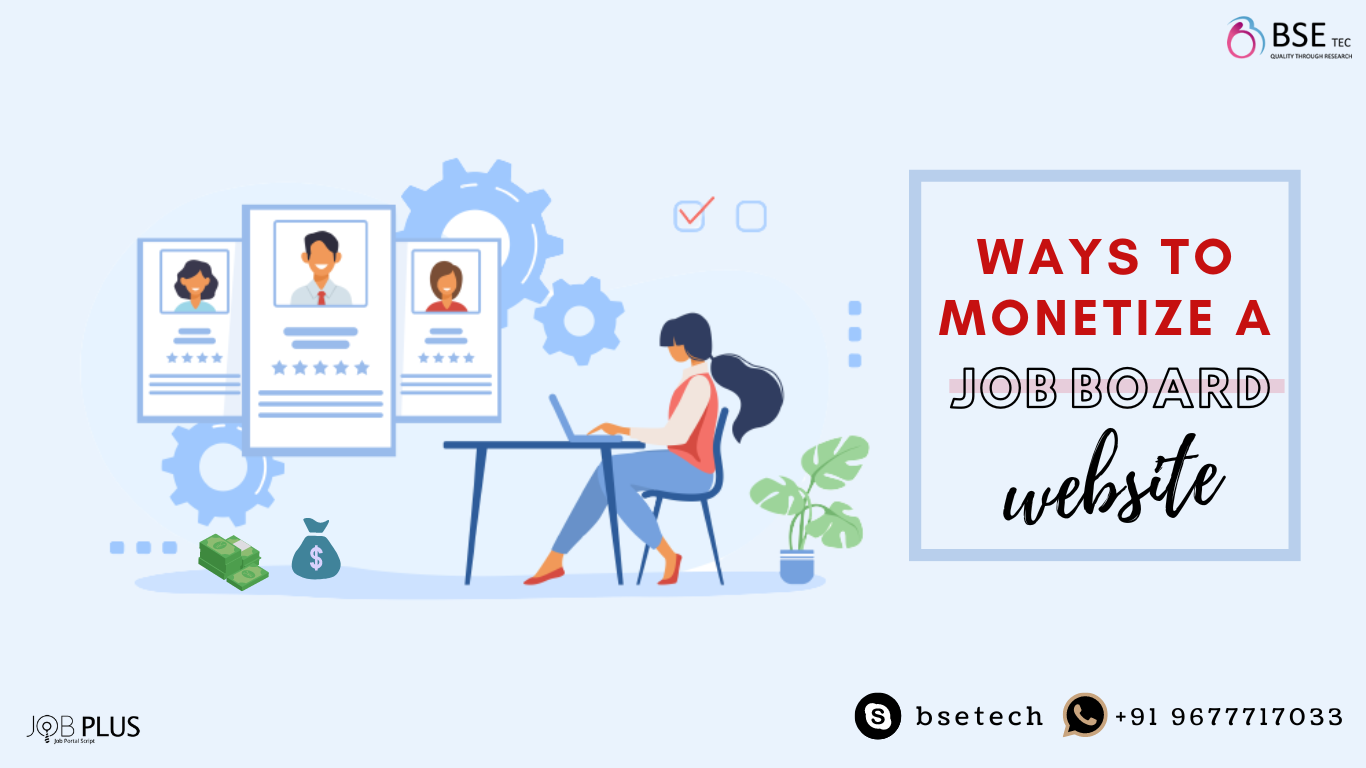 The most common way of monetization for job board websites is to charge companies. Companies are always on the search for high-quality applicants, and they are willing to pay a premium if they can find them on your job portal. Here are some ideas for generating revenue from your job portal websites. Let's have a look at the various methods you might monetize your job board website.
We shall divide the revenue streams into three categories:
Monetizing Global Job Board – Revenue from Employers
Job Posting:

Most job board providers monetize their services through job posting fees. Companies must often pay for a job listing to be featured on a job board for a set length of time, such as 30 days. The job posting costs can be set by taking into account your specialization and the type of organizations you are targeting.
Access to resumes:

While on a hiring spree, employers collect resumes in order to shortlist the most qualified individuals. You can create additional cash aside from job postings by giving them exclusive access to your job seeker resumes.
 Featured employer listings:

As organizations compete for the best people, you may offer them the chance to be highlighted on your job board site, blog, or email newsletter. This allows businesses to gain greater exposure from qualified individuals, enhancing their chances of acquiring top talent.
Monetizing Global Job Board –Revenue from Job Seekers
While employers have traditionally been the most common source of money for job boards, many job board websites have been successful in generating cash from job searchers as well. With millions of job seekers looking for their dream job, connecting quality people with relevant companies is an important role that may also be a wonderful source of money. 
View jobs:

If you are in a competitive market, charging job seekers a weekly or monthly charge for reading the job advertisement may be beneficial. This method also has the added benefit of enhancing the quality of your candidate pool because only those who are serious about their job hunt will pay. As a result, your job board's reputation will increase, and more possibilities will become available.
Featured profiles:

Highly qualified job seekers are willing to pay to stand out from the crowd and increase their chances of winning the best available job. You can simply capitalize on this by supplying them with just that while also introducing an additional revenue stream. You can provide a featured resume option, in which the candidate profile is highlighted and placed at the top of the search results, attracting the attention of potential employers. 
Resume writing service:

Job boards with a huge user base of job searchers might offer resume writing services, generating some extra cash. You can collaborate with professional resume writing services to make this available, or you can develop an in-house team. This will not only assist job searchers to find better positions, but it will also increase the total value of your worldwide job board. 
Monetizing Global Job Board – Advertising options
In addition to the direct service offerings outlined above, you may explore monetizing traffic to your worldwide employment board website through advertising alternatives. When it comes to advertising, there are numerous possibilities available.
Google Adsense:

Google Adsense is a reputable advertising network owned and operated by the search engine behemoth Google. It is also a terrific approach to monetize website visitors who may not subscribe to any of your services. Your earnings will be solely determined by your traffic and the number of people that click on the adverts. When employing advertisements, be sure that the ad placements do not interfere with the user experience given by your site. 
Job backfill:

You can't expect a significant supply of job posts right away when you launch a new worldwide job board website. You can load your job board with postings from popular worldwide job boards such as ZipRecruiter, Indeed, Job2Careers, and the like until you get the necessary traction and start receiving job listings spontaneously. This is known as job backfill, and you can earn affiliate commissions as job seekers browse your advertisements. 
Banner advertisements:

Banner advertising are a popular method of monetizing websites and can also work well for job boards. You can charge a monthly fee for banner ad space on your employment boards to companies that provide services or goods that are closely linked to your niche. The user experience is still important here, and you should avoid overcrowding your site with banner adverts.
If your job board isn't generating the money you expected, it's usually because you're putting all your eggs in one basket. To start producing more money from your job board website, consider integrating two or more of these monetization strategies. Contact BSEtec to launch your job portal website with the best Jobberman clone, Job Plus. Click here for a live demo.