Website Clone Scripts – Build your Uniqueness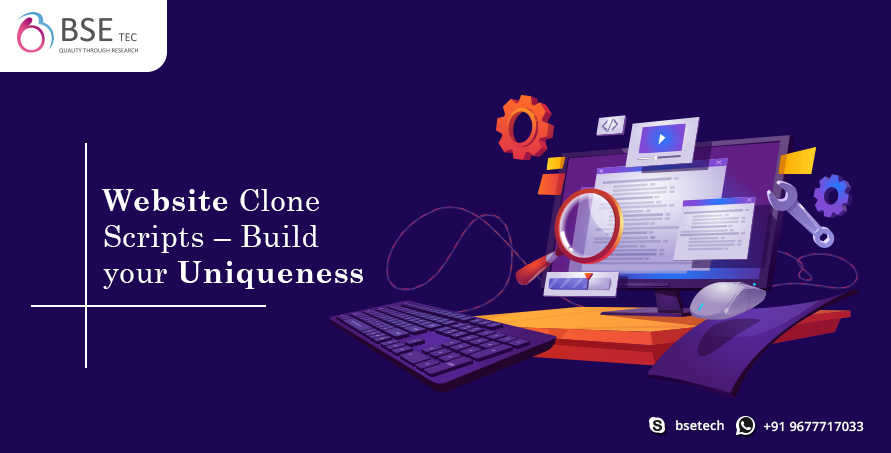 Building a website is not about building a common platform where your users can come and take your services or products virtually. But it is all about developing another world for your product and services where you can find more users every day using worldwide reach along with the existing range. We know this sounds bookish but we are very much sure when we say that website means the unique shop for your brand. Website development today is very easy for everyone as you don't have to be the big corporate and high earning brand to have a good website but all you need is some affordable resources, and some unique model ideas with designs and you are good to go.
In this article, we are discussing the ideas that can be very useful for your website development that stands out from the competition and along with that the affordable resources that you can utilize to achieve adequate results,
Top Ideas to Make your Website Development Effective
Here are some useful ideas to make your website development effective
#1. Showcase your brand strength before you show your product- In this, we are trying to say that in your website the content approach should be in an informative way where users can learn more about 
Your category

Benefits of joining your brand 

Why you are the best brand that can serve them

Competitive analysis 

Testimonials 

The creative and unique call to action approach at the end
These things not only enhance your quality of content but also give you an edge on sticking customers to know more about the value of service and product they are going for. 
#2. Facts over talks- You will get the extra points and hold on to consumers if you include more facts about your industry as users always get keen to know more facts and figures where they are going. It is also a good model to promote where you may give transparency in showcasing even your product's facts and general queries answers. 
#3. High-end technology– We know you are thinking that if you are an average brand then it must be a lot expensive for you to have high-end technologies integrated into your website development but let us make this clear that in 2021, You don't need to have the fortune to have the latest technology available as we have so many affordable development resources in the industry where you even get the latest technology and high-end integrations very easily. The idea of getting high-end technology is a must for you as you need a boost that can attract more customers to your platform from the first day, and technologies like Artificial Intelligence-based tools are the best for the matter. With that, you can even improve your analytics. product showcasing, website performance, Database Management, and many more. 
#4. Product Experience- This is the best thing that you can do with your website when you are selling a product. As in this, you use simulation tools like AR (Augmented Reality) and VR (Virtual Reality) to give the exact feel of the product virtually before a customer buys it. It not only gives your product an edge where customers can see what they want but it also enhances customer retention, visitors rate, and much more. Also, you can be the more high tech brand in your competition with these small integrations and changes. 
Which is the best resource to get all these things at an affordable cost?
Website Clone scripts, Yes clone scripts are the smartest source of development of any type of website with all the basic and exclusive tools where they come in even loaded with the clone script itself. It develops your website and application both with the high-end technologies available in the market at a way lower cost than scratch development. 
The main reason we are suggesting readymade website clone scripts is that with the clone script you are not only saving a load of money in development but also you are not giving any time and effort in the technical things as all the development with all the customizations and designs that you want would be directly developed by the professionals in the industry from clone script provider. 
And in BSETec we are known to be the technical pillar of the brands we developed just because we invest our resources in the research and development of new and emerging technologies like Artificial Intelligence, Blockchain technology. Data Management, Internet of Things, and much more to get them accessible for every entrepreneur out there through our clone scripts. 
We have so much diversity in our offerings as we have all the major platforms clone scripts in the major categories like 
You can check out any clone script in depth along with their free live demo to experience their advanced level of development from the front end and even from the back end. Every website clone script is loaded with high-end readymade features and integrations. 
We suggest you get in touch with us right now to see what we can do to make your brand more visible and high end at the global stage with our affordable high-end development services. 
Contact Us
Email: support@bsetec.com
Skype: bsetech