What do you think will be the next big thing in IT industries?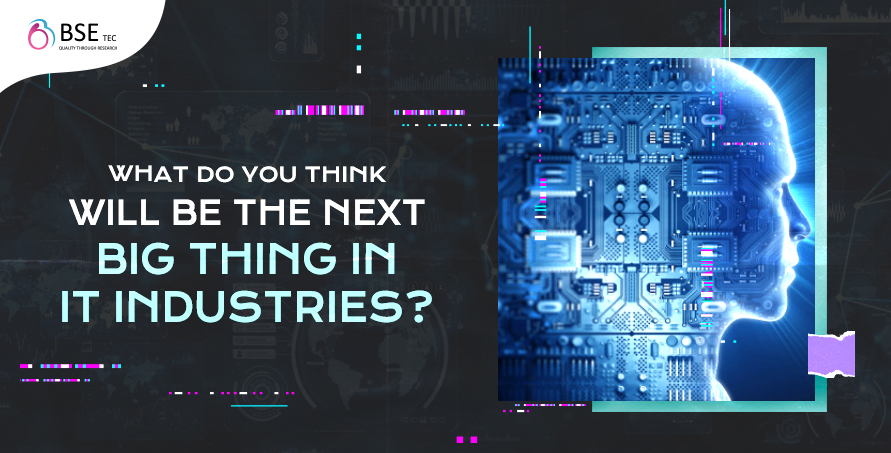 The IT industry is the industry that is getting high demand globally in the year 2020. IT has so much to offer to many categories of personnel with quality innovations and technologies. We at BSEtec, are always curious about future trends and new opportunities to grab and to help our clients achieve their innovative goals in this sector. Now at the time of global lockdown and businesses meltdown. Businesses are searching for ways and platforms to connect with audiences and also the global audience is searching for online substitutes for their every need. With this type of sudden demand, It is natural that people will find more flaws and entrepreneurs would notice those flaws too and they try to solve them and serve better innovation. There are some predictions in every industry that we will experience some big upgrades and innovation upgrades.
Here we tell you some of them, That we think will be big in near future.
Artificial Intelligence :

 Talking about future innovations, trends, technology. And then we don't talk about artificial intelligence, That will not happen. Artificial intelligence is the most promising and most innovative invention of humans. In the near future, We will be able to learn and utilize more tools with deep learning and now we know much less about AI but we have experts globally who are working hard on exploring its reach and limits. 

Education Revolution :

 The industry that is getting the most benefited and without even any cons, Would be the education industry because it is making it easier for everyone to communicate education. AI is getting better with education and with the integration of many Ai based tools, eLearning is getting better day by day. And it will be better than traditional learning in every sense. Also shortly e-Learning may take over the whole education system through its innovations. 

Data Analysis and Management : 

AI is more like a need than a luxury when it comes to data concerns. By going online with everything, There are lots of concerns with data privacy. If we achieve success in deep learning and we use technologies like blockchain and crypto, Then we can protect our data more wisely and at par security. We are also seeing AI analyzing and managing data tremendously. Giants like Google and Facebook are continuously experimenting and using ai for more accurate data analysis. We may get into the next level of analyzing and managing the god of assets (DATA) more productively and ethically with Artificial intelligence.

Advanced clone scripts : 

Due to the demand for new and updated platforms, The clone script market is also getting more advanced and competitive now. Clone scripts are getting more affordable because more and more entrepreneurs are coming with their platform ideas. We at BSETec, Always see the passion of developing something great in entrepreneurs and we feel good when we help them as their technical pillar and give them the software development solution that they deserve. And whatever industry leads in innovation or technology, But platform development will always be a step ahead because it's a base of every IT development. 
We at BSETec, Always try to give the best in our digital software solutions and we provide every clone script you can imagine. For instance Udemy clone script, Instagram clone script, Upwork clone script, Fancy clone script, Live streaming script, Uber eats clone script And many more. For more understanding on any service or in case of any query, Feel free to contact BSETec