What makes a good NFT Marketplace?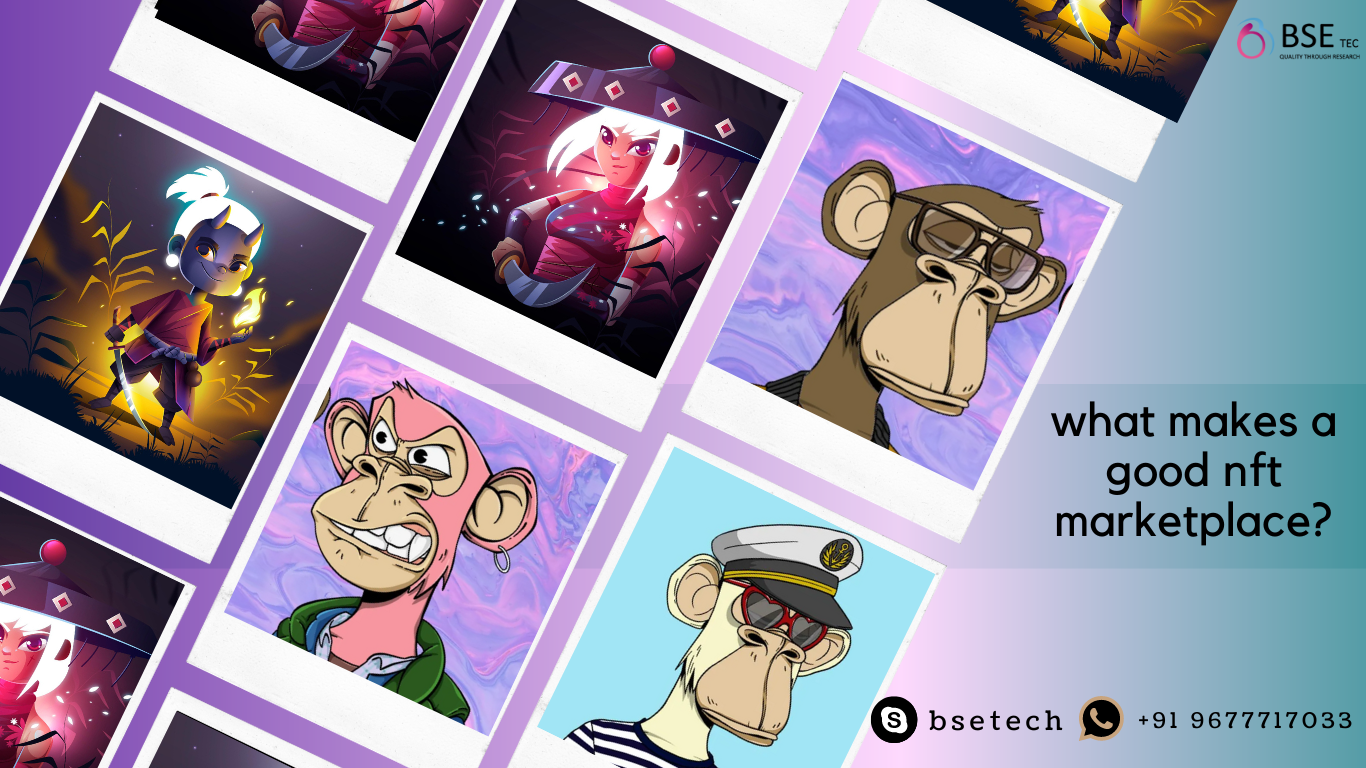 An NFT marketplace is a digital platform where you may purchase and sell NFTs. These platforms enable users to store and show their NFTs, as well as sell them to others in exchange for cryptocurrency or money. These are similar to the multi-vendor eCommerce platforms like Etsy and Amazon, the only difference is, that NFT marketplaces sell only NFTs.
     know More What is NFT Marketplace?
Option for Bidding:

Bidding is an entertaining element. Don't forget to include it in your NFT Platform. It enables creators to earn more money and bidders to monitor fluctuating bidding prices. Bidders can either wait or bid based on the increasing or decreasing value of the collectibles. Additionally, include a bidding expiry date and time to make bidding more valuable and to invite auctions to participate.

Fair rewards:

By trading their artworks on NFT marketplaces, creators can capitalize on their works and receive money not only from the initial sale but also gain rewards from every resale. The average NFT royalty ranges from 5-10% of the price of a deal. The payments are automatically redirected to the creator upon each subsequent sale in the secondary market.
Advanced search options:

Customers are constantly anxious to check the desired token with the least amount of work. The NFT marketplace is a place where they can easily sort products such as photos, art, memes, and music. Quick search is an excellent business technique for improving customer experience.
Crypto wallets:

Users are continuously looking for a more secure location to store NFTs. Nothing can protect them from security dangers more than the development of a wallet. That is why NFT marketplaces use wallets that were previously inserted to save and submit tokens. It also allows users to sign in with their preferred wallet rather than signing up for other online wallets. Finally, use the best approaches for storing, submitting, and retrieving tokens.
Marketplace ratings:

Marketplace ratings improve credibility and Social proof. People have the tendency to believe what others genuinely say after using a product or service. For people, it is easy to trust a fellow customer than to trust a brand. So, when a marketplace has a rating feature, it improves the trust factor along with online visibility in search rankings. Rating is an excellent method for newcomers to determine the true value of collectibles. Previous customers offer their experiences in the form of words or stars to advise others whether a given seller is trustworthy or not. Users with the highest rating are rewarded handsomely.
What kinds of NFT marketplaces are available?
Some NFT marketplaces, such as OpenSea, can contain a wide range of NFTs, whilst others specialize in a single area, such as video or ASMR. Consider the following examples:
Multiple categories — OpenSea, Rarible, Binance NFT, Zora

Art — Nifty Gateway, SuperRare, Foundation, KnownOrigin

Music — Zeptagram, AirNFTs

Sports — NBA Top Shot, Sorare

Game assets — Axie Infinity, Venly

Tweets — Valuables

ASMR — xtingles
If you are a digital artist looking to put up your digital art on an NFT marketplace, we believe that this blog has information regarding your doubts or gave clarity about what a good NFT marketplace should possess. As the NFTs are in high demand, demand for NFT marketplaces is also increasing. If you looking for blockchain-related digital solutions, contact BSEtec for more details.