Why is Clone Script the Best Choice for Web Development?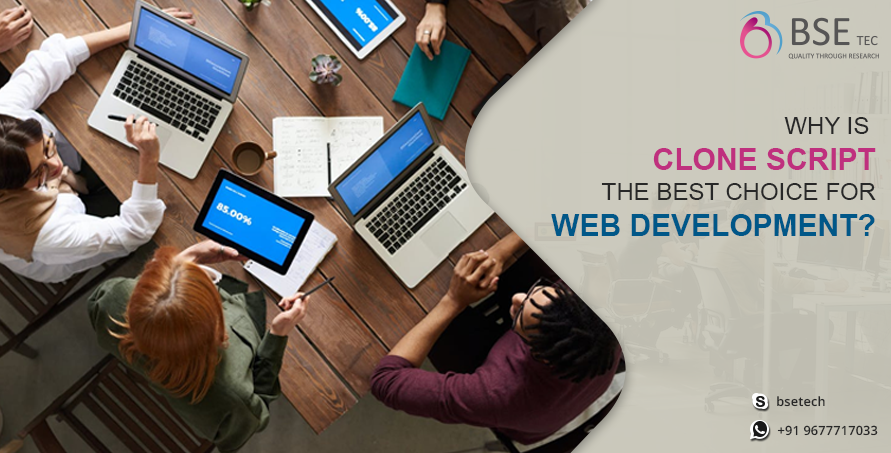 Creating a legitimate website by taking inspiration from an existing website and modifying it into having a unique design, features and performance applied to it is basically what website cloning is all about.
These are the features of well known websites which makes your site more advanced and feature-rich. Before you begin the web development process you have two options– starting from scratch for opt for seamless, responsive & intuitive clone scripts. Depending on which kind of site you are building for your company, you can choose your clone scripts from the wide array of options available like– Freelancer clone, Etsy clone, Udemy clone, Trulia clone, etc. Nowadays all the major businesses opt for clone scripts for their website building because it is more beneficial. Making the website with alluring layouts and adding unique and attractive features is a part and parcel that is offered by the clone scripts. The businesses who have ideas ready and want to promote their company for their website, using clone scripts is the best solution. It is an easy, safe, time-saving and cost-effective method to develop a website for your brand with all the necessary details. 
Why Clone Scripts are the Finest Choice for Web Development are–
Some of the reasons why clone scripts are the finest choice for web development are–
Customizable and scalable– PHP clone scripts and website clones are open source scripts which can be completely customized and scaled as per clients' wishes and demands. Building a website with features and functionalities that are rich and can be modified with a variety of templates to choose from is very helpful in staying ahead of the competition.
Less investment–

Clone scripts are far less expensive and it doesn't cost you a hole in your wallet. This is because it cuts off the requirement of a web developer who needed to perform a tedious amount of work to develop a website from scratch.
Fast in launching–

As clone scripts are the replica of an existing website it does not take that much time to be developed, which is why it can quickly be launched in just a matter of days, especially if you are on a time crunch. 
No technical knowledge required–

Using clone scripts for web development does not require any technical or coding knowledge. It is fully ready made and you just have to customize it according to your preferences and voilá! Your site is ready to launch.
High chance of popularity–

As website clones are replicas of popular websites, it has higher chances of popularity due to the increased visibility factor which brings in a lot of traffic into the website. 
Rich SEO friendly scripts–

Clone scripts are SEO friendly and bring organic traffic to your website which helps your site gain further popularity on search engines like Google, Duckback, Opera, etc. 
Stay ahead of competitors–

Web Development is an extremely competitive market and is challenging for beginners to survive. Thus, using clone scripts is the best way to win at the marketplace and you can invest your time more into marketing rather than pondering over it's R & D. 
Conclusion
A website plays a prominent role in any business, and it must be advanced and feature-rich. BSEtec provides you with the best quality clone scripts for web development which are affordable, high quality and help to enhance your market value, get brand recognition with its peak performance.