Why Live Streaming is so Effective for Small Businesses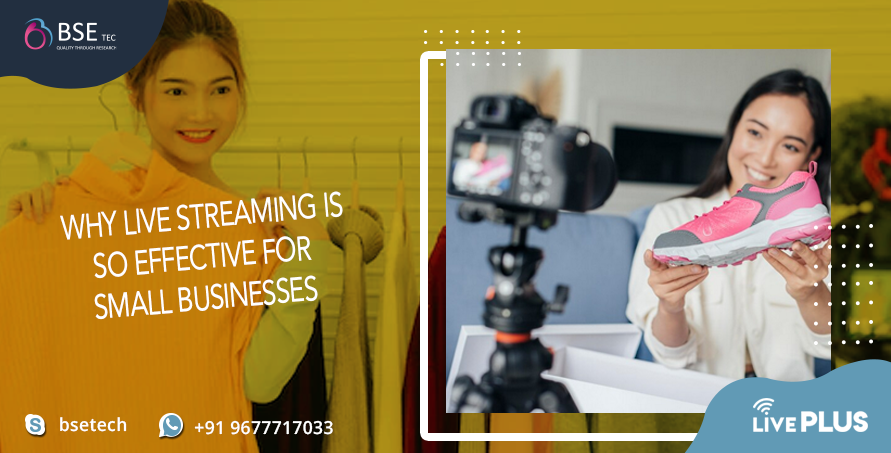 We are living in an era, where we are amidst a pandemic, where the entire education system, film industry, corporate houses and various other industries have come to a sudden halt. This is a time when a product's ability to reach its customers online has never been more important.
With the technological advancements catering to the needs of the public, everything is going digital. Be it imparting education, or holding conferences, or even gym sessions. 
This is where live video streaming comes into play. YouTube's popularity had proven a long time back about the importance of video in the online world. However, the rise of live videos has recently taken place, more so, in the times of Covid-19.
Children are not being able to go to their classes and neither are the offices being able to functionally open. However, online streaming services are bringing back the human element to an extent to these digital mediums, by giving a real-time experience while imparting education, sharing knowledge, teaching new skills or while holding meetings and video conferences. The utter significance of  live streaming is often overlooked by small businessmen. On all social media platforms, you can click a button and start streaming live. In addition, there are many other platforms designed for live streaming. But why is live video such a big deal? Live video streaming is one of the most powerful ways to reach and connect with your audience. Live Plus– is a Bigo Live App Clone that will help you to build your very own live streaming business easily. 
Why is live streaming so important to your business? 
People prefer to experience a personal connection with brands in real-time, and live streaming helps them to overcome the barrier of not being present out there, to a great extent. There are various reasons of this, some of the important ones are listed down below–
VISUALS ARE MORE IMPACTFUL THAN JUST AUDIO OR WRITE UPS– 

Utilizing technology for just audio and video conferences doesn't benefit in improving the communication process.  However, visual platforms have a huge impact on the audience to establish an instant connection. 
REACHING ACROSS THE GLOBE–

Live streaming increases the exposure of the brand and can generate more leads for your business. It will help you increase your customer base, and will not be limited to a single region, rather will be introduced to the entire globe at once. 
CULTIVATING CUSTOMER TRUST–

Live broadcasts are truly beneficial for developing trust with your target audience. The communication on a live is much more authentic and raw, and thus, the consumers feel they are participating in a genuine interaction. 
ENGAGEMENT OF AUDIENCE–

The human aspect of live streaming creates a genuine interaction and engagement, that builds a relationship between the users and the brand/business. The sense of urgency, unpredictability and exhilaration is loved by the audience. Moreover, as the audience can directly interact and ask questions to the video streamer, that element is missing in normal videos. 
IMMEDIATE DELIVERY OF BEST QUALITY CONTENT–

Live broadcast is an on-the-spot event, and is presented in the most unadulterated form in front of viewers almost immediately. This increases the chances of people believing in the product or service. 
COMPATIBLE IN ALL PLATFORMS–

Be it iOS or Android, in a smartphone or a tablet, or a desktop or a laptop, live streaming is compatible from any device. Thus, it helps the customers to watch videos at their convenience from the device of their choice. 
Execute Your Live Streaming Business Idea With Periscope Clone Script
USING CLONE SCRIPTS FOR BUILDING YOUR OWN LIVE STREAMING APP
Live Plus offered by BSEtec is the periscope clone script that helps you to open your own live streaming business with low investment and in quick time. 
It will help your business get visibility and brand recognition to reach a bigger audience, and help your business stay ahead of the curve. 
Conclusion– 
Live streaming comes under one of the fastest growing industries. This is such a form of using technology for communication which nothing else can beat, because it helps in building a personal relation and authentic connection with the viewer with your content. So, what are you waiting for? Start building your live streaming app today!