Why social media monitoring is important for your business?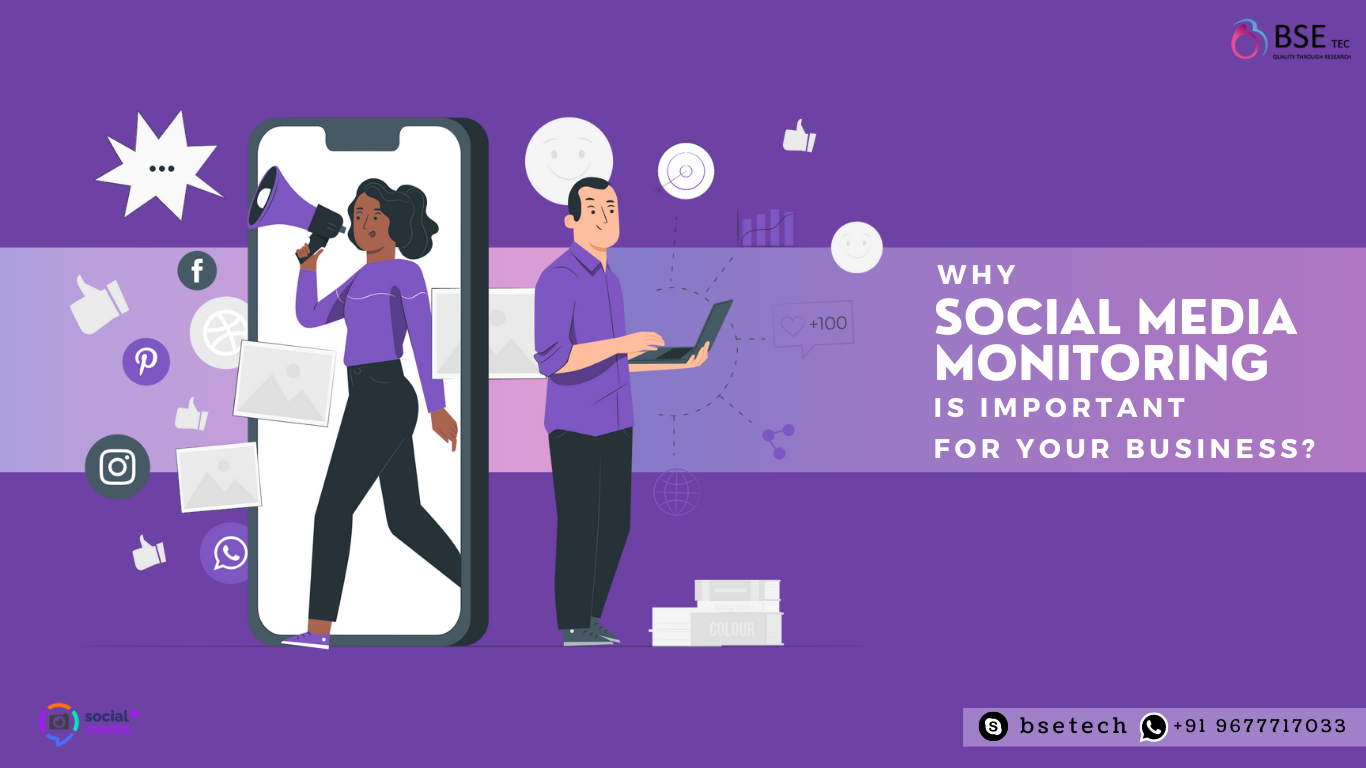 The very shortest mantra that can take your business to places is "Monitor, Engage, Repeat". By using social media, monitoring them, and engaging with the targeted audience your business goes to the next level. Here are some of the points indicating why we need social media monitoring for your business.
Social Media Monitoring: 
Social media monitoring means continuous monitoring of all your social media accounts to listen to what people are talking about your brand. It unlocks a massive amount of insight into what people like and what they don't. Below are some of the points why social media monitoring is important for your business.
Customer service:

Listening to and responding to product feedback, inquiries, and concerns on social media is an example of good customer service. According to studies, when users' posts are reacted to, they feel better about the brand. People are more likely to purchase things when they have a positive experience and feel well-treated. If complaints or questions go unanswered, the product experience may suffer. Users may forget to tag you in their postings, or they may be unaware that they can contact your brand via the social media site they are using, but they expect a response. It's critical to understand how people talk about you on every social network. 

Get Feedback:

You can acquire ideas for a better product by watching social chats. Learn about fresh feature ideas, problems to solve, and how customers react to a similar product or service to yours. Negative comments can be used to improve your product or service. Track these mentions to learn about any problems your consumers are having so you can reply swiftly with a solution or let them know if it's on your brand's business roadmap.

Generate new potential leads:

People nowadays utilize social media in the same way that they use search engines. This provides an opportunity for your brand to find new clients. There are several types of keywords that you can track:
Brand keywords are words linked with your brands, such as your company name, product name, and even common misspellings. For example, a vacation service called Zylker Travels might track the word "Zylker" to locate any tweets that contain the brand's name.

Industry buzzwords are words that characterize the product or service that your firm provides. A travel business might keep note of terms like "holidays," "holiday planning," and "weekend getaways." A restaurant might keep note of terms like "fine dining," "gluten-free," and "live music."

Hashtags: You can also monitor hashtags that are relevant to your brand and industry or are associated with a specific campaign. For example, a dance institute could run a campaign with #ILoveDancingBecause as its slogan, and ask people to upload a short dance video with that hashtag. Monitoring it means they won't miss any posts.

Find influencers and Advocates:

Influencers are individuals whose opinions are respected in the industry. Most customers say they believe what individuals they know recommend. When the recommendations of others are so valuable, having the support of those regarded influencers in your sector is a huge advantage. Because they have a significant following, you will get access to a broader audience. When they tweet or post about your brand, they build trust in your items.
You should also monitor users who are promoting your brand. Customers that consistently promote your posts or recommend your product or service on social media are known as brand advocates. Maintain a positive connection with these users and continue to interact with them."
Social media monitoring is a continuous process, you can reap the benefits only if you spend the necessary time monitoring. When you start monitoring you will get tonnes of information that are useful for the improvement of your business. Also by investing in Social media monitoring tools, you can streamline the process so that your company is monitoring the right indications and engaging in helpful conversations. To start your own social media monitoring social media platform check out the stellar Instagram clone app, Social media plus. Contact BSEtecfor more details and a live demo.