10 Quick Tips About Udemy Clone Script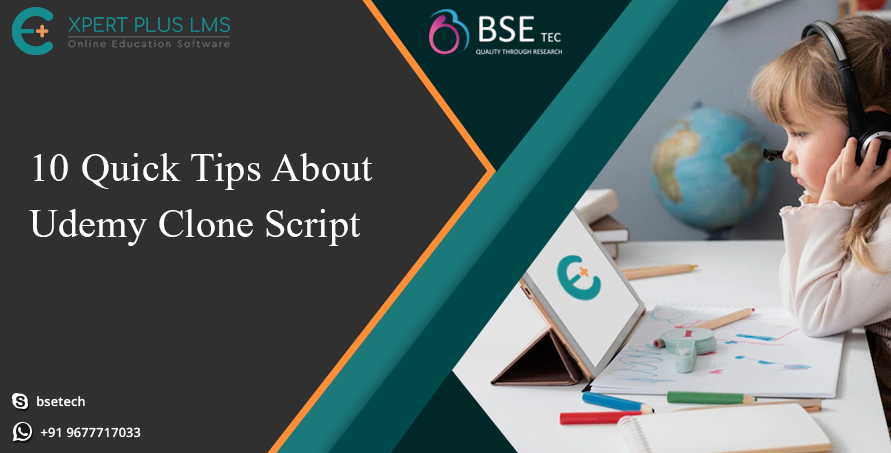 Providing a wide array of online courses- Udemy is a huge platform aimed at educating & enhancing the skillset of students and professional adults. With the ongoing technological innovations all over the world, everything has shifted to online mode. Just like the icing on top of the cake, the coronavirus pandemic is ironically giving these digital advancements a further push. From work to education, from shopping to food delivery, everything has just become so easily accessible and is right beneath our fingertips.
Why are platforms like Udemy so popular?
In educational sectors, there has been a huge upheaval in the way these institutions used to traditionally function. However, thanks to online learning platforms like Udemy, that saved the educational sectors from completely crashing down. This ultimately led to the surge in the development of various eLearning mobile applications and websites. Many companies have begun investing in this sector and get the educational business up and running during the pandemic. However, instead of resorting to building an app from scratch, most businesses are choosing eLearning clone scripts like the Udemy Clone called ExpertPlus LMS and here's why:
They are extremely affordable and cost-effective. They don't even require half the money needed for developing an eLearning platform from scratch. Developing a new application right from the beginning may require a lump sum amount that is not below six figures- which might lead to a hole in your wallet.
Developing a platform like Udemy from scratch can take up to 10 to 12 months. However, with clone scripts like ExpertPlus LMS, you will not require much time. As the script has already been developed, it can actually take up to a week and voila! Your website or app is ready to launch!
The Udemy clone script is very customizable and can be modified and changed just according to your tastes and preferences. It has interchangeable themes and colour schemes, which makes it even more visually attractive and eye-catchy. 
ExpertPlus LMS does not require any prior coding knowledge and you can develop the script quite easily. You can add a variety of features or make changes to the dashboard whenever required. 
Creating an LMS like Udemy is going to help in bridging the gap between the students, schools and educational institutions and help in sustaining the classroom ecosystem to an extent.
There are Admin and Instructor credits, so you can monetize your content by creating paid courses- which when bought by the students interested in the course generates an extra income for both the teachers and the admin as well. 
The ExpertPlus LMS is SEO friendly, so you can utilize it for naturally bringing in organic traffic and building a solid portfolio of an eLearning app or website. This automatically increases engagement and helps to make the platform more visible and enhance its brand awareness. 
The LMS is having a feature of sending blast emails to multiple users at the same time. This saves a lot of time and energy on the admin's part. 
The LMS is extremely secure and is encrypted using the best Firewall settings. It keeps any kind of virus, bugs, etc. away. 
The ExpertPlus LMS can create apps and websites for all devices, be it for iOS or Android and can be accessed through mobiles, smart devices, laptops, PC or even tablets. 
So, if you want to invest in a Udemy Clone, you know which one to choose! Contact BSEtec today!