5 Essential Steps to develop your Real Estate Marketplace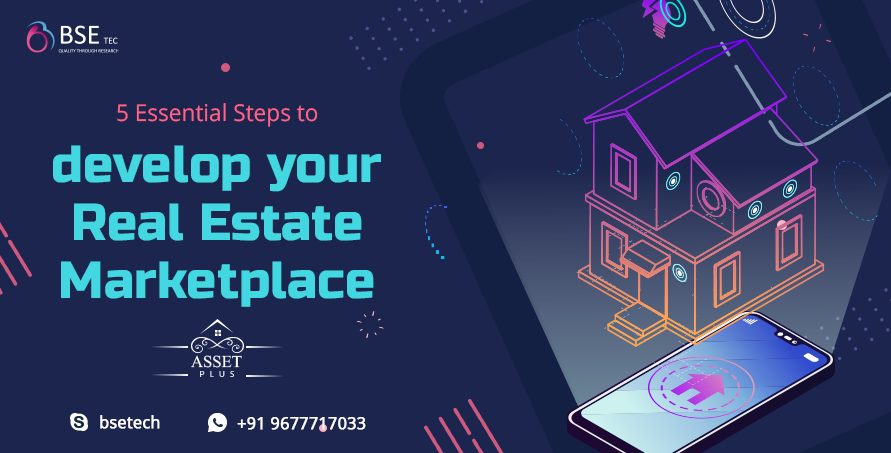 The real-estate marketplace is the niche marketplace that is making many entrepreneurs and investors a fortune. The real estate market is increasing rapidly, and it is not going to go down in any sense because the property is the only asset that has an incredible value of monetary as well as in emotion active term. Development of an online platform that is a real estate marketplace is a need in the year 2020. As the whole world is in lockdown, and it is not safe to explore the properties physically. Also, it drains the valuable time in seeing properties that don't even matter. By going with the real estate marketplace you can shortlist your options and use reviews or the latest and negotiated price upfront before they even see the property. Also, It is good because you can choose the real estate agent with testimonies and reviews based on previous user experiences with transparency. 
The development of an advanced real estate platform is a profitable business, and you can even develop your real estate platform easily if you consider AssetPlus. AssetPlus is the modern-day real estate PHP script that develops your platform with all the customizations you require. 
Here are 5 steps to develop your real estate marketplace most quickly.
Realize your targeted locations :

 This is a crucial point where you should decide the location of your platform working, and even you should have proper information about it. Understand your market very deeply as it would be the crucial point to handle. You have to get in touch with the projects, developers, and even agents to make sure you get updated about the information about the properties in that location. 

Develop the Database :

 In real estate the database is everything. the contacts are the most valuable assets in the business as one call with a potential buyer can make you great money. Development of a database can be done in two ways. Primary and secondary. As in the primary, You can develop your own data by getting leads and by filtering cold leads to valuable ones or you can just get that by the secondary way as by getting paid data or leads from other channels or established platforms. 

Think about the uniqueness

– Development of any online marketplace is the most competent space to enter as in real estate it is already in existence with giant players like Zillow and Trulia in the market. But it is also good that in the real estate market many factors can make your platform more successful because it is a niche space and there are not many platforms that are using different and more creative strategies to attract more users. You can develop a simple and unique plan to attract more users to your platform by having some USPS.

Advanced tools and features :

 The real estate marketplace should have some tools and features that can add more value to the decision process and property buying experience. The features also give the platform more valuable to explore virtually, and it builds more authentication in the platform if utilized properly. If you use an advanced Zillow clone script then you know you will be getting many advanced readymade features without any flaw. Features like Admin dashboard, Users management, Agents and developers management, property listings, Virtual property visit tools, Advanced maps and search explore features, Calculators, Bidding systems, Lead generation system, and many more. 

Technical Advancements :

 You should not develop your Zillow clone just for the sake of coming online instead you can develop- your platform in a way that makes it more valuable for buyers to explore properties online than going to agents directly. For that, You need a perfect platform development. We suggest you checkout AssetPlus for that matter.

AssetPlus

is the most advanced Trulia clone script that is loaded with readymade features and high end add features that develops your platform with the latest technology available in the market right now. 
With the technical expertise and premium support of BSETec, you can begin developing your profitable real estate business at a reasonable cost. Get many additional benefits with the platform development and even get more suggestions and expert guidance from this industry expert with AssetPlus. 
Get in touch with us today on the given details.
Contact Details
Email : support@bsetec.com
skype : bsetech