5 important uses of Artificial Intelligence must needed In the Learning Management System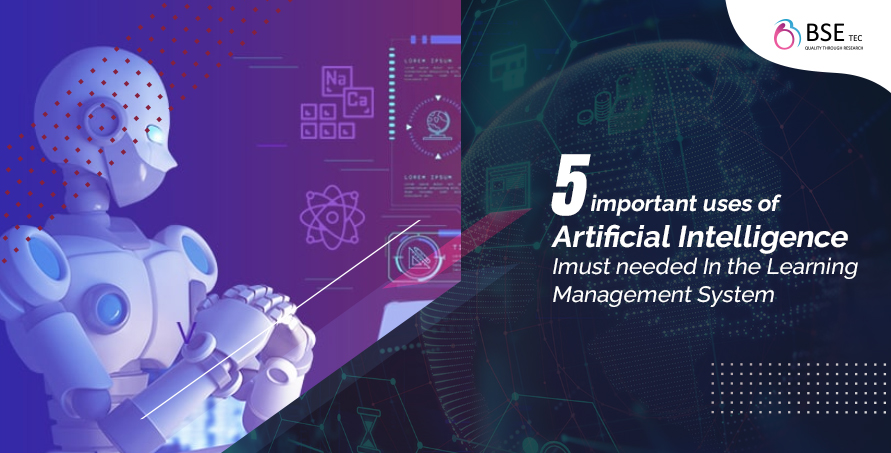 Artificial Intelligence is the high-end technology that humans have. This is true that we still know less about its various concepts like deep learning and machine learning but it is also true that there are some tools of AI that are doing very well this year in some industries. Industries like Elearning are transforming with these technologies and some platforms already started adopting AI-based tools for getting the bigger market share. We at BSETec also developed a udemy clone script that develops your platform with the high-end AI-based tools.
Here are some uses of Artificial Intelligence that must be needed in the learning management system. 
Personalization : 

Artificial Intelligence can be used in ELearning for making your courses more personalized and, In online training software, everyone just develops the same content for everybody, and personalization will be the trend that will end the common targeted approach. With this approach, you will get more valuable leads with more users . AI can be used to analyze the mass data in less time, and it can implement that data with more efficiency to target mass audiences with personalization. 

Real-Time Communications :

 Artificial Intelligence (AI) is also capable of being one of your virtual employees that communicates with your audience in case of any questions they have. Especially in the case of Elearning, AI helps learners to learn better by asking general questions randomly between the lectures and this keeps them stick to topics. And also it makes the platform interactive. 

NLP in Online Learning :

 NLP (Natural Language processing) is another subcategory for Artificial Intelligence. This is when we take machine learning to another level by enabling our platform to speak to our users in their preferred language. With this interface, the users will be able to ask questions or drive inputs in their preferred language and the platform will have the power to understand it and analyze it.

Augmented Reality and Virtual Reality :

 Augmented reality and Virtual Reality are the tools that have the power to fully revolutionize the Elearning industry by enhancing user experience. In Augmented reality, We use the 3D image with an augmented reality app that makes users learners with a responsive 3D model of topics. Virtual Reality is when users wear VR headset and experience the new world by being part of the 360 Degree video or live stream and by this way students can experience any theatrical topic in reality and understand it for a lifetime. You can also refer to this article to know more about the

latest developments in these technologies for LMS

.
AI-enabled Clone Script :

 There are clone scripts that provide all the readymade features for eLearning with the latest technology. Clone scripts like ExpertPlus are the best for AI-enabled platform development. ExpertPlus is the advanced Udemy Clone Script that has great features with many managerial tools like Admin dashboard, user management, Courses management and instructors management.
For online training software development, Now is the right time because every parent needs the platform where their kids can stick to one course, and with these trends, you will be able to get their interest for sure. We highly recommend you to checkout ExpertPlus for once. Also don't forget to go through its live demo to understand how every feature works in the final software. Checkout ExpertPlus.