5 Keys To A Successful Prototype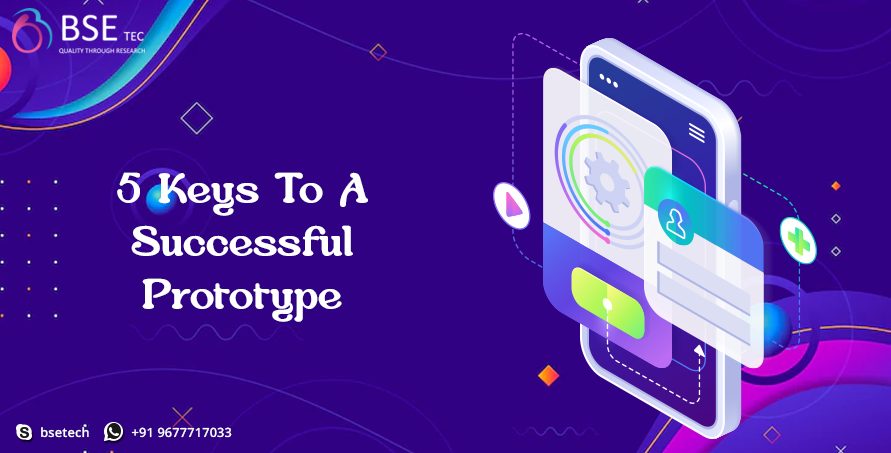 To move the manufacturing process forward, by improving the product and making the product achieve its full potential- the best method to do that is by prototyping. Prototyping is a key component in design thinking and during the product development process. Prototyping not only allows you to get a better insight into your product but also tremendously helps in getting early feedback from the users by testing the product prototype in the marketplace prior to its development. Prototyping helps to seek product validation from the target customers, which makes it even more fruitful to understand the shortcomings and drawbacks of the prototype- so that the flaws can be improved before spending the valuable resources like time, money and energy into building a product that is not even viable to its users. 
Know the Four Types of Prototypes and Which is Right for You
So, to create a successful prototype, you need to do the following-
Understand your product requirements– Every product has a definite target audience and evidently has different requirements to be met. It is difficult to gauge the success of the prototype if it does not meet the specific user requirements. Therefore, it is very important to understand what you want from your product, which will give you a clear idea about the needs of the product and what will you need to add or improve in the existing prototype you created. 
Define specific goals for each prototype and iteration– Sometimes a single prototype is expected to do a lot of things, however, it is not a feasible way to understand what needs to be improved. Thus, getting your ideas into different prototypes meant for a single purpose is much more clearer to give you an insight into your drawbacks and shortcomings to make your product functional and viable. 
Examine your budget– One thing that you have to keep in mind while prototyping is your budget. One thing you need to remember is that prototyping just helps you to build a design mockup of the website, app or any digital product by giving it a more tangible form. However, it is not the final product. So, investing a lot of time and money in just developing a prototype might not be very beneficial during the actual product development. 
Embrace the failures by revising and repeating– If you have understood what is not working for the finished product after creating a prototype- that means your prototype is a success. Embrace your failures during the prototyping process as this is the actual purpose of creating a prototype. However, revise the prototype again and again by repeating the process, until and unless it meets the client's needs and requirements.
Create your prototype with Protomock!– So, finally, you need to hire a professional if you want your prototyping process to be hassle-free and smooth, with fewer mistakes and with someone to assist you. Protomock helps you with an in-house designer, and provides you with collaborative tools with which you can build your prototype with your team or group using the same cloud storage space, and create the app or website of your dreams!
Bring your ideas to life by prototyping with Protomock– your comprehensive platform for all your prototyping needs. Contact BSEtec for further details!