5 Reasons Why Udemy Clone is Useful?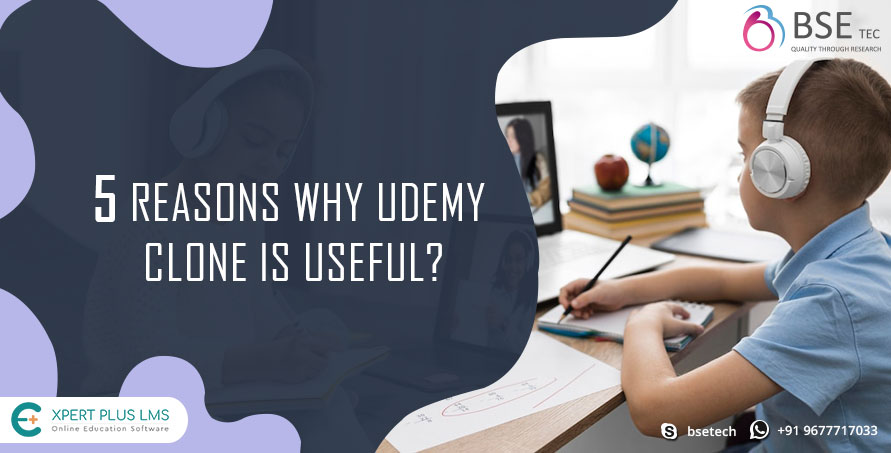 Nowadays, people search for their queries on the internet rather than rummaging through books or by asking someone knowledgeable. Technological advancements have led to a mobile revolution, where everyone has everything at their fingertips accessible through the internet. Same goes for education. Many portals and platforms have come up with different courses, modules and materials with a wide plethora of subjects to choose from– among which Graphic Designing, Digital Marketing, English Speaking, French, Copywriting, Coding etc. are just to name a few. Udemy is one of these Learning platforms that has given a tough competition to every other eLearning platform present on the internet. With its easy and simple UI and variety of course modules, it is getting popular with each passing day. However, by looking at the popularity of Udemy, many entrepreneurs have begun investing on building their own platforms that can outshine the other eLearning platforms.
Reasons to Choose Udemy Clone 
But, building an app or website from scratch is a lot of hard work and may cost a ton of money, which may also put you in debt. Hence, many are choosing Udemy Clone Scripts for building their eLearning platforms and here's why– 
It's much more affordable– Using an Udemy clone is comparatively more affordable and cost-effective as it is already developed, which also means it doesn't take much time for its development. You can launch your platform seamlessly in a few days time. 
It gives a higher chance of success– Being inspired from a popular website like Udemy, Udemy Clone php script is SEO friendly and attracts a lot of organic traffic to your website, as it ranks substantially higher in the search engine which leads to a higher chance of success of your eLearning platform. 
It has numerous modules, materials and courses– Just like Udemy, the eLearning script has 'n' number of courses, modules and study materials which can be uploaded by the instructor or admin. It gives the students the opportunity to choose among a wide array of subjects and pick any that they truly want to learn about. 
It's accessible anytime from anywhere– This eLearning software is going to create a platform that can be accessed at any point of time during the day or night and from any part of the globe. This is truly convenient for the fast paced lives of the millennials these days, as they can squeeze out time during the night for their studies and work all day. 
It has an easy navigation system– It is truly undesirable if the navigation system of the eLearning platform is not user friendly or is very complicated or too simple. So, it's crucial to have a moderate user interface which can be easily used by anyone even without having much software knowledge.  
Conclusion
Udemy clone has a lot of benefits and can be customised according to your preferences– with various templates and themes to choose from. If you want to launch your eLearning platform soon, then hurry! Check out our live demo of Expertplus today. It is the best eLearning software in the industry– not to mention, very affordable too. So, why wait? Contact BSEtec today!