5 tips and tricks to choose a Successful Udemy Clone Script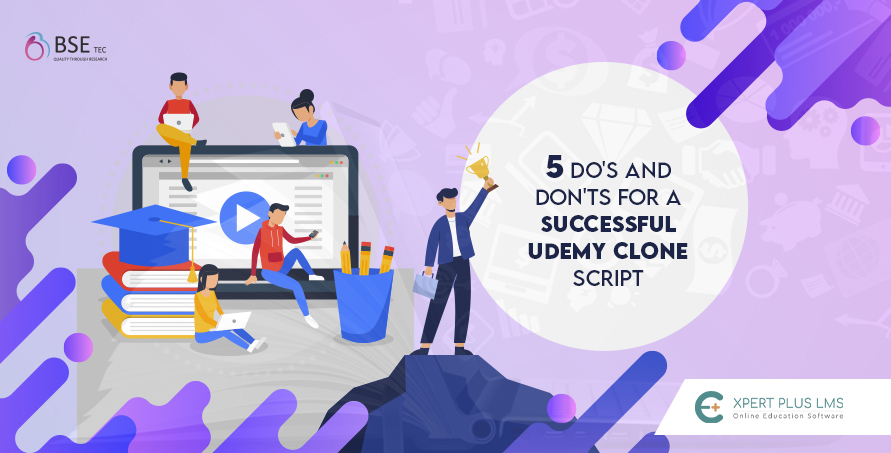 Providing a wide range of online courses – Udemy is a great platform aimed at teaching and developing the skills of students and trained adults. With advanced technology around the world, everything has switched to online mode. Like icing on top of a cake, the coronavirus pandemic ironically gives these digital advancements a further push and makes it compulsory for brands & companies to go digital. From work to education, from shopping to food delivery, everything has become easily accessible at our fingertips, which has only been possible because of the rapid technological breakthroughs. 
Why is there an upsurge of LMS like Udemy?
Many companies have noticed the lucrative business that eLearning can bring about. There has been a huge upheaval after the pandemic and to compensate for that, many educational industries are coming up with eLearning software like Udemy. 
However, developing an eLearning platform from scratch can be extremely time consuming and might cost you a fortune. So, many businesses prefer using eLearning clone scripts like the Udemy Clone – Expert Plus LMS.
Also read, "What Elements Are Required For An Excellent Android Educational App Development?"
Here are some tips that might be helpful in choosing the best Udemy Clone
One that has a monetization option –  Building the perfect LMS for your company or institution has to have paid and unpaid options for courses, which will benefit the admin and instructors in earning some amount from their immense hard work in creating wholesome courses.
The clone should be SEO friendly – One of the prerequisites when it comes to building a website or app using the Udemy Clone. You must have a clone that will be SEO friendly which can help your brand rank high in the search engine and bring organic traffic to your site.
Extremely customizable – If you are creating an eLearning platform, you must remember that it has to be extremely customizable as it will be catering to each individual in a personalized manner. Therefore, it must have different themes, colour schemes and templates that you can choose according to your preferences.
Cost-effective – The best alternative to from-the-scratch development, the Udemy clone script is affordable and can save you a lot of Dollars on just the LMS development. You can invest some money in the digital marketing of the platform as well.
Friendly interface – Navigating through the platform easily is something all LMS should possess and have a user-friendly User Interface or UI is one of them. It can be very helpful in understanding which option means what, where one can find their attendance and assignments, and basically, it can be used by all age groups.
Summing up
If you are thinking of creating your own LMS, this might come off as a great help. Expert Plus LMS is the best E-learning software in the industry today. For more details, contact BSEtec.