8 Simple Steps To Increase eLearning Engagement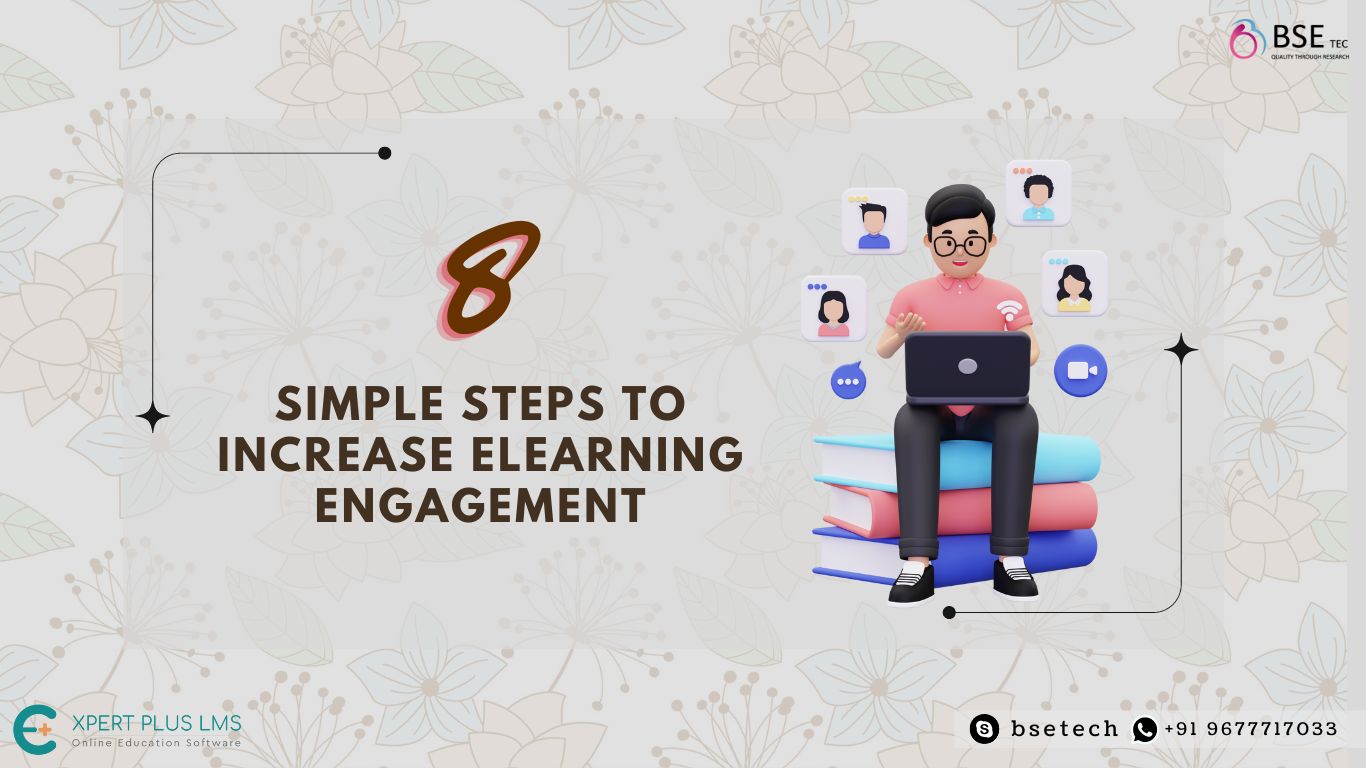 Elearning and learning management system, LMS, has been the latest buzzword in the education industry. As many educational institutions and Corporates are incorporating online courses into e-learning platforms, the need for improving the learning experience has also been an issue. There are several methods and strategies to improve e-learning engagement. Some of them are listed below.
Set clear objectives:

Setting clear objectives at the beginning of the course will help you to keep on track. Understanding your students and giving them the motto for learning a particular subject and setting clear goals and objectives help them to learn better. Learning objectives are not simply what you are going to cover in class. Good learning objectives give the learners what skill or knowledge they would have acquired at the end of the course. If there are no end goals, you wouldn't have clear checkpoints in terms of where you are going with the course. 

Make it visually appealing:

Humans are highly visual creatures, we heavily rely on visual cues from the stone age. Around 65% of the learners are visual learners. Learners respond to visual information than the texts in books and blackboards. So, making use of visual learning helps the students tremendously and on multiple levels.

Interactive classes:

Interactive classes forgo one-way communication, it shifts the teaching style from teacher-centered to student-centered. Interactive classes offer more student engagement and make them understand their lessons better on a deeper level, more integrated levels.

Explore Gamification:

Gamifying the course, with puzzles, storytelling, and rewards for winning create a healthy atmosphere where students learn enthusiastically, and motivates them to learn more. Learning becomes easy and fun and less of a burden when we gamify the course.  

Improve accessibility:

Online education is for everyone, Make sure to have a responsive website design that is accessible from Smartphone, Tablet, or PC. Addition to that includes assistive technologies for special children. Closed captions for hearing impaired students, Translations for non-native speakers are some of the ways we can increase accessibility.

Student-oriented learning:

Traditional teaching is one-way communication, the instructor will never know whether the students understood the concept or not. Incorporating active student-oriented learning, in which students solve problems, answer questions, formulate questions of their own, discuss, explain debate, or brainstorm during class improves student engagement and makes them proficient in what they are learning.

Create a personalized experience: eLearning is student-oriented and it serves all learning styles. Has videos for visual learners, includes audio files and podcasts for auditory learners, DIY videos, Interactive handouts, ebooks, quizzes, and many resources to cater to kinesthetic, reading, and writing learners. Additionally, personalize the course by providing voice inputs and assistive technologies for special children. 
Keep it concise:

Students' attention span is comparatively less when they are not in mainstream classrooms. They sit in front of their computer or smartphone for online classes and have umpteen reasons to get distracted when the class gets too informative or out of track. So, it is important to keep the teaching style to the point. 
These are some of the strategies we can improve learners' engagement in eLearning platforms apart from adding high-quality videos, humours, cracking witty jokes during teaching, and keeping your lessons short and simple. Opting for these strategies to your teaching style improves student retention rates. 
So, make use of the above strategies to shine in your platform. If you are a tutor or teacher looking to launch your own website for online classes then your search ends here. Starting your own Udemy-like eLearning platform is Simple as ABC with the top-notch LMS or Udemy clone script, Expertplus LMS! Contact BSEtec for more details and a free demo!