A Definitive Guide to Social Media App Development: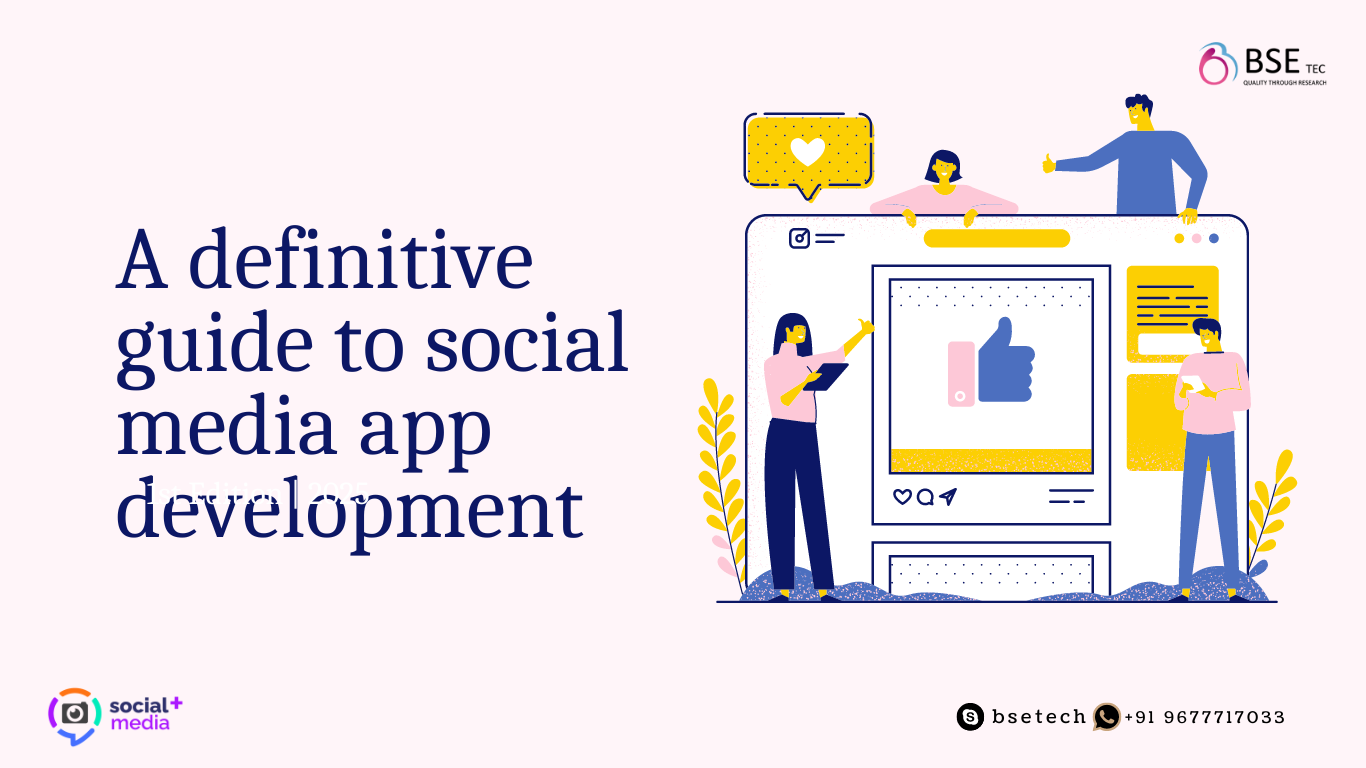 Ever thought about the tremendous popularity of social media apps among the millennials? How social media has become a fundamental part of our lifestyle, especially due to the increase of smartphone usage worldwide? 
When we just hear the term social media, the first thing that pops up on our mind is probably Facebook, Whatsapp, Twitter, Instagram, etc. 
Social media apps are ruling the world to this day and are continuing to grow, as it provides a wide area of enormous opportunities. Social media apps have got our most valuable treasures– time and attention. 
Considering that, they have attracted millions of entrepreneurs to spend billions of dollars on social media app development. 
But, Why is Social Media App Development So In-Demand?
The fondness and love we all possess towards social media apps is undeniable; and there are a number of reasons that keep us hooked and addicted to our phones–
It helps us to stay in touch with our family, friends and loved ones.

It helps us build a community of users who share a common interest. Either you're a cinephile or a petrol head, you can easily find fellows with similar interests on a social media app like instagram, facebook, etc. 

It helps to promote brands and businesses and also helps them to sell their products online. 
And there are plenty of other never-ending reasons why social media app development is becoming so popular. 
But, thanks to modern technology, you have the opportunity to create your own customised social space, dedicated entirely to you and your community or brand, by developing your very own social media app.
Know the Four Reasons Why You Need an In-House Social Network
However, What is Social Media App Development?
Developing a platform, an online social network where groups of internet users can connect, communicate through calls and chats, share and curate content, react and comment on each other's content and build their own digital network of contacts is basically the development of a social media app. 
However, to build an effective social media app that will attract millions of users, it's very crucial you take the right steps. Firstly you need to choose what category of social media are you exactly looking for– like a social networking app for personal and professional needs like Facebook, Twitter, Instagram or LinkedIn, or community and discussion forums like Quora and Reddit, or blogging and publishing platforms like Tumblr and Medium. You have to choose wisely from the wide plethora of options available on the plate. 
Explore the New Possibilities with Instagram like App Development in 2021
Having said that, How do you Develop a Successful Social Media App?
If you are willing to make your social media app a huge success, you need to shift your focus on the following–
Target your audience and objectives.
Research the market, and learn about your competitors.
Features and functions your target audience will prefer the most.
Defining the budget prior to its development.
Keeping some sponsors in hand if you exceed your budget.
Make sure your app has something extra to offer to its users.
Building your community so that the app gets recognition worldwide.
Maintaining your peak performance and never stopping to evolve.
How to Make a Social Media App like Instagram?
You may develop your app by coding, if your app has an incredibly unique idea, which may require an extremely advanced technology to build it, and that can only be done by an expert in the field. However, it is time consuming and might cost you a fortune, and if your app doesn't take off you might be left in a huge debt. 
However, if you have no coding knowledge or you're not having the budget to invest in a expert software developer, there are a few alternatives like social media app development companies or the solutions they provide, which you might as well be interested in–
SaaS platforms like BSEtec provide you with out-of-the-box features that you can use to develop your own social media app, where you can build your own social community across web and mobile. 
They can be downloaded and configured on your own server. There are free and paid options available. However, even though they offer more flexibility in terms of customization, their pricing is very high, almost near to the ones you need to give to a software developer. Moreover, you need to pay for any hosting and won't benefit from any customer support or any automatic software updates.
Using a clone script for your social media app development–
Social media apps take years to get a foothold in the industry, given the number of competitors it has. But, if you use a top clone script of a well reputed social media like instagram, it will boost your chances to be on the radar and increase your visibility, and at the same time, it will save a lot of your time and money on developing an app from scratch. It's a cost effective way to start an online venture. At BSEtec, we are providing the best instagram clone script, giving your app all the features like instagram, customised according to your taste. 
Conclusion: 
So, if you want to develop a successful social media app, especially like instagram, you need to have a very user-friendly interface, designated features and high performance, and add some more features if needed that will make it distinguished from the rest. 
To experience the best social media app development, Explore InstasocialPlus, our advanced instagram clone script with unique features now.
Contact Us:
Email: support@bsetec.com
Skype: bsetech