AR App For Classrooms: Why Your Education Institute Needs An App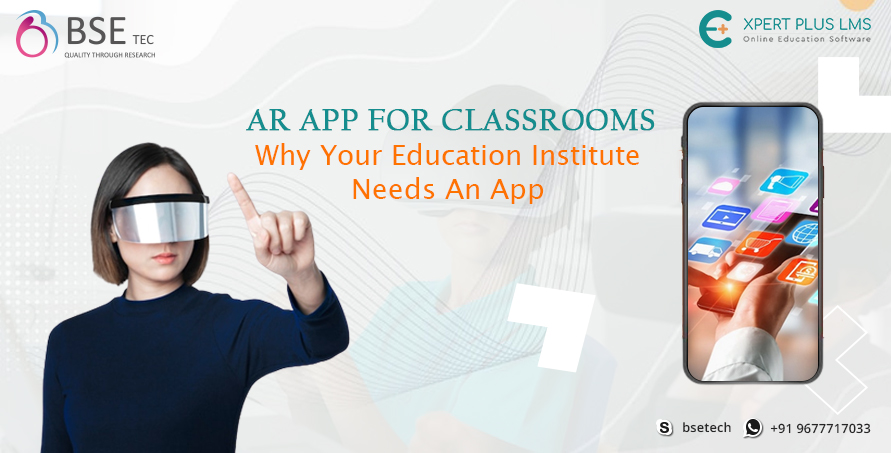 Undoubtedly Augmented reality's uses are multifaceted. It is changing the way how we see and perceive things. AR has its use case in every sector, the education field isn't any exception. Augmented Reality is all set to transform the whole online education system through virtual engagements and interactions. Read further to know the benefits of integrating AR into your Udemy clone app.
Benefits Of Augmented Reality Online Education App: Below are some of the significant impacts of online learning when AR is integrated with the Learning management system or Online education app.
Safe Learning:

Students can learn everything safely from where they are. Flexible learning sessions are one of the flexes of online classes. But with AR-integrated online education apps, students get to learn everything practically and can experience it virtually. For example, if the class is about acids or volcanos, the students get to see the acid reactions or the whole volcano formations, eruptions, and how islands are formed from volcano eruptions virtually. We can't take students on volcano field trips, but AR is a safe learning atmosphere to learn such dangerous lessons and complex ones.
Increased Student Engagement:

The current Gen Zs have significantly less attention span, just 8 seconds, a study insists. We need not talk about Alphas they have much less attention span than Gen Zs. But the thing is these students are more accustomed to smartphones and gadgets, and their engagement rate with these gadgets is considerably greater than in textbooks. So, why not make use of AR-integrated online education apps to increase student engagement in online classes? Various surveys and studies show that students pay more attention when interacting with educational resources in augmented reality.
Practical Learning:

Students need practical learning to understand a subject deeply. With Augmented reality, one can integrate lessons into existing reality. Students can interact and learn a particular subject effectively. AR is 25% digital and 75% existing reality, so we need not change the current environment, it requires only adding the digital elements required. Moreover, when they learn practically it increases students' interest in subjects, increasing motivation, lowering handout costs, and advancing open learning environments Greater efficiency in the learning process allows institutions to save money in the long run.
Visualizing the invisible or complex phenomena:

AR can enable students to see and encounter phenomena that are either unimaginable in real life, invisible to the naked eye, or difficult to observe (e.g., creating specific chemical reactions, studying microscopic processes, examining stellar synergies, etc.). As a result, students can better grasp complex processes, remember difficult concepts, and visualize the theory.
Cost Effective:

With 95% of US teenagers owning smartphones, educators don't need specialized AR equipment because students' devices already have the hardware to run AR apps. Furthermore, by simulating experiences and substituting expensive lab equipment and practical materials, AR solutions significantly reduce educational costs. AR-enabled alternatives are much easier to obtain and update to the most recent version.
Augmented reality can boost student motivation by creating a new and exciting learning environment through high-quality apps. AR content and app quality will influence learners' and teachers' experiences. Contact BSEtec right away to learn how we can assist you in incorporating augmented reality into your online education processes. Also, check out our udemy clone, ExpertPlus LMS to launch your online learning management system.