Bsetec delivers decentralized enterprise blockchain solutions across all industries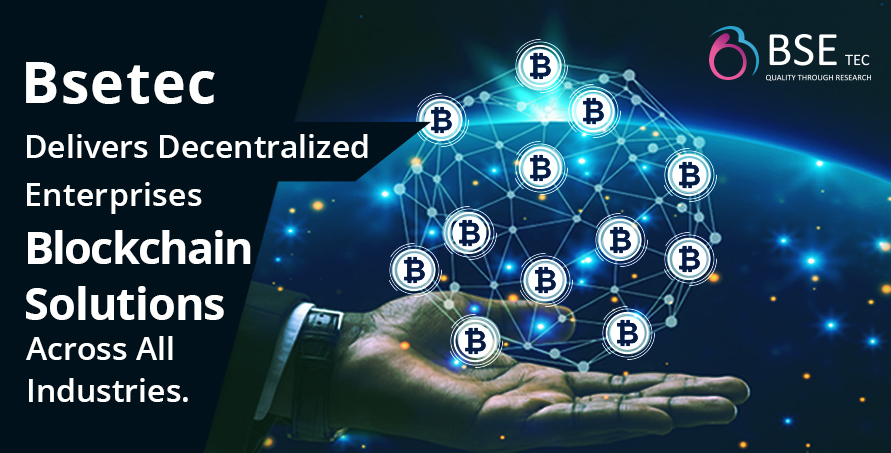 Blockchain technology, for those who still wonder what a big deal it is, is a new age technological concept of decentralising the authority to store information, exchange data and create smart contracts in a safe, secure and easier way. A blockchain development company helps in building blockchain-based software and apps that can disrupt business for betterment. Blockchain development services include blockchain certificates, badges that can be used by institutions and smart contracts that can be used almost in every enterprise to sign a deal that stays permanent.
With a lot of potential threats and spyware attacking major computer-based data, it is quite riskier to store sensitive information anywhere including cloud storage. To prevent these threats and protect in advance, Blockchain technology comes handy and offers a wide range of services alongside.protection.The storage of information in a blockchain is so secured that the hash which is assigned to each block keeps changing time and then which makes a tough time for hackers to intrude. Also, modification or deletion of any data requires a key which can be public or private, using which the owner can access the data.
Another biggest challenge that can be easily solved by blockchain is certificate fraudulence. Blockchain gives perfect backlash to those who try to create duplicate certificates. These fake certificates are sold for thousands of dollars to minimize the time spent in acquiring the same in a righteous way. It hailed to be one of the biggest troubles that created a great loss for those who earned the degree or certificate honestly. Blockchain has put a period to this issue through blockchain certificates that include digital signature and a timestamp indicating when it was created.
Be it education, entertainment, marketing, retail, healthcare or any field, blockchain is highly adaptable and helps companies to improve their services. If you want to locate a blockchain development company in Bangalore that offers advanced technological solutions, BSEtec is right there for you. Get full insight on blockchain and get the best app or software that can improve your business. Our team will further you to progress in all aspects by empowering your business with blockchain as we have highly proficient programmers. As one of the best blockchain companies in India, BSEtec has taken up various projects using our task forces. Check out our portfolio and contact us for further details.