What are the Most Common Challenges with Creating an Online eCommerce Marketplace?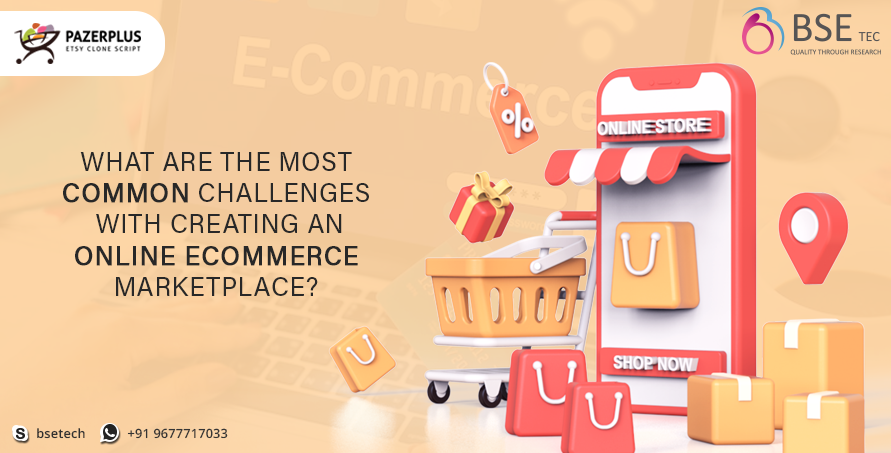 People these days are mostly reliant upon their mobile phones, tablets or laptops for everything in this world. From buying clothes, nail paints, notebooks to purchasing groceries– everything has been made available online right beneath our fingertips. This has created a huge increase in the number of eCommerce apps and websites over the internet today. Many startups, entrepreneurs and businessmen are building platforms like Amazon, Etsy, Flipkart, eBay, etc. for catering to the needs of the people and providing revenue to other businesses and earning huge profits. Back in the day, one could earn crazy money by selling just about anything, because of minimal competition. However, with the growing demand for such eCommerce platforms, there are tough challenges that businesses have to face. This is why many companies have ditched from-the-scratch development, which is a very expensive and time-consuming process, and rather opted for using seamless eCommerce clone scripts like Pazer Plus. 
Top 5 Challenges in eCommerce Business
Some of the challenges that eCommerce businesses need to face are–
Online Identity Verification– Many times customers who don't intend to buy anything just browse and place orders via COD (Cash on Delivery). But, when the order reaches it is found that the customer's phone number is fake. These things create huge losses in revenue when the customer identity cannot be verified. So, it's really important to perform online identity verification before any prospective customer makes a purchase. 
Cyber security Issues– Something that can compromise the security of eCommerce websites are by cyber attacks– where the computer or the entire server can be infected with viruses and worse of all, there might be a data leak– which means all of your customers' databases, their phone numbers, emails, payment details (bank details) can get leaked into the web, and anyone can get access to it. This is why it's very crucial to manage your own servers and make regular data backups. 
Shopping Cart Abandonment– Many statistics show that online shoppers abandon their shopping carts and this has been a great problem for the sellers who sell online. However, to cut down cart abandonment, you can redesign your shopping cart and nurture your customer's interest via live chat and also send push notifications to remind them what they are missing out on!
Nurturing Customer Loyalty– Customer loyalty is a fickle concept but it's very powerful in revenue generation. Even some of the best eCommerce companies with a wide plethora of products and services struggle with customer loyalty. Customer loyalty is synonymous with brand integrity and it's very important to build the credibility of your brand that can help you increase customer retention. You may use loyalty programs and publish blog articles or host live sessions for building customer loyalty. 
Product Returns and Refunds– Many shoppers look for a return policy before they make a purchase, and if your store has a complicated return or exchange policy, then the customers might lose their mind and rather not use your site/app for purchasing your product or service any further. 
So, now that you are aware of the challenges that you have to face if you want to create an online eCommerce website– you can ease the problems by using the Etsy clone by BSEtec. Contact us for further details.