Earning money with Udemy clone script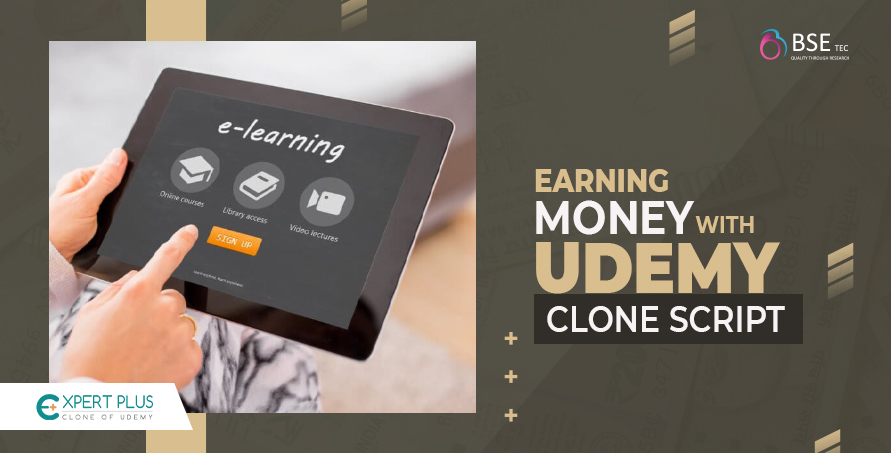 Developing a successful platform and earning out of it sounds easy but it is a long journey to pursue. Making a profitable business out of the eLearning model can be dependent only on the course content and your platform management. A successful Learning management system also depends on your platform development and also the features and technology you are offering to learners around the globe. For eLearning platform development, you can opt. for advanced udemy clone scripts like ExpertPlus. ExpertPlus is one of the clone scripts offered by BSETec with the latest technology available. By using the udemy clone script, you can be sure  from the technical part that it will be serving your users with the best learning experience. Here are some tips from BSETec to earn more money from the udemy clone script.
Implement more creative Revenue generation models : 

The revenue generation model in eLearning should not be aggressive but it should look more creative and generous. Because your business would be to sell knowledge in a way that it should be win-win for both learners and you. The most popular and effective way of earning knowledge sharing is to provide basic courses for free to everybody to learn and then charge for only to get the certification. In this way, you will be giving benefits to the individuals who just want to learn and it will keep your brand image good and you will earn from the ones who want valuable certification. Win-Win. 

Serve with the best experience : 

In the eLearning platform, You will be rewarded only if you serve your audience with user-friendly experience with an adaptive learning experience. This will be the only way to get students to stick to your course the whole time. Nobody will come on your online training software if you serve them recorded videos or boring webinars. You have to level up your platform's technology and content quality standards. For that, you can collaborate with the latest technology available that is AI-based features

Augmented reality and virtual reality.

These are the tools that will keep your platform way more ahead in interactive and high-tech learning from others. 

Utilize clone script well : 

Utilizing the clone script well is the main aspect to know about. Many times entrepreneurs don't even realize that their clone script has so much to offer with exclusive features and high tech learning. If you choose a clone script like ExpertPlus, Then you also get ready-made features like for web- Admin dashboard, Users management, instructors promotion, Admin discounts, Certificate Management, Course reminders, and many more. Android features like social login, course certification, Course discussion, Reminders, and many more. Also, you can check out this article to know more about

working with the udemy clone script

. 
We at BSETec always believe that the powerful script and creative team can make any platform profitable. We always work with entrepreneurs and act as their technical pillars. So, With ExpertPlus, You are not only getting a udemy clone script but also getting a technical expert on your side. And we provide benefits like Free Installation, Regular technical updates and along with that, You will have our premium technical support always. So why don't you check out our udemy clone script's demo right now and also you can directly own our free of cost basic version of learning management script right now only at ExpertPlus.