Educational Apps – An Advancement of Remote Learning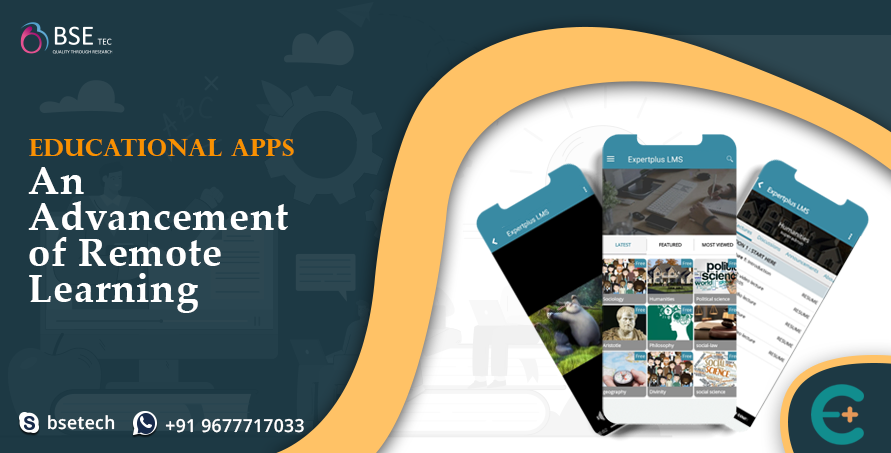 Elearning is all about making education more accessible and convenient than traditional learning. There is a misconception that the primary vision of elearning is bringing advancements into virtual courses but in reality, the main vision of elearning is to be the major source of education so that quality education would be accessible for everyone. And it would not act as the status symbol. 
Create your own Educational App with ExpertPlus
Remote Learning- 
In Remote Learning, The whole point of making education accessible is based on how much worth we are giving by making it easy. It's not about making the same courses virtual but it's all about bringing the new innovations and technologies in order to make it more worthy for students around the world to shift their platform of study to virtual from traditional. The educational apps developed by entrepreneurs and businesses around the world are getting better day by day as now they are completely aware of the fact that elearning is much wider than traditional learning as here they are not comparing with similar institutions but they are comparing with the deep sea of knowledge, and that is the internet. Educational apps are now forced to prove their worth to students around the world by bringing new innovations and ways of learning the same courses in a very delegate and convenient way possible. When this vision will be achieved by educational apps, That day we can say that elearning has a better future in the world. 
How can anyone build educational apps these days? 
Clone scripts are the secret here as they can easily develop any type of elearning software with clone apps and websites with all the trending features and advanced integrations that entrepreneurs today desire. These clone scripts in the market are designed to be a flawless and most convenient source for development as in this, Entrepreneurs just have to buy the clone script that the clone provider will take care of the whole development of online education website and educational app with all the customizations that entrepreneurs required to have. 
Know How Udemy Clone App is Influencing Educational Platform
Which is the best clone script for the educational app?
ExpertPlus can be a worthy option to explore for developing advanced Educational apps that can enhance the market standard with its promising technical advancements. Remote learning is all about making an interactive learning environment in the learning management system. And we at BSETec, Always develop every brand by taking all the new trends and technological advancements to make sure the platform we develop goes by today's learning standards and we also keep updating our techniques and systems to make sure your educational apps run fully functional. ExpertPlus is the product of BSETec that is basically an open-source Udemy clone script that comes loaded with all the readymade tools and features that you would desire. 
Check out the complete list of features and also take a look at its free live demo right now to experience all the features upfront that you can get in your elearning software with Udemy clone script with ExpertPlus.