Enhance Your B2B with the new version of Magento 2.3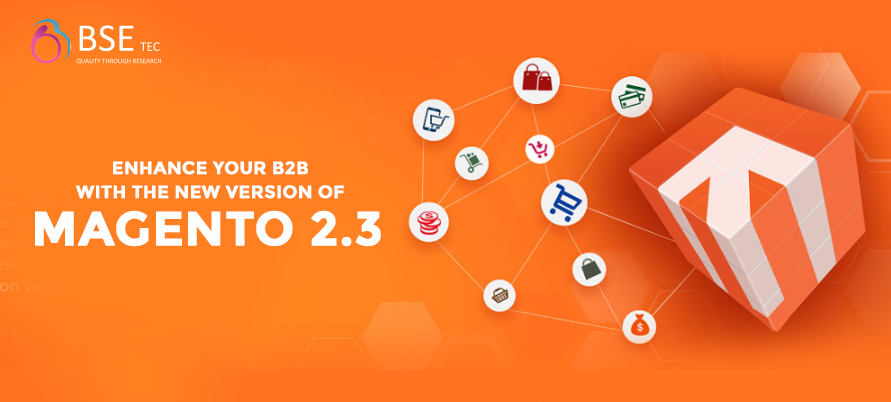 The E-trading world is becoming more and more popular in a second and app developing organizations are producing new features and aspects to run alongside the necessities of sites. The Magento crew has announced to launch the next new version Magento 2.3, which is anticipated numerous features that help to enhance the B2B performance and productivity. Considering the rapid growth of E-trading, several online business peoples will be migrating from the version 2.2.3 to 2.3 to develop their business.
It has been very nearly 3 months since Magento launched its past major version 2.2.3. The release of 2.2.3 brought heaps of developments and modifications and was instantly incorporated by web designers. Not at all like its previous version, will the next version be focusing more on wide-ranging and effective new aspects. However, Magento has already obtained the BlueFoot innovation. It is a suitable CMS and page builder module that will become an essential portion of the Magento portal.
The Magento crew has planned to release the latest version in the meetup, going to happen on 15th May 2018 in Los Vegas. The Magento Master 2018, Sander Mangel and Danny Verkade will give their speech to you about the unknown facts and new features of Magento 2.3. it is expected that around 10% of all worldwide Magento Experts will be present at this event! However, location is not yet announced. It may be in a central area in Rotterdam. The crew announced the location update will be conveyed as soon as possible.
Better API is being included in the plans for Magento 2.3 release. Partly, few developers were recently talking about ORM/Query API. However, it is too early to discuss exact impact, this technology will move the portal to. Before going deep into its features let us mention its main roadmap points:
1. Advanced CMS
2. Klarna
3. ORM / Query API
Now let us discuss the features that are expected in the new version
1. GraphQL:
Commencing from version 2.3, it will be easy for module developers include a GraphQL design to their modules.
The functionality of the GraphQL API includes:
Alterations to support checkout, payments
Storefront GraphQL API for checkout, orders, my account
Improvements in the GraphQL framework
2. Declarative DB Schema:
In Magento 2.3, Database tables will be combined in XML, rather than being characterized with install scripts. Therefore, this makes Magento updates simpler and conceivable to rollback a module or usefulness to a past version.
3. ElasticSearch updates:
Magento has decided to push ElasticSearch to Magento Open Source. ElasticSearch may become the default search engine in the near future.
4. PHP 7.2 Support in Magento 2.3:
Magento 2.3 will be well-matched with the PHP 7.2 – the latest version of PHP. This will enable the portal to remain updated with sustained innovations and to utilise the new language aspects. The update also substitutes mcrypt with a more protected ibsodium as its encryption method.
5. Multi-Source Inventory (MSI):
The new version enables entrepreneurs to link multiple stock places to their products. Moreover, this will assist vendors to handle which location is the closest to the client depends on their shipping address. Therefore, Stock details from a stock location can be linked via API to the out-sourced system.
6. WYSIWYG Upgrade:
Magento 2.3 at last intends to replace the old version TinyMCE 3 with TinyMCE 4… It will enable for highly personalization WYSIWYG: widgets, variables and the media gallery are incorporated as TinyMCE plugins
7. Import/Export Improvements:
The Import/Export core module will obtain wide-ranging bug-fixes and community-suggested improvements.
8. Cache Management ACL
Magento's Access Control List is the scheme that allocates parts to Magento admin users. Therefore, this will enable better regulation over which user enables to perform which Cache-related action.
9. Google reCAPTCHA:
Google reCaptcha authentication is now accessible on the login page without third-party interference.
10. Two-factor Authentication:
Magento 2.3 contains Two Factor Authentication as an extra factor for security for users, an aspect utilised by social networks like Facebook, Google, Twitter, etc.
Let's give a rundown what we understand about Magento 2.3 features. First of all, this portal development will present better CMS on the basis of BlueFoot. Maybe, we will even view a blog created into Magento 2.3. Moreover, new appropriate payment choices will be included as a Magento 2.3 feature. The incorporation with Klarna will allow distributed payments, within 30 days after the delivery, and quick payments with address only.
Conclusion:
As a consequence, Commercial with Magento framework 2.3 is considered as the greatest portal to extend and improve consumer participation and drive advanced expansion. BSEtec, the leading web and mobile app development company already using Magento latest version. Now we are eagerly waiting for the next evolution to enhance our developing process. For more information about process and products, visit: https://www.bsetec.com/