Everything You Need to Know to Build Your First Web App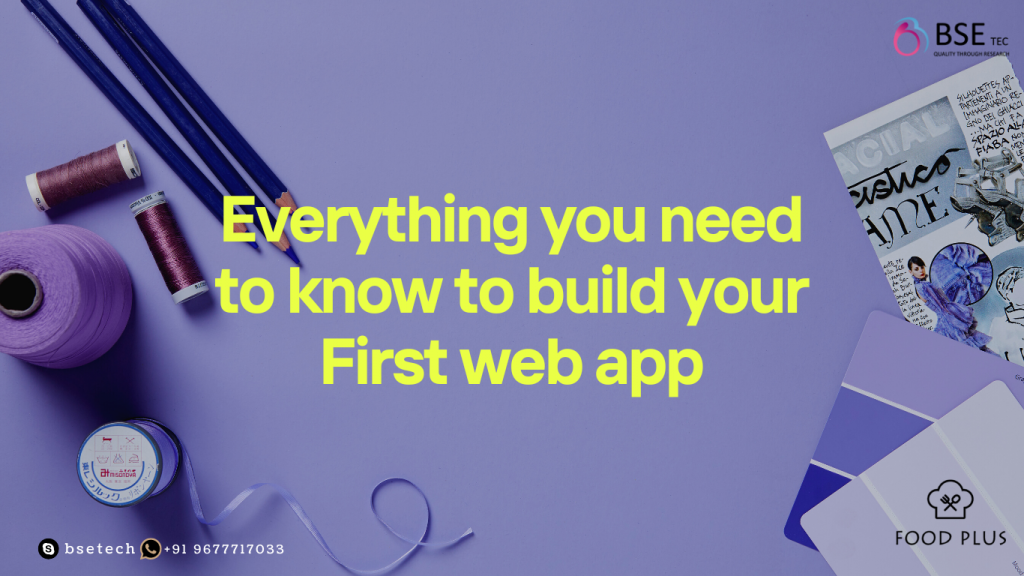 Today, every entrepreneur has an idea to build an application. And good entrepreneurs who have enough passion, are trying to develop that application with complete focus and by being all in without thinking of success and risks along with it. Today entrepreneurs are much passionate about betting everything they have on a single idea to dominate the market. The development of first web app is always a dream and it holds a special place in the entrepreneur's heart and mind. 
Today we have many smart resources to develop a high-end mobile and web application with any idea possible. Even you can integrate emerging technologies such as Blockchain, Advanced-Data Management, and analytics with Artificial Intelligence and Machine learning to make it more productive at a much affordable cost. 
Today we are here to talk about the development of the first web application and unique ideas about how you can dominate your market with your online venture. 
Why is Mobile Application Development the Best Thing to do in 2021?
Today we have an app for everything, But there are a large number of applications in the industry that are not that advanced and productive but because digitalization in many countries such as India is in the moderate phase where the advanced application with unique ideas or processes can easily dominate the market. If you follow your idea with an advanced development source then there is a big chance to get a much more successful venture out of it. In 2021 we have clone scripts, We have freelancers, We have in-house development and many more development sources to pursue with your idea and you can choose any of them as per your requirement and affordability. 
Which is the Smartest Source of Development of Web Applications?
The clone scripts are today the smartest and most affordable source of development of any kind. We are saying it as the smartest because, even if you are not from a technical background or if you don't know how to get the advanced integrations and customizations, Then clone scripts are the right source. By getting one clone script, You get everything for your platform in one place, Also the development according to your desire and required features would be fulfilled by the clone provider itself. At the end of the day, you get a fully functional web application with all the high-end technologies and features in a matter of hours. And web clones are much more affordable than scratch development and in-house development. 
What Kind of Web Apps you can Develop from Clone Scripts?
You can develop any type of web application from clone scripts as they don't clone the design or development codes from the existing app but here the clone means that you are taking one platform as the reference and the clone provider does all the coding for that according to your requirement and customizations. For instance, If you want to develop an educational app, Then you can explore the udemy clone script where you get advanced elearning software with all your desired features and uniquely crafted design in a matter of hours. You can even explore a free live demo of the clone script before you buy it as you get a chance to see what you would get at the end of the day from the clone provider with that. 
Which is the Best App Development Clone Script Provider?
BSEtec today is serving in the industry with high-end clone scripts are app development services with affordable costing and with complete guidance. Today BSEtec is empowering new entrepreneurs who are coming into the market with their first web app by giving them the liberty to explore the emerging technologies to get the best app from their idea. BSEtec is also making sure that the entrepreneur gets everything they want in one place, That's the reason they are putting more efforts into research and development in emerging technologies such as AI, Blockchain, IoT, Data Management, Deep Learning, and much more. You also get many additional benefits with web clones from BSEtec such as free cost demo, Free installations, Free upgrades, and Premium technical Assistance. Some of their highlighted Clone scripts that are available in the market today are
How Much Does it Cost to Develop your First Web App?
If you are choosing scratch development then the cost of web app development is much higher than you can expect because you have to buy everything individually and not to mention the high cost of developers and designers for both Android and Ios. But if you go for a clone script then you can get your fully functional web app at a much affordable cost as the clone provider is doing all the development on your behalf and they already have a team of professional developers and designers with all the emerging technologies and tools. All you need to buy is one clone script and you are done. The clone scripts cost much less today and it comes into the budget you are having. You can even get free clone scripts available with the BSETec such as the udemy clone script. As BSETec is offering a basic free version of the udemy clone script for development. Also, the premium version of these clone scripts comes at a price as low as 200$. 
How can you Begin with Web App Development Right Now?
You are just one message away from your first web app development today, As all you need to do is get in touch with our product expert and tell them your requirement and desired features, then they will make sure to suggest you the clone script with the package that suits your budget and desired features. After that, you can relax and see your app developed in a matter of hours with all the customizations and high-end technologies that you'd want. 
You can just text us on the given contact information or Live chat Bot on your Right side. 
Feel free to post your query or any suggestion in the comment section. 
Contact Us
Email ID: support@bsetec.com
Skype: bsetech