From An Idea To A Money-Making EdTech Web-App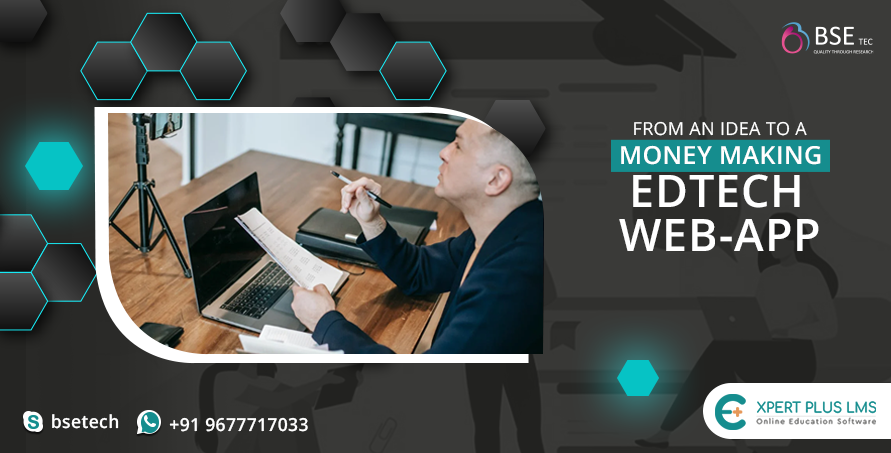 The Money Making Edtech Web App development today is the dream of entrepreneurs who are making an impact in the knowledge sharing industry. Today we have technologies and tools that could revolutionize the eLearning industry, But the entrepreneurs are struggling to get their hands on those services. At BSEtec we are not only developing high-end Web apps for brands in different industries but also are guiding new entrepreneurs and startups around the world. Today we are here to elaborate you the idea of making a profitable Edtech app from scratch. 
The Educational App Development
Here we have to follow one process to develop your idea into the web app. Where we can combine the latest and emerging technologies. Here we begin-
Know your idea-

First, you must know what is your core idea and what uniqueness your idea possesses in order to make it to the spotlight. You are required to answer some questions like, What problem are you solving in this industry, What is your targeted audience, Why would learners switch to your platform. These questions are important to answer as they would represent your whole marketing and launch plan. We always see many brands developing in this space and they don't get any spotlight because they are just following the race of user acquisition without adding any value to their users. 
Great Features– Features always attract more users and today learners are finding new educational apps that are offering high-end features to represent content courses. Interactive learning features like Personalized profiles management, Virtual Doubt solving forums, One on One session rooms, Etc. you can develop these types of features in your EdTech web app as normally educational apps lack interactivity and you can build your strength at that point to be in the spotlight. The AI-based features like Augmented Reality and Virtual Reality with Virtual Tutors are also great options to get integrated with your educational apps. With these high-end features, you can serve your learners with a high-end course content experience where they would feel less distracted. We know that getting these features in educational apps sounds difficult but if you are going for a good development source then you can get all of them in one place. 
Development with affordability– Entrepreneurs mostly drop their idea of developing their edTech platform with these high interactive features and tools because in scratch development they cost much higher. Today you can find a suitable development source like Udemy clone script to develop your education app where you can get all these features readymade with emerging technologies. Clone scripts are a great way to develop your application and website as it takes a matter of hours from idea to advanced platform to develop. And you can ask for any technology and tools you desire for them as these clone scripts are fully customizable. 
The Marketing Plan

– After you get your platform developed from clone script, You can launch your app with a perfect marketing plan where you must be targeting the right audience with the right concept of your educational app. You can directly address the issues you are solving in your marketing approach. Also, Make sure you are doing your content marketing in a way where you can convey your message directly to learners and their parents. In your launch and marketing plan also make sure that you are targeting parents where you are explaining to them the right difference between traditional learning and eLearning. in countries like India, The parents are still struggling in understanding the quality of education and personalized learning, That's where you can build your right strength. 
Best Udemy Clone Script for Development of the Web-App
At BSEtec, We are making it much easier for new entrepreneurs and businesses to start their educational platform with the ExpertPlus – Udemy Clone Script. It is loaded with readymade tools and features to get you started with the educational app and website development. It is an open-source clone script where you can get the liberty to develop your website with your customized ideas. The benefit of developing your Web-app with ExpertPlus is that you can get everything in one place. We at BSEtec are also putting our major efforts into integrating the AI-based tools and technologies in platforms to make them much interactive and user friendly. 
See it by yourself with the Free Live Demo OF ExpertPlus to understand its quality and efficiency or directly get in touch with our product expert to discuss your Edtech Web-App at BSEtec.