How Artificial Intelligence is Driving the eCommerce Industry?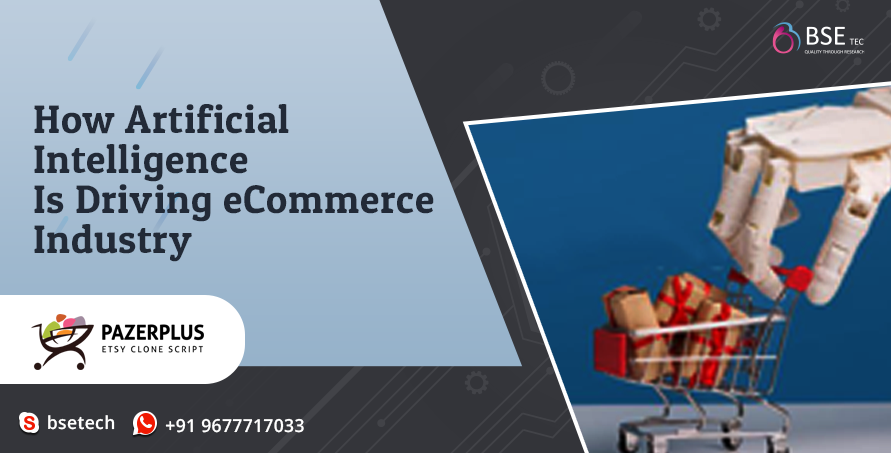 Artificial Intelligence is the technology that is driving every industry in a way that it gets the best use of all the customizations and tools. Today we are using AI in every aspect of the business, especially virtual businesses. For the E-commerce industry, AI is a blessing as AI is known to be the tool to enhance user experience in any way over the platform and the Ecommerce marketplace today is all about giving the best and smoother user experience. Today also, We don't have everything on Artificial Intelligence but the tools we have available today in the market are enough to drive your eCommerce marketplace in the spotlight. The Role of AI in E-commerce is to drive the high-end tools and customizations in order to give the best product buying experience but in order to get these high-end features and emerging technologies, You are required to choose the best eCommerce marketplace PHP script in the market available. 
How AI is Transforming the Shopping Experience?
AI-based tools are much efficient in this space to provide the best product buying experience and even they are the future of eCommerce, Where AI in e commerce enables users to get the exact feel of the product virtually before they buy them. The most promising tools and technologies that are changing the face of eCommerce are 
Augmented Reality

– AR is an online digital interface that gets integrated with your Etsy clone to allow users to experience the products in the responsive 3D image through a camera of the device. 

Virtual Reality

– VR is the next level simulation tool where the user has to wear 360 Degree 3D responsive graphics to take their product buying experience into another reality. 

Virtual Assistance and ChatBot system

– These are the other tools that can be used in your eCommerce platform as an employee to attend visitors on their own for easy assistance. 
The best Source to Develop an AI-based eCommerce Platform-
PazerPlus – Etsy Clone Script is a worthy option to explore here as it is the most advanced platform development source available in the industry. It doesn't even require you to know more advanced technical things for developing your online shopping app and website but all it takes is the creativity for customizations to get the best out of it. You can even get AI-based tools and technologies in Etsy clone script development as it is backed by the Clone script provider BSETec. BSETec is known to be the technical pillar for the brands they develop. You can check out the complete list of technologies and tools that you can get with this Etsy clone only at PazerPlus. 
Feel free to check out the Free cost Live demo for PazerPlus right now from both the front end and back end to exactly know what you are looking for.