How Augmented Reality and Virtual Reality is Transforming Online Education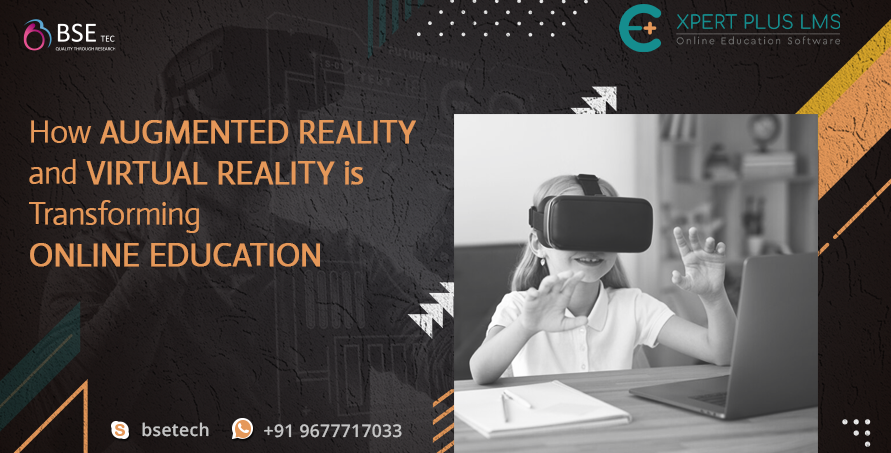 Online Education Before was only a medium to learn what they get confused in traditional learning or generally students were only coming to e-learning platforms to resolve their problems and conditions in topics. But getting an overall education from the elearning software is not kind a thing that parents and learners are comfortable doing. According to them for ACTUAL KNOWLEDGE there should be only traditional learning methods like institutions and colleges. 
Online education in the past 3 to 2 years was very basic and everyone was considering it an online platform where they can see recorded sessions on any subject.
"Build your Online Learning Software with ExperPlus"
The New Vision- 
The New Vision for the elearning industry is to make it the primary source of education by beating traditional learning in the first place. And in order to achieve this vision, we are on a mission to make elearning more accessible for all and at the lowest cost that no one could imagine. It is also important that we set the bar so high with high-end learning tools to make it even better than learning traditionally and even compared to elearning that we used to provide in recent years. 
Roles of Augmented Reality and Virtual Reality in this transformation
Augmented Reality and Virtual Reality are the kind of features that have the potential to attract users and to increase the user experience in almost any platform because of their simulation process and high-end work. These AI-based features in Elearning can completely transform the complete knowledge sharing process. 
After getting them in elearning software, You will get more users than you think and even you could boost the content quality over your platform many times. 
"Know the Difference between Augmented Reality and Virtual Reality"
Your platform would come in a list of advanced platforms that includes the features like AR and VR for content. Learners would be able to experience the topics they want to learn in 3D responsive graphics and even in 360-degree virtual reality simulation. You can imagine the possibilities of content transformation and progress in elearning with this idea. 
It will also help in convincing the parents that this is the right and futuristic choice to make in order to get their child more productive and future-ready for upcoming competitive generations. 
Where to get these features in an elearning startup?
To develop the advanced elearning software with all these customizations you can count on the most exclusive Udemy clone script- ExpertPlus. ExpertPlus is the most promising open-source clone script that allows you to develop your elearning software within no time and with every ready-made feature you desire. you also get the latest technology available for development if you go for ExpertPlus. It's a clean coded script so it is highly customizable to get any type of feature in your LMS. 
Explore its free live demo right now to see how it works in real-time with every feature in order. Also, Get in touch with us today to know more about the advanced integrations that you can get with expertPlus to boost your elearning software from the first day.