How Do You Choose The Best Etsy Clone Script?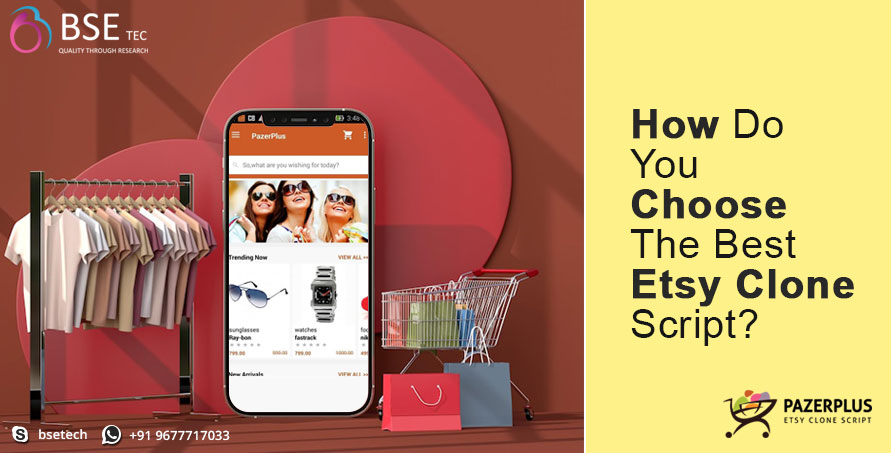 The eCommerce marketplace is booming with possibilities and has given a tough competition to retail businesses. There has been an upsurge of such platforms– more so due to the ongoing pandemic. People are helplessly confined indoors and have to largely depend on eCommerce platforms like Etsy, Amazon, etc. for buying stuff even for their daily needs. From bathing bars to academic books, everything is being sought after online. People want their items to be delivered at their doorstep, without moving an inch, and these platforms are facilitating that right at their fingertips. Hence, many entrepreneurs and companies are investing their resources to build eCommerce platforms either for their own offline stores or for multiple vendors across the globe. But creating an e-commerce platform from scratch is not a matter of joke. It takes months– sometimes years to develop these apps and websites perfectly. However, thanks to eCommerce clone scripts like the etsy clone PazerPlus, which builds the best eCommerce platform fulfilling all your demands and needs. 
So, before we jump into conclusions, let us know what makes PazerPlus the best etsy clone script in the industry today– 
Fully Customizable Script– Our Etsy Clone script is fully customizable with interchangeable themes and a wide array of templates to choose from. You can modify it according to your taste and preferences and cherry on top of the cake!– you do not even need to write a single line of code.
SEO Friendly– eCommerce clone scripts like Etsy are popular and have a higher chance of being a successful eCommerce platform. Furthermore, it is Search Engine Optimized and will help to bring in organic traffic to your website or app by automatically ranking higher in the search engine. 
Privacy and Security– The buyers and vendors will give their personal details like their payment methods, billing address, phone numbers – and it is very important to have a secure and protected platform that will not let any data leakage occur at any time. So, our Etsy clone provides that as well. 
Multiple Payment Gateways– People these days are not limited to using just cash or card– they use digital wallets like PayTM, PayPal, Google Pay, PhonePe and other UPIs, along with Credit and Debit Cards and sometimes also opt for Cash on Delivery. So, providing these multiple gateways for payment in an eCommerce platform is an extremely crucial prerequisite.
User Friendly UI– The customers or users who are navigating through your eCommerce platform should be able to connect and not feel bored or not feel out of place. So, it's very important to have a friendly user interface for the customer to freely go through the app/website at ease. 
Design Your E-Commerce Website with a More Advanced Etsy Clone
Conclusion
With all these wonderful features and more, BSEtec has developed its Etsy Clone Pazer Plus. So, are you ready for creating your own eCommerce platform with the best Etsy Clone Script in the industry? Then go ahead and take our live demo session today!