How Does Prototyping Affect the Product Quality?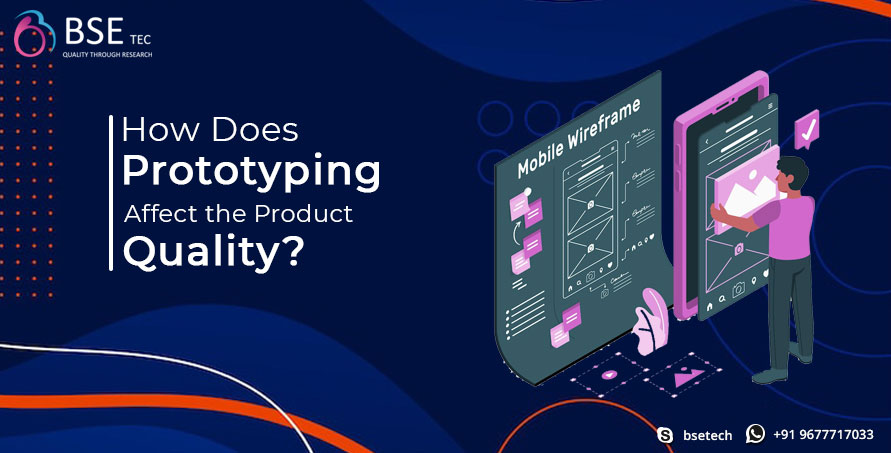 An interactive and experimental process where design teams and users implement their ideas into a more tangible form from paper to digital by creating a design mockup of the digital product is called Prototyping. A prototype is built to capture the design concepts and develop prototypes of varying degrees of fidelity for testing on its users. By prototyping your website or app design, you can refine, restructure and validate your design prior to its development. This saves a lot of time and valuable resources and let's the brand release the right products. Prototyping is basically like a process of building a trial version of a system, to get an "actual feel" of the system and also in order to reveal critical design considerations or for clarifying the requirements in the system, so that after its final launch– it is not an epic failure. 
Because of getting early feedback, prototyping helps to reveal hidden obstacles and unforeseen challenges and flaws which can be rectified and this in return, helps to improve the product quality. Moreover, extensive user testing methods help to give you a better quality assurance. 
So, do you want to wait until your manufacturing stage to discover the shortcomings of your software product/design? If not– then prototype with Protomock. 
Protomock provides a wide array of possibilities for Prototyping your design and allows to do the following– 
Adjust the design–

Protomock will help you to create the design mockup for your website or app which can be adjusted according to your preferences. You can select the kind of images you want to add, the theme you want to select, the buttons you want to add, etc. In addition to this, you can add different colors, textures and shapes and make your product more marketable. 
Cuts the extra cost and labor–

If at all anything that can make the customers happy is that the project comes under a budget. The required changes that are detected at later stages increase the development cost as it will involve restructuring and redesigning from scratch, while with Protomock, one can determine early about what the user wants, which can be altered using fast and less expensive software's. 
Collaborate with stakeholders–

Protomock allows the designing team to collaborate and work together with other groups, teams and companies, who can leave their comments, share opinions and tell if any changes are required. This leads to early feedback and helps in engaging the people with each other and enhancing the team work. 
Quick and easy to create–

For building your prototype with Protomock, you do not require hard-core coding and IT knowledge. It is quite easy and simple to use and create wireframes and prototypes using Protomock within minutes. 
Conclusion– 
Prototyping has been made easy– with this one stop solution for all your design needs at Protomock. Contact us today!