How much does it cost to make an e-Learning app like Lynda?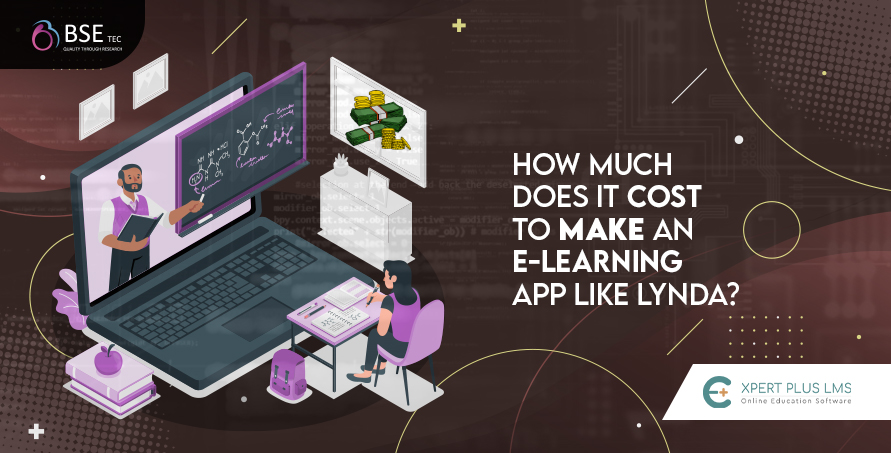 In the era of Covid-19, online learning has become part of a new standard and rapid technological breakthroughs have brought about a great change in the world of education. In fact, it completely changed the learning process and proved to be beneficial to a variety of organizations and educational institutions. This has led to a wide increase in the number of Learning Management Systems such as Lynda, Udemy, Coursera, etc.
The popularity of eLearning platforms like Lynda
With each passing day, the number of eLearning LMS is increasing. Designed for all age groups, these eLearning apps provide a wide range of advanced features that help students better understand their subjects. This is leading to a surge in the investment made by many companies in creating such platforms. Therefore, having an LMS with features that contribute to eLearning success more than your competitors has never been more important.
The cost of eLearning platforms
eLearning platforms made from scratch cost around 10-12 Lakhs and are extremely time-consuming and can take about eight to ten months to develop fully. So, it is advised that one may use clone scripts for developing a crisp and responsive eLearning app like Lynda.
Features provided by the eLearning clone script ExpertPlus LMS
User-Friendly Script-

ExpertPlus LMS provides the students and teachers with a user-friendly interface that can help them to easily create and view courses and easily navigate through the app. Its interface is compatible with both Android and iOS. 

SEO friendly script-

ExpertPlus LMS provides an SEO (Search Engine Optimization) friendly script that is really beneficial in bringing traffic organically to your eLearning website or app. It helps to boost brand visibility and recognition. 

Customization-

The eLearning script Expert Plus LMS is extremely customizable according to your preferences and tastes. You can install different templates and themes, change the color schemes and also have different fonts, all according to how you want your LMS to be. 

Integration Facility-

ExpertPlus LMS can be integrated with Augmented Reality, Virtual Reality, Artificial Intelligence, Live Streaming facilities, etc. Through which the application can bring about a difference in the way learning used to be. 

Much affordable and less time consuming-

ExpertPlus LMS is a very cost-effective way to build a learning management system for your eLearning business and can help you with staying on a budget and get your app or site launched really quickly.
Summing up
If you want to create your eLearning app or website, contact BSEtec for the best eLearning script– Expert Plus LMS. 
For a live demo, get in touch with us now!