How to Build a Freelancer Marketplace Like Fiverr and Upwork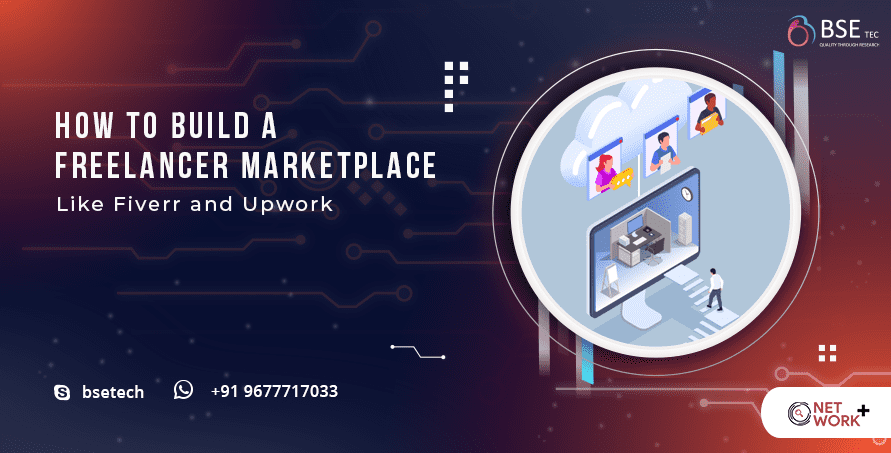 Now there are times when freelancers are finding freelance marketplace business plans that can pay more or give excellent clients according to their working lifestyle. And this becomes very attractive for all the users as well as the owner of the freelancing website. What makes the website more valuable for both the freelancers as well as the board of founders and directors? Let's look at some of them!
A  Great Freelancing Website Will Have the Following
Posting Jobs and Personal Panel

Checking Out and Picking Proposals

Hiring Talent discounts to Choose the Right Talent

A complete package comprising of enterprise

A Personal Chat Room

Universal Payment Gateway Options

Friendly Modification and Customization

Easy Working System
How to Start Your Own freelance marketplace Business in 2022: A Complete Guide
Freelance Marketing Business Plan
The freelance application Network Plus is free of cost, and we have a lot many software tools for free as it is available on Google Play Store or Apple Store. The app is easily downloadable and we can plan and also execute according to how the committee or investors discuss the layout, design, and many more. Creative people will have more ideas, researchers will tell you more about how to select your sources effectively and at bsetec we have all those trendy and smart experts who will guide you without any confusion or a communication gap. Now for you, it's easy to step on the right stone. For you, this is how easy it is become, start with us, continue earning millions of dollars in your account. Are you ready with yes! 
Step #1 Sign Up Free on Network Plus App
Get the best tools and resources on Network Plus Application. Just make sure you download this app from the Google Store or Apple Store!
Step #2 Start Searching for all the features and tools freely available
Now when you start searching all the features that you are getting and making you free to rule your creation of the application, it becomes easier for you. And this will beat your competitor, as you don't copy their website, instead, you can design your platform. Isn't that cool and amazing! So feel free to search for any number of freelancing Upwork marketplace differently and more with unique styles and patterns. Download on desktop or mobile now!
Step #3 Get Help from BSEtec Experts for Your Plan and Technical Support
Now when you get hold of Upwork Marketplace, a ready-made Network Plus for freelancers, you will be able to get the best responses from our team in case if you are getting stuck anywhere, you can easily take the premium cost as well. The team will support you with the end number of technical clarity.
Step #4 Get the Best Customised App if You have not Updated
How to create a website like Upwork using Network Plus for my business? Well, great question! Know Network Plus app is a ready-made open-source coding that includes universal editing and customization for every individual user, the owners, and even the end-user to make changes in posting, profiling, detailing, revising, and also it helps them to change the overall theme, color, and other choices!
Step #5 Set Up Universal Payment Choice Button
Now if you want to add on or plan with a payment option for the end-users, here you go. Always start with adding the universal transaction like the master card, Cash app or Swift account, or whichever suits you. Always the best options are easy to add on if that is updated with today's time.
Change your Technical Coding Requirement
Sometimes you are an existing Fiverr freelancing client, you want to renew and makeover the code language and make a fresh one, then How is that possible? It's all about how well you need support for your website, your pages, your design, new updates, and features matter a lot. You can start planning if you can take our experts' help. This matters a lot for everyone! Be it Javascript or C++ or Python, we know all of it! So if you want to use an open source freelancing code script you should Download Free Network Plus and start your journey.
"Create a Millionaire Network Plus Freelancing Account for Free."
Conclusion:
Don't ever try to get rid of old formats and features, you can renew your ideas with the latest freelancing marketplace – Network plus website to earn Millions and More. Ask more, we would love to help you. Visit https://www.bsetec.com