How to Start Your Own freelance marketplace Business in 2022: A Complete Guide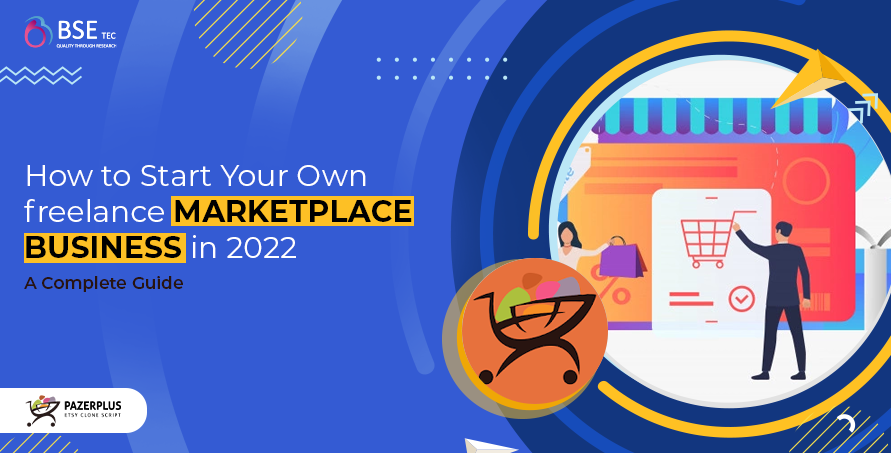 Starting a business without any professional training may be extremely difficult. It's much tougher to get your business off the ground after you've decided to do so. However, the purpose of this blog is not to dissuade you from starting a freelancing business, but rather to show you how to do it effectively.
Read as Best Upwork Clone Script – Create An App Like Upwork
According to Forbes, after the COVID-19 incident, 47% of hiring managers have been more willing to recruit independent workers than in the past. This simply emphasises one point: freelancing is a godsend for people who intend to become self-employed in the near future. However, how should one go about starting a freelancing business?
What is the definition of a freelance business?
Working as a freelancer means setting your own hours and making your own decisions. Simply put, you are responsible for your own job. You have complete control over your working hours, pricing, location of work, and service duration. A freelancer is someone who works on a project or contract basis. Firms or employers engage them for specific tasks, and they are compensated according to the terms of their agreement with the employers. According to a Millo article, 59 million Americans freelanced in 2020, accounting for 36 per cent of the total American employment.
Why are freelancer marketplaces getting so popular these days?
The increasing popularity of these marketplaces underscores the fact that this is currently the most sought-after business. The following is a chart depicting the yearly income of the biggest online freelancing marketplaces:
These figures clearly demonstrate that now is the best moment to start a freelancing marketplace. Let's take a look at some of the factors that have contributed to its meteoric rise in popularity. These marketplaces allow service companies to employ highly qualified and experienced people from all over the world without having to pay a lot of money. Hiring on freelance marketplaces is always on-demand, which means there is no long-term commitment and service providers can end their contract with freelancers at any moment after the task is completed. Skilled workers with no prior experience can begin their career journey thanks to minimal entry barriers. Full-time employees can use freelancing marketplaces to supplement their income and improve their abilities. It also allows one to establish a work-life balance and work according to one's schedule.
Build a freelancer marketplace like Upwork and here's how:
While well-known freelancing markets such as Upwork and Fiverr exist, there is still potential for new platforms to emerge. However, in order to acquire a competitive advantage, the business owner must be familiar with key features, monetization techniques, anticipated costs, and a variety of other factors.
Profile management: Users in the freelance marketplace should be allowed to build profiles for themselves. User profiles will display their user types, such as freelancers or service providers. This area stores information on the freelancer, such as his or her photo, bio, abilities, experience, pricing, and certificates (if any). Service providers can additionally provide pictures, available projects/tasks, budget, location, and other details.
Advanced Search: One of the most important and useful aspects of any marketplace is the ability to do advanced searches. A powerful search and filtering feature should be available on a freelance marketplace to allow consumers to quickly traverse the site and find freelancers and projects/tasks that they are interested in.
Multiple Payment Options: Because the marketplace is in charge of facilitating transactions between freelancers and service providers, an escrow payment option is a great choice. Furthermore, by integrating payment gateways into the marketplace, customers may complete their online purchases without any difficulty by using different payment options such as credit/debit cards, internet banking, local payment cards, and so on.
Built-in Messenger: Before starting a project, service providers may wish to discuss particular project specifics, clarify needs, work conditions, and so on with freelancers. Some service providers may wish to keep in touch with freelancers during the project to offer regular updates and progress reports.
Reviews: Having a clear and open review/rating system on your platform increases consumers' trust in it. The number of completed jobs, satisfaction rate, feedback, and other comparable data might assist other service providers in making educated decisions when employing freelancers to accomplish their work.
Summing Up
If you want to have your own freelancing platform, opt for NetworkPlus, the Upwork clone script by BSEtec. It offers a variety of features and is also very customizable. Get in touch with BSEtec to know more!