Best Upwork Clone Script – Create An App Like Upwork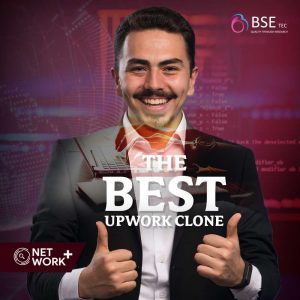 Freelancing and remote work are no longer considered to be a fad or trend it has widely become an un-denying reality we live in. The outbreak of the coronavirus pandemic has caused a widespread economic shutdown and the job sector has been profoundly affected. In the meantime, the gig economy has soared and many have ditched their regular 9 to 5 office routines and chosen to be self-employed. In this digital day and age, if something that has gained prominence is the flexible work hours of a freelance marketplace. Moreover, freelancers are not limited to looking for a job in just their area– a marketplace like UpWork, Fiverr, etc. provides a global platform where they can get employers looking for hiring freelancers all over the world. Therefore, it's no surprise that big businessmen and entrepreneurs are obsessing over the idea of creating their freelance marketplace. This is why, before you set out on your new venture, a well–thought–out plan is a prerequisite. 
Select your niché market– Whether you want to create an app like Upwork– with a wider audience base or you want to build a narrow platform only for designers or content writers, etc. that is the first thing you need to decide. You have to have a defined audience in mind to whom you want to serve through your freelancing platform. 
Know your competition– Every business these days is facing tough competition from other business sharks. So, your plan and platform have to be heavily vetted to stack against. You need to know what your competitors are doing and how you are different, and what unique things you are offering to the table. 
Define the revenue model– You need to choose among the common monetization strategies for your platform– the gigs and packages model, subscription, deposit model, custom price, mixed model, advertisement, etc. Moreover, you need to be clear about your budget, what will be the cost to build a marketplace like Upwork, and what are the other requirements to build an Upwork-like app with the best upwork clone script. 
Choose the must-have features– The core features you provide in your freelancer marketplace will be more or less the same as Upwork. However, you still need to think of something unique that you can offer to your user's so that they are attracted and intrigued to use your platform, among others. From simple login and registration to powerful search filters, from various job listings to reviews and ratings, you must define the core features beforehand. 
Security and privacy– Providing a secure environment where people are not afraid to share their details like email or phone number and their payment methods or bank account details, is a necessity for a freelancer marketplace to thrive. Therefore, privacy and security are among the top requirements when it comes to building a platform for a self-employed workforce.
Conclusion
If you are thinking of creating a platform like Upwork, don't hesitate to contact us.
Instead of developing a freelancer platform from scratch, many are opting for UpWork clone scripts because of the customizable templates and affordable prices. At BSEtec, we provide the best Upork clone script, NetworkPlus which is deeply customizable and can help you launch your portal quickly. So hurry! Contact us now!