How To Run A Successful Ecommerce Business Despite Of Industry Giants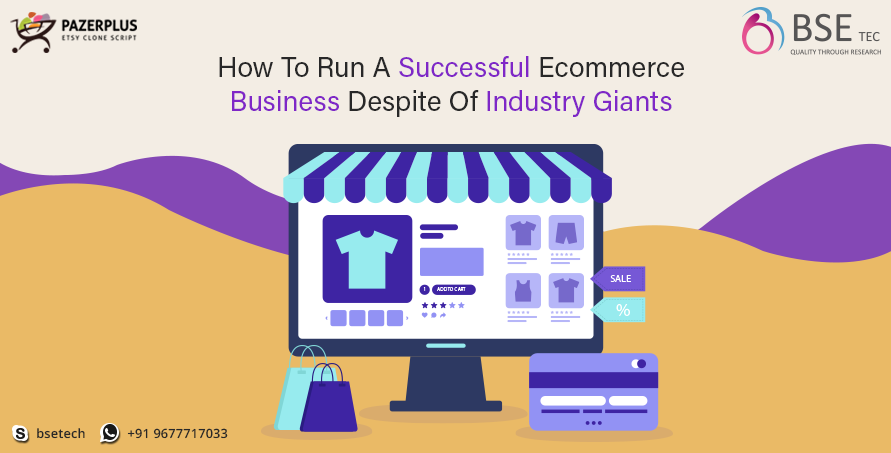 The eCommerce sector has been growing at an unprecedented rate all across the globe. Today, most shoppers prefer to buy something online rather than going to a store or mall for that very purpose. More so, after the Covid-19 pandemic, more people have been reliant on their smartphones for everything including their daily needs. From buying groceries, stationary to fitness equipment, everything has been made available online. This has created a huge boom in the number of eCommerce marketplaces built by many industrial giants like Amazon, Flipkart, eBay, Etsy, and many more. Many have invested in eCommerce clone scripts like the Etsy clone –Pazer Plus, which is a beautiful and seamless script that can be customized according to user preferences. Startups and budding entrepreneurs must be a little intrigued and overwhelmed by looking at the huge market of possibilities in eCommerce. However, we are here to explain to you how to run a successful eCommerce business, no matter if you are starting from scratch, or you have an existing business, or you are just new to the online marketplace, this has been curated just for you–
How To Run A Successful Ecommerce Business
A powerful user experience– Delivering a strong user experience is very important in drawing their attention back to the platform for their next purchases and ensuring that they are hooked to your application or website. However, if they are not finding the navigation easy, or are not satisfied with the user-friendliness of your interface, then they are probably not going to come back to navigate through your app or website. 
Excellent Customer service– It has been found through research that 3/4ths of the consumers spend more on brands that have impeccable customer service often than not. Only a few businesses recognize how important customer service is– and how crucial it is to be readily available to assist your customers. And those who do, are the A-players in eCommerce. Customers find the platform to be more credible if they provide good customer service. Live chats and chatbots– with the integration of AI can help in providing good customer service too until the human personnel is available. 
Personalization– Online shoppers want products and deals as per their preferences. They want their homepage to be customized and a tailored list of recommended products would be given. With a smart customization strategy, online retailers witnessed an increase in the conversion rate by 65%. For example– Amazon curates customized carts and home pages for individual users, which in turn boosts revenue. 
Ratings and Reviews– An online shopper always trusts in the ratings and reviews of other online shoppers. Therefore, to build credibility among your customers, you need to provide the ratings of your product along with authentic customer reviews. 
Compatible with all devices– Nowadays people prefer mobile phones more than laptops or desktops. So, keeping your platform readily available for all devices is going to benefit your business by providing a great and seamless experience throughout different devices. So so so many online retailers have optimized their mobile websites for hassle-free buying and seamless site surfing. 
So, do you want to create your eCommerce marketplace and stay ahead of the curve? If yes, then start your eCommerce platform development with Etsy clone script PazerPlus. For more, contact BSEtec today!