In the Overcrowded E-learning Marketplace, How Can You Set Yourself Apart?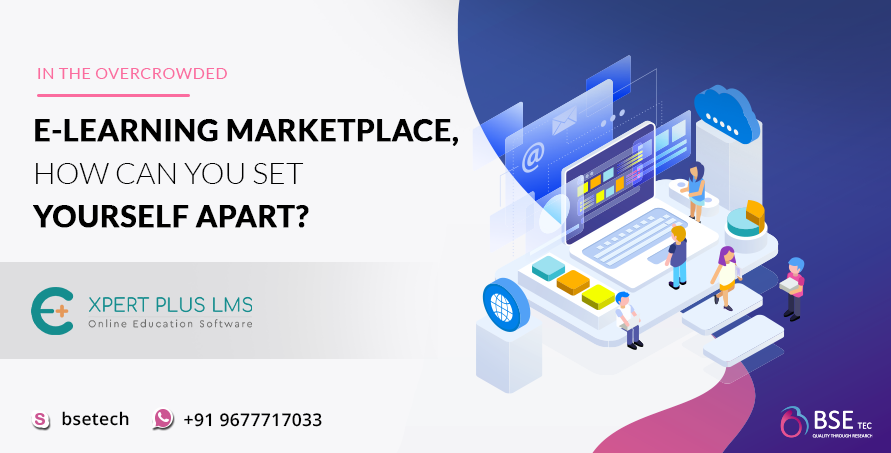 Lately, everything has undergone a technological revolution by going digital. From shopping and retail to work and education, everything has been made available online– and one can get access to it from the comfort of their homes. This digitalization of education and training has aggravated due to the ongoing pandemic where people have been confined to their homes and during these uncertain times– while there is no assurance when schools and colleges reopen– digital learning is helping to sustain the educational ecosystem. Ever since the pandemic has been upon us– numerous eLearning apps and websites have sprung up in the marketplace. There has been fierce competition between various companies and businesses to develop their businesses into a brand by creating eLearning websites and applications. However, developing a website from scratch is not only a very tedious task, but at the same time, it is quite expensive and time-consuming too. Therefore, most entrepreneurs are opting for eLearning marketplace scripts like ExpertPlus LMS for creating their online platform. 
Read 7 Factors For Ensuring a Successful eLearning Implementation
In the overcrowded eLearning marketplace, you can set yourself and your app apart by keeping in mind the following features–
Having a good network of teachers– The ones who enroll for online education or eLearning has the expectation to achieve the best possible tutoring support– which is only possible if the platform is led by a network of qualified and experienced teachers– who have a way with teaching. The platform can only grow when the student demographic grows, which is possible if the best teachers are on board for the app, who can make the learning process more effective and efficient. 
Providing high-quality content and study materials– Providing high-quality content will add to the value of the platform and offering students with good learning material is another important core aspect of an e-Learning marketplace to flourish. For the students, high-quality learning materials and teaching methodology help in grasping complicated concepts quite easily. With a gamification feature live quizzes, you can also provide them with reward points. 
An attractive and impressive user interface– If a user cannot wrap their head around your eLearning platform and find it's difficult to navigate and get around the app and find what they are looking for– it is a result of a poorly designed interface. However, building an attractive, impressive, and user-friendly interface not only helps them do simple tasks like attending classes, scheduling appointments with teachers, or looking for learning material easily, but at the same time– It can help you stay ahead of your competition. 
Real-time interaction– Now is the generation of fast-paced lives, where everyone wants everything in an instant. Similarly, students– want an immersive and interactive session with their teachers in real-time using different forms of media. Students can communicate with the teachers seamlessly through an LMS like Udemy or Coursera. It will help them to have their questions answered and their curiosity will be fostered when they need it the most.
Personalization according to the needs of the user– The best part of an eLearning marketplace– that no traditional classrooms can beat is the fact that it can actually cater to the individual needs of the users. So, personalization according to the usage and performance of each individual and customizing the learning procedure is something one should incorporate into their online education system. 
Get the Ultimate Guide to Compete with Elearning Giants in 2021
The eLearning sector is here to stay even after the pandemic is over. If you are thinking of a successful implementation of an eLearning platform for your business– contact BSEtec for the best eLearning marketplace solution "ExpertPlus LMS" that will take your business to the next level.