Ultimate Guide to Compete with Elearning Giants in 2021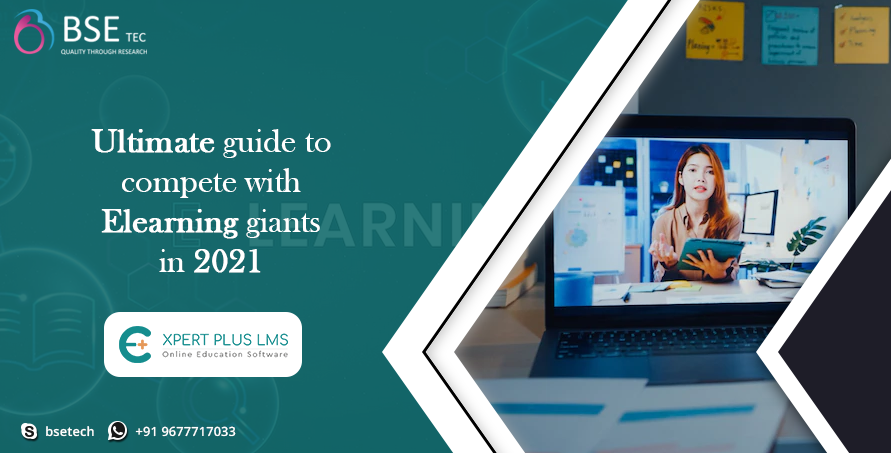 The Elearning Industry today is filled with eLearning software and even corporate giants are coming into the industry with high-end technologies and unique marketing strategies to acquire maximum market. Now if the maximum market is being acquired by the eLearning giants, then how would the new entrepreneurs and platform get some spotlight. Or what would be the strategy to compete with these eLearning giants in 2021?
Build Your Elearning Software with ExpertPlus
Strategies to Compete with eLearning Giants in 2021
Today we are here to give you some good suggestions on strategies for competing with eLearning giants in 2021
Audience Targeting

– To compete with eLearning giants, It's important that you get some spotlight in the initial days otherwise you will never get customers from the market as all of them are going in mass to giants. You can adopt a targeting strategy where you choose one category in elearning and only target a specific group of learners for that category. Then there will be a high chance that you get maximum users in a shorter time as you will become the educational leader for that specific category. the biggest recent example for this targeting approach is the WhiteHat Jr. they targeted coding and IT as their category for only the age group below 15. And they instantly get into the spotlight for choosing the niche and got millions of customers around the world. Further, it got acquired for 300M $ as a successful brand. 

Play By Tools

– Today it is easy to get any technology, tool, feature, or any process for your Elearning software development and you can adopt a strategy where you will find what other software's are lacking and what are the tools available to overcome those flaws. And by enrolling in those tools and using the right marketing technique, You can present your brand as a healthy alternative for your competitor. We have many resources in the market available like Udemy clone scripts, Where you can get all the tools you need under your budget or even for free. 

Smart learning

– The only thing where the eLearning industry today is lacking is smart learning. Today most of the eLearning giants and other entrepreneurs are focusing on covering most of the courses and acquiring users, but very few elearning apps are focusing on developing a user interface integrated with high-end learning tools where learners can obtain smart learning. Smart Learning is not the niche for the industry as it today important for the eLearning industry in order to scale. In elearning, These high-end tools make students stick to the courses and platform where it increases the revenue market worth of the platform in every way. 
Best Way to Develop an eLearning Software
The best way to get all the tools and technologies with a highly interactive learning interface in the learning management system would be with the Udemy clone Script. ExpertPlus is loaded with ready-made basic tools backed by the latest technologies. And despite almost everything already loaded in the script, It is also an open-source udemy clone, So the opportunity to customize anything gives you an edge to integrate any tool or technology you like. 
We at BSEtec are empowering entrepreneurs in the eLearning industry and that is the reason that we are even offering this Udemy clone script for free as the basic version of ExpertPlus. If you think you have enough passion to develop a valuable knowledge-sharing platform, Then start your plan by downloading the free Udemy clone script today only at ExpertPlus.